Project Fargo was introduced during the second keynote on Day 2 at VMworld this year. It allows with ingenious technique to clone a VM (seconds, not minutes) and provide access to the user for that VM. It's actually differential clone of a running VM.
The new VM shares the memory and disk. I would also say that it will be much efficient than traditional linked-clones in today's Horizon View environments… Pretty impressive. As you can see the VMs share a VMDK which is read-only. When there is a write, it's written to the child VM.
Those are the technologies that VMware is actively working on and which allows the infrastructure not only to be faster, but also more efficient cause consume less space on the storage system. As there is very few information on that, I'll quote a bit from Kit Colbert's post, but you can now see the keynote from Day 2 on YouTube.
Quote from Kit Colbert's post.
Project Fargo enables the instantaneous cloning of a running virtual machine (essentially a virtual machine "fork"). The cloned VM is identical in every way to the original and initially shares all memory and disk with it as well.

Project Fargo is very cool for two reasons: first, it gets you a new running VM in under a second. Second, it's a very lightweight VM because it shares all memory and disk with the original. (To be clear, both the memory and disk are "copy on write" so if new VMs modify bits of their memory or disk, a separate copy is made for that VM. We thus preserve security and isolation between VMs.)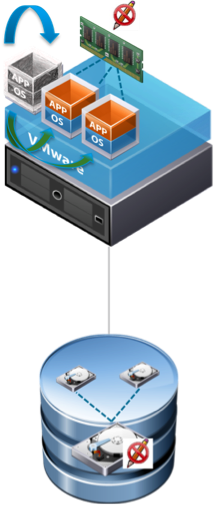 And then…
Project Fargo uses a copy-on-write architecture similar to that of containers, meaning that if an application running in a child VM tries to change a shared OS file, a copy of the shared file is created and stored in the child VM. This way, all modifications made by the VM are isolated and unique only to it. Any newly created files that are saved by the VM would also be stored in the child VM and not in the parent.
And this…
Desktop reinvented, Inspired by mobility

Now let's put everything together to see how desktop works in the mobile-cloud architecture. In this new model, when a user wants to log in, vSphere will fork off a clean, base Windows 7 or 8 desktop. CloudVolumes will then deliver all the apps and data for the user. In just a few seconds, the user has their Windows desktop fully personalized and logged in. This is done completely transparently to them. The desktop will stick around for as long as the user is logged in. The moment the user logs out, the virtual desktop is destroyed.
Ruben Spruijt (@rspruijt) has shared an image of a PDF which invokes the Project Fargo. Another name is project VM Fork, but I like more Project Fargo…. who knows why?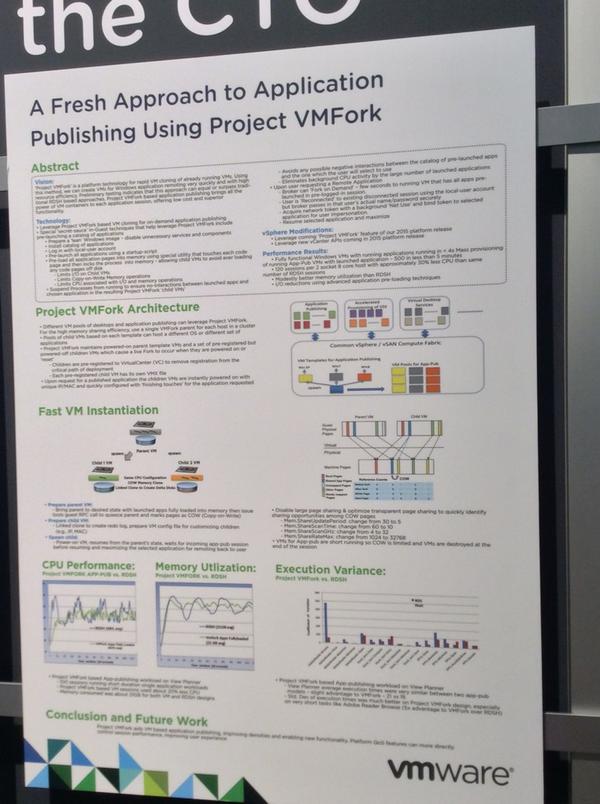 As you can see those are the hottest projects that VMware is working on. Project Fargo will certainly be very interesting because it not only clone deskotps faster, but it's also more efficient from the storage perspective. Think of your SAN storage space a bit… -:)
The details: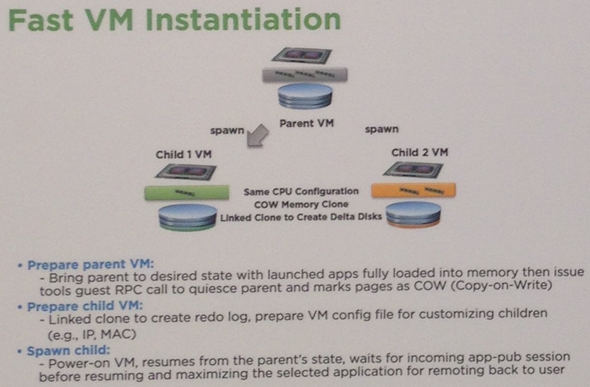 Source of Kit Colbert's article: here
If you're not present at VMword San Francisco, you can still register for VMworld Barcelona.
Special Report:
Stay tuned via RSS or Twitter.