VMware has done a great job with this new VCSA 6.5 appliance. You have already seen my lab deployment of VCSA 6.5 by using VMware Workstation – just to test the workflow, but today we'll do another lab post. You'll watch and learn How to deploy VMware VCSA 6.5 (VMware vCenter Server Appliance). I have also done a lab migration from Windows based vCenter 6.0 to the new VCSA 6.5. The migration to VCSA 6.5 went smooth without issues.
I know that the process of clean installation of VCSA 6.5 has been documented elsewhere, but for the exercise in my lab, and for the test, I wanted to do it as well. One thing to make sure, before you start, is to create forward and reverse DNS records for the VCSA 6.5. Then, if you do a clean installation, there should not be any issues.
You might be thinking that you want to upgrade your Windows vCenter Server 6.0 to 6.5 (In-place migration) and then migrate to VCSA 6.5, however, this isn't supported scenario. I've heard that a tool allowing this is in preparation, but for now, think twice what you want to do.
Do you want to stay on Windows or migrate to VCSA? If you want to migrate to VCSA you should do it from Windows based vCenter server 6.0 or from VCSA 6.0. Not from vCenter server 6.5 on Windows…
Let's get back to our post where we'll be doing a clean deployment of VCSA 6.5.
How to deploy VMware VCSA 6.5 (VMware vCenter Server Appliance) – The steps
Step 1: Create DNS records (forward and reverse).
Step 2: Download VMware VCSA 6.5 ISO image from VMware. It is a quite large file.  VMware-VCSA-all-6.5.0-4602587.iso is over 3.5 Gb in size.
Step 3: Mount the ISO and, depending on which system you are (Linux, MAC, Windows) you go and open the folder where the installer is. In my case it was a folder with this path:
F:\vcsa-ui-installer\win32
Screenshot showing the ISO mounted as CD-ROM and the folder structure within a Windows environment.


From there launch the installer program.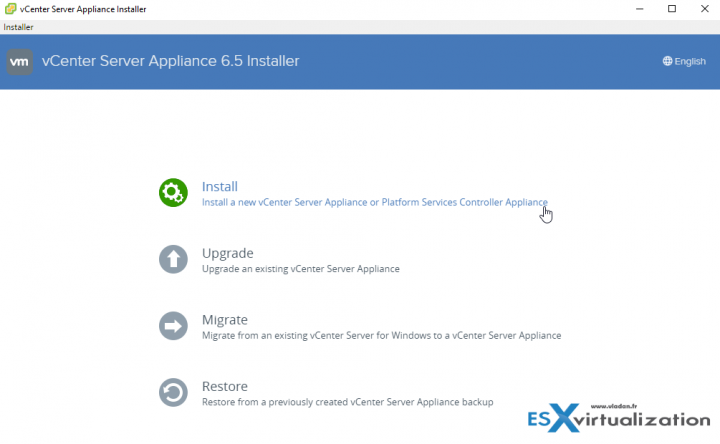 Follow the assistant…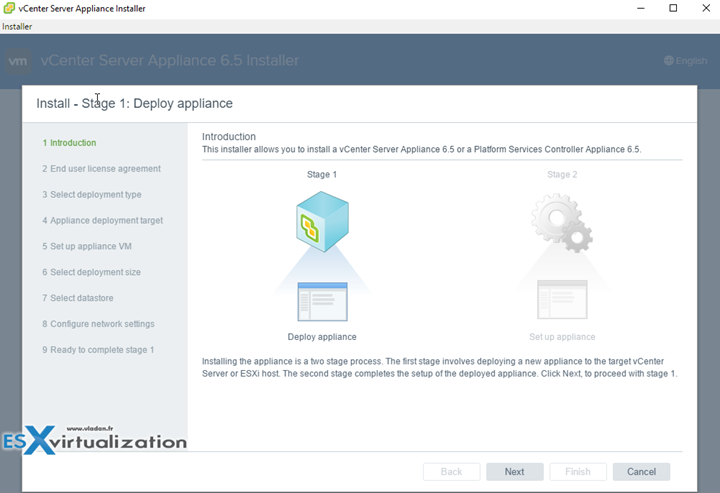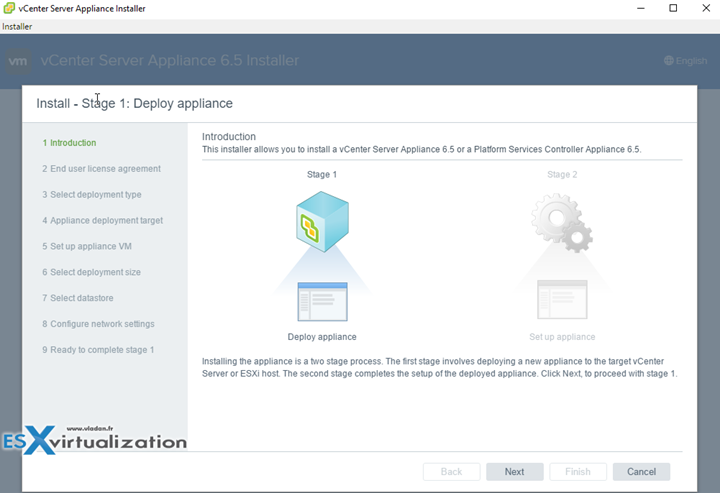 And accept the license agreement….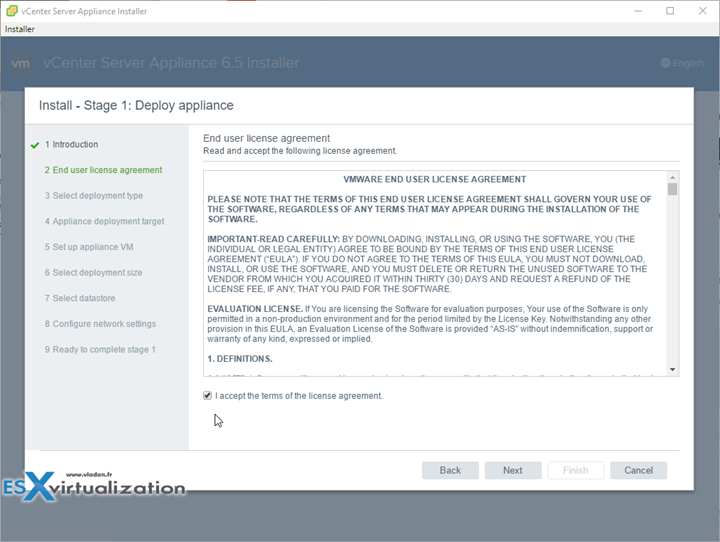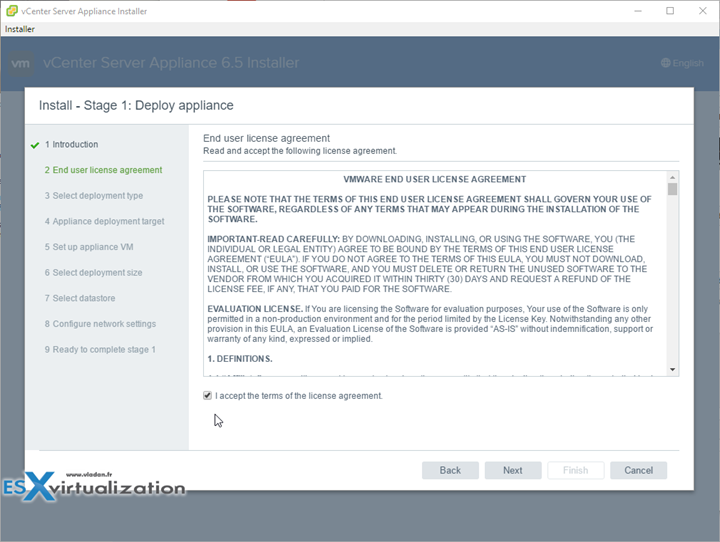 to finally have this screen where you can change to have a separate PSC (Platform service controller) and vCenter server. For my lab environment, I go with the default, which is All-in-One option…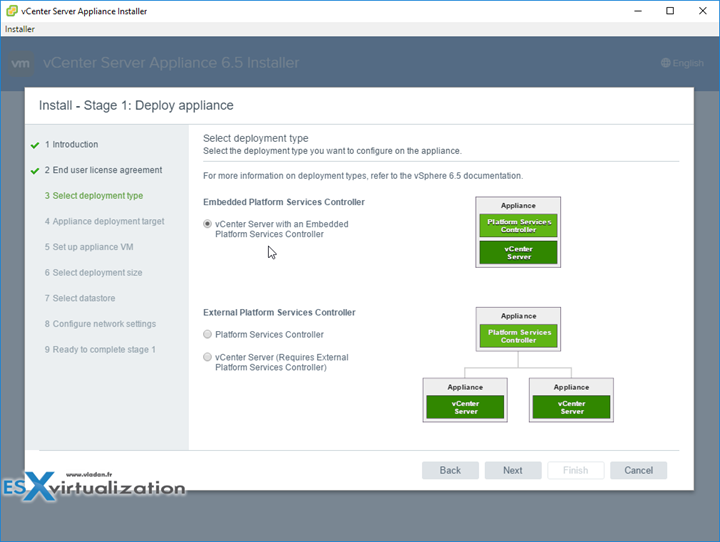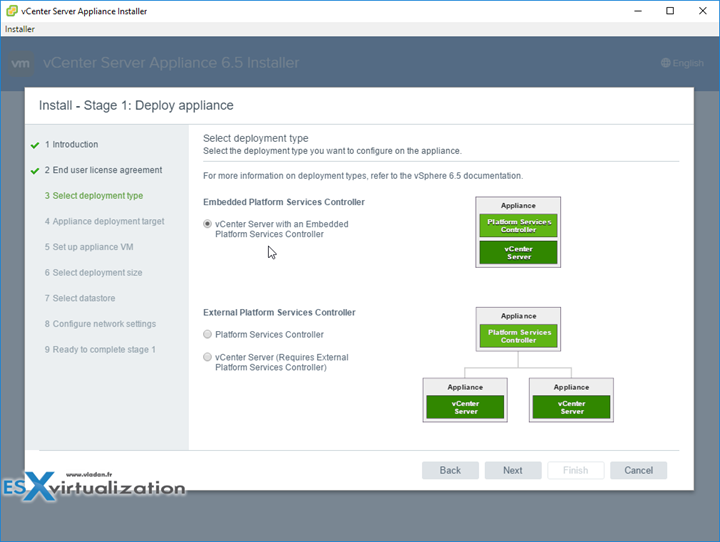 Click next to enter the details of the ESXi host (or vCenter Server) where you will be deploying the VCSA. In our case we're using standalone ESXi host.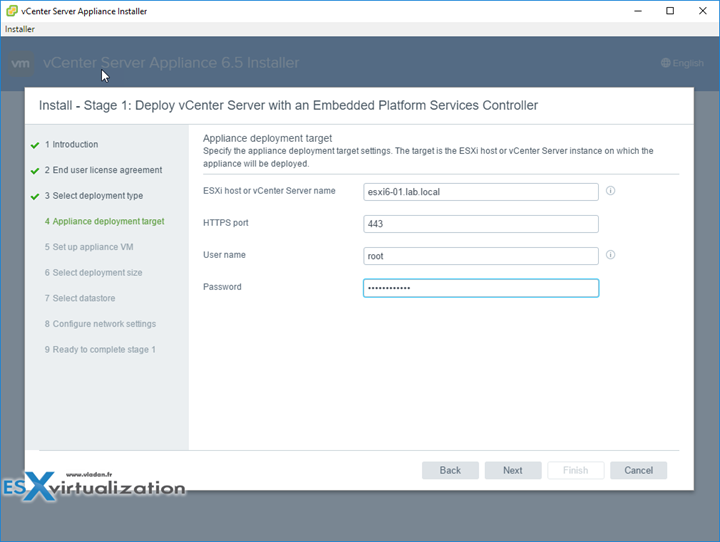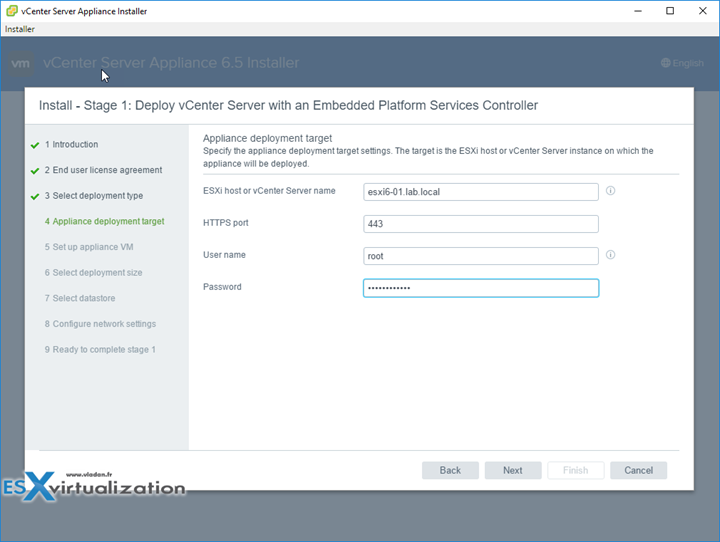 You'll get a certificate prompt which you can safely accept, and then you can enter the name for the VM you're deploying as well as the root password.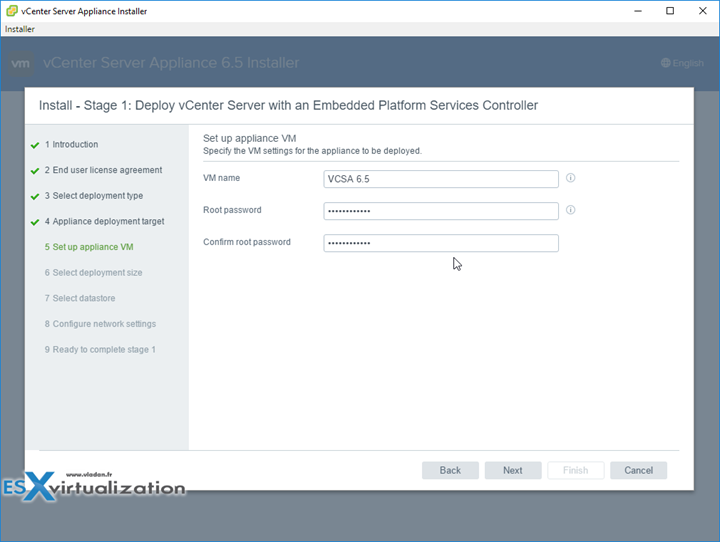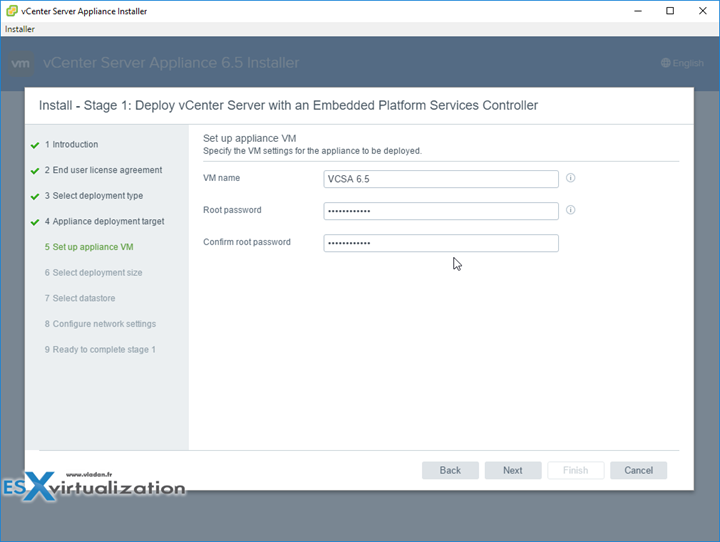 then chose the deployment size and storage size. As you can see, the appliance supports up to 2000 hosts !!!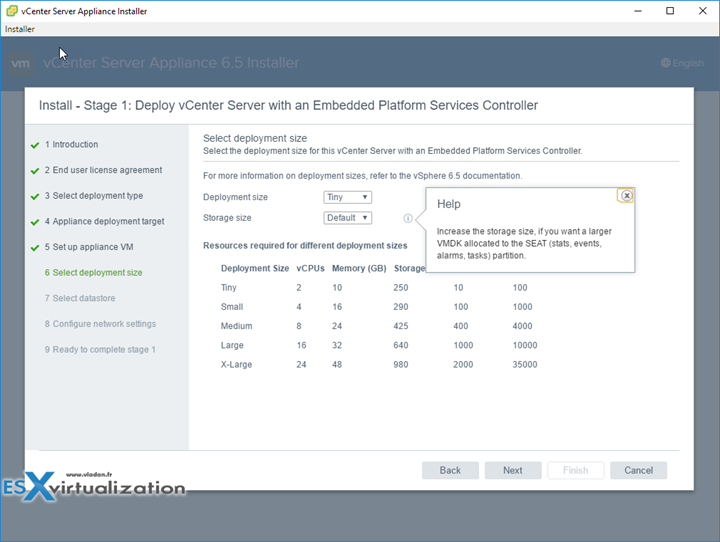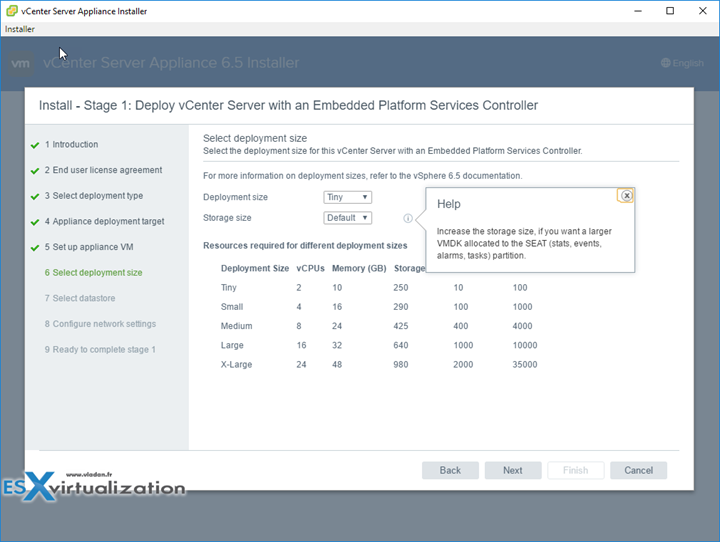 Choose a datastore where the VM will live…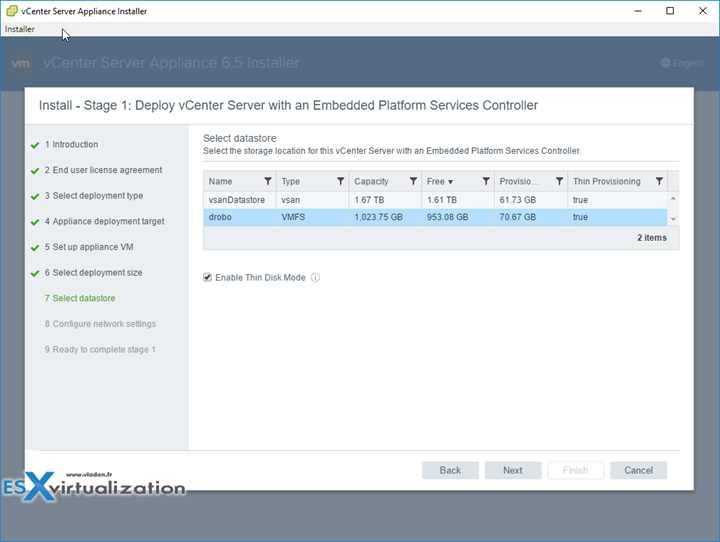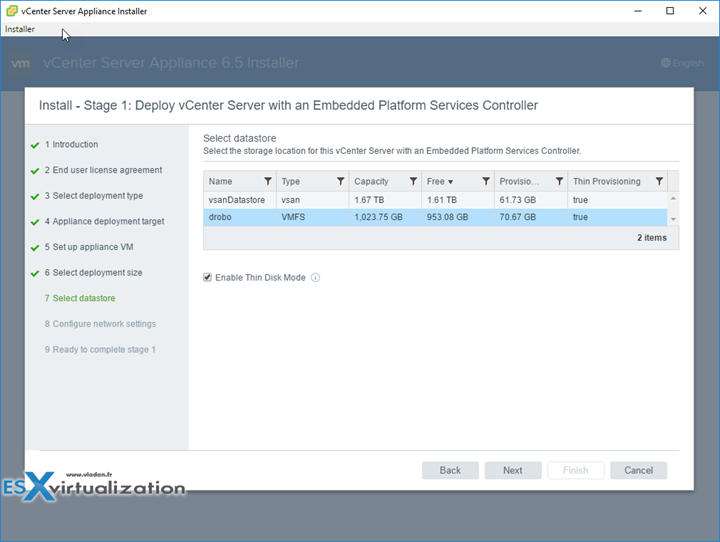 And then finally configure the networking. In my case, I go for static IP, but you can select DHCP if you prefer…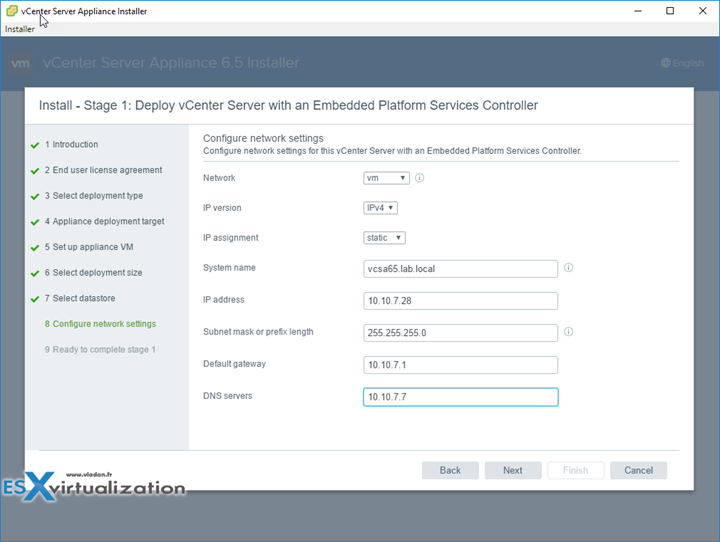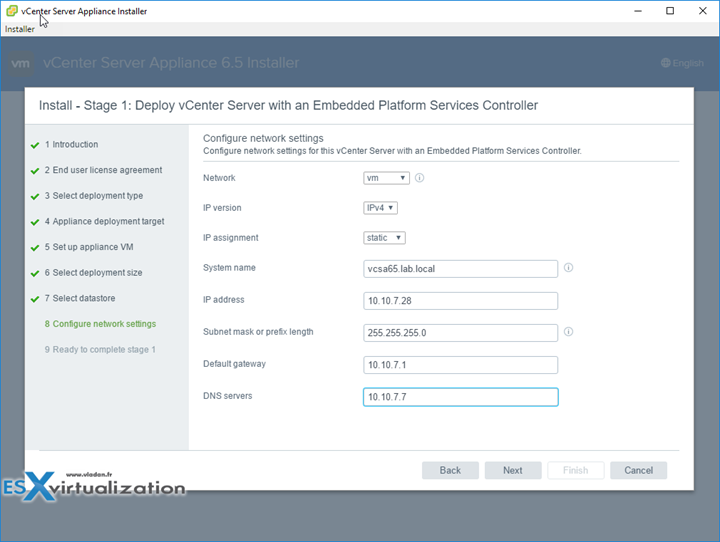 Then only you'll get a recap screen which summarizes all this…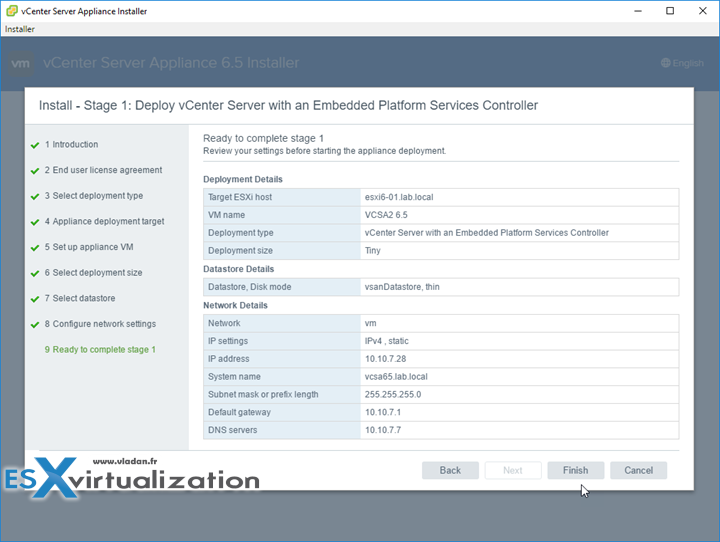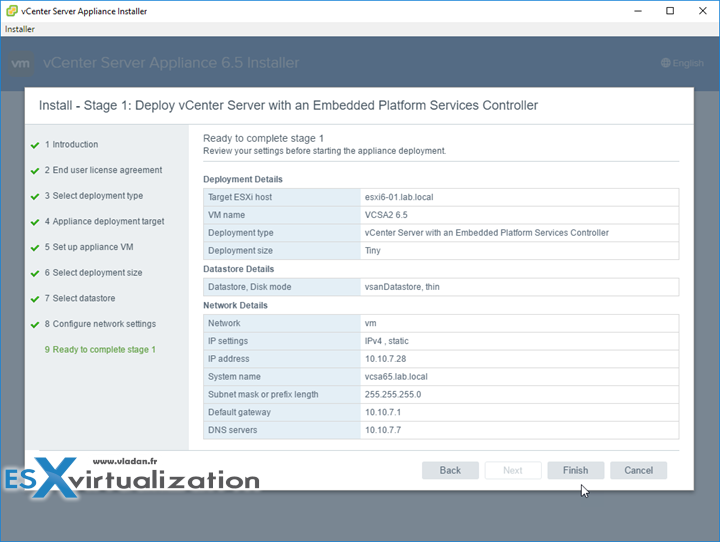 The whole deployment consists in two parts:
Part 1 – Deployment
Part 2 – Configuration
The first part, we just did the step-by-step. The second part can be done from within the same window or you can open a browser window to finish the configuration via web browser.
All you need to do is to connect to the appliance via VAMI and the 5480 port – https://IP_of_VCSA65:5480
Here is the whole video detailing the Part 1 and Part 2. Enjoy… -:)
Check All vSphere 6.5 articles on our Dedicated vSphere 6.5 WordPress Page !!!
VMware vSphere 6.5:
How to deploy VMware VCSA 6.5 (VMware vCenter Server Appliance) – [This Post] (New !!)
Stay tuned through RSS, and social media channels (Twitter, FB, YouTube)