FreeNAS has been in development over years. I still remember setting up one of my first iSCSI connections for my ESXi lab with FreeNAS. Yeah, FreeNAS has a long history. This new release has brought in a new UI and some backend updates that we'll talk about today – FreeNAS 11.2 Has a nice new UI and updates.
FreeNAS is used by many users for free use but also for enterprise workloads (with support). They also sell hardware appliances with FreeNAS preinstalled, as you for sure, know. FreeNAS can be installed on pretty much many systems, you can find many free resources which has lists of hardware which works, but as many new modern Linux distributions, FreeNAS works almost on everything.
The new UI is based on Angular and Javascript. We'll show a few screenshots from the lab as well.
What do you need to install FreeNAS?
You need a standard PC hardware with a 64-bit processor and at least 8GB of RAM. FreeNAS is intended to be installed on USB Flash drive, with a recommended minimum size of 8GB. 16GB provides more room for boot environments.
Note: You can also use VMware Workstation (like me) if you want to take FreeNAS for a spin, check out the features.
FreeNAS supports many protocols. For example, there is CIFS for Windows users, NFS for Unix/Linux operating systems, or AFP for Mac OS X users. FreeNAS uses the ZFS file system to store, manage, and protect data.
ZFS has some advanced features like snapshots to keep old versions of files (you can snapshot a volume). You can have incremental remote backups to keep your data safe on another device. And this does not include some large file transfers
The FreeNAS also uses compression before those transfers, so the size is reduced so those transfers are faster.
Here is a screenshot from the lab. Installed by using VMware Workstation for testing.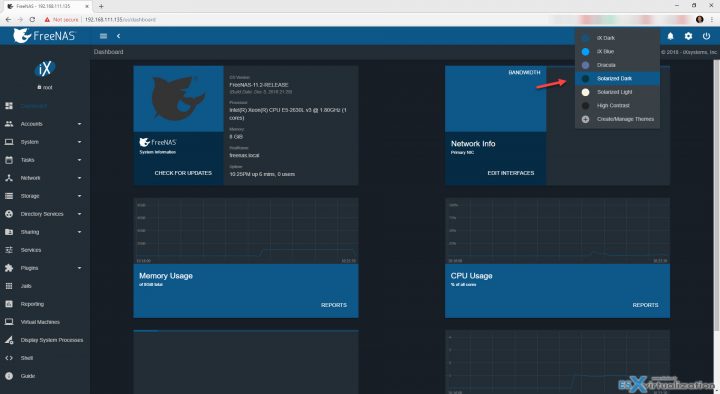 And here is the online user guide.
More from the release notes:
Enhanced Encryption: Support for self-encrypting drives (SEDs). SEDs are FIPS 140-2 compliant, which is useful for government use, HIPAA, PCI, and GDPR.
ZFS Improvements: Latest up-to-date version of OpenZFS with performance and feature enhancement to improve ARC performance, scrub speeds, and vdev resiliency.
Robust API: Swagger-compliant REST and WebSockets API with integrated documentation, improved usability, and backward compatibility with the legacy API.
Mobile and Theming Support: Choose from several built-in themes or create your own custom theme. Built-in mobile support makes it easier than ever to access FreeNAS via your smartphone or tablet.
Release Notes for the full list of changes and improvements are here. Check it out.
What else you can do with FreeNAS?
FreeNAS has a large number of plugins. You can use those third-party software plugins, such as Plex Media Server which allows you to stream television shows, movies, and music to a wide variety of devices.
There are really tons of plugins for FreeNAS.
You can then set up an iSCSI or NFS and connect your ESXi host(s) to FreeNAS. You can use it as a shared storage for your lab etc. It can be multi-purpose box based on FreeNAS. Yes, FreeNAS is fun to play with and have it in the lab.
There is also a built-in Update Manager, allowing the administrator to determine when to apply system patches and new features. When the system is updated, a copy of the current operating system is added to the boot menu, making it easy to revert to the previous version of the operating system should the update fail.
More from ESX Virtualization
Stay tuned through RSS, and social media channels (Twitter, FB, YouTube)