During our previous post we have created a Reference CVD with all the main corporate software installed, then we launched the Create a Reference CVD assistant. In this post we will teach you How to Capture a VMware Mirage Base Layer.
The reference machine was centralized to a reference CVD (centralized virtual desktop) on the VMware Mirage server. (Basically, we have a full image backup). We have fully patched the Windows 10 system (up to 1607 the latest supported by VMware Mirage so far). We have also installed all the corporate applications and did all the necessary configurations which are necessary for our enterprise.
Now we can launch the capture of the new base layer from that reference CVD. Note that there are two possibilities of creation of a Base layer within VMware Mirage:
Option 1: Use an existing reference CVD (our case)
Option 2: Create a new reference CVD, which can be a new source of layer capture. You basically
We can basically pick it up where we left it. We have our Reference CVD which we created in our previous post – How to Create a Reference CVD for Base Layer Capture in VMware Mirage.
How to Capture a VMware Mirage Base Layer? (The Steps)
Let's get started: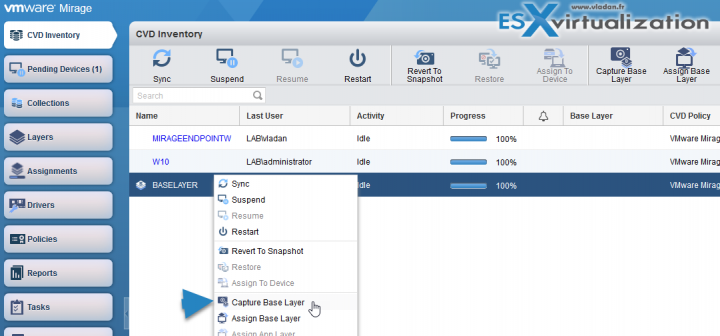 Or click the Capture Base Layer button up in the Main UI. A new assistant will start giving you the choice to either Create a new layer or Update an existing layer.
How to Capture a VMware Mirage Base Layer, the process will start with an overlay assistant (not a Pop-Up).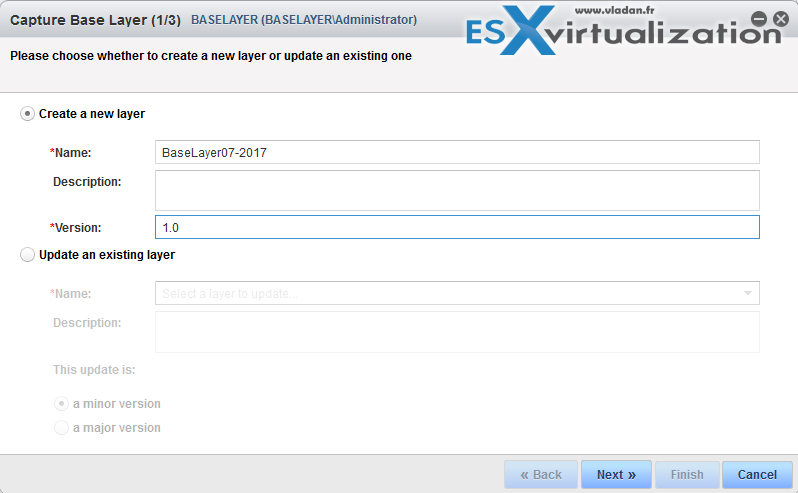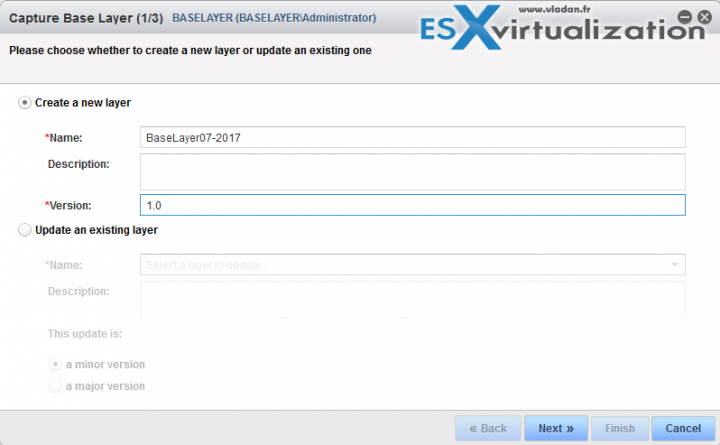 Optional: If Microsoft Office is installed on the reference machine, specify your Microsoft Office license keys.


Then you'll have the validation screen detecting compatibility issues.
Note: If the machine isn't joined to Microsoft Domain, you'll see an exclamation point and note here. We had to join our machine to a domain in order to continue with the assistant.


The assistant shows a quick summary page.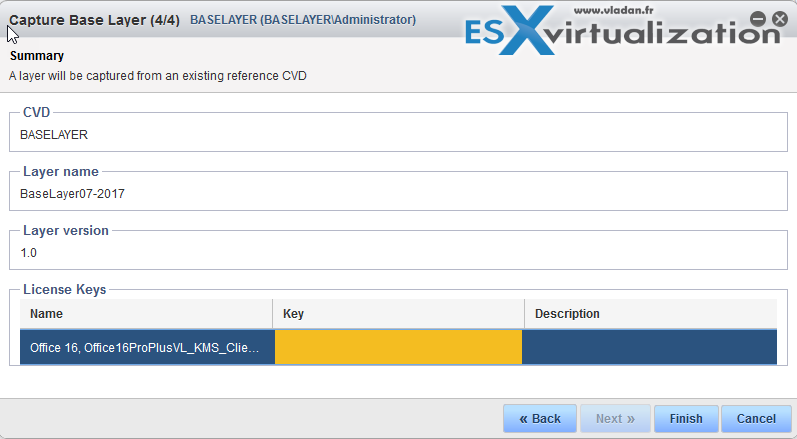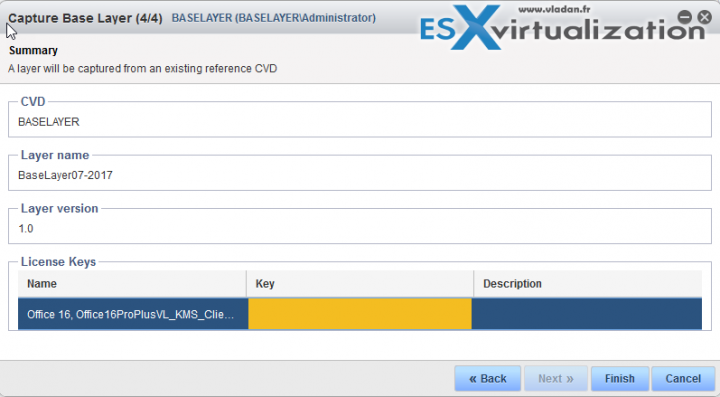 After hitting the finish button you can monitor the progress through the main screen via CVD Inventory. It took about 10-15 min in my lab environment to extract the base layer from the reference CVD. You can also monitor the progress by clicking the Tasks button.


When the operation finishes, you can click the Layers button to find your base layer there.


Well, that's about it. We can do few things while here. Either by right-click the layer or via the buttons up there:
Edit license keys – the system can re-inject an updated license keys into the base layer.
Edit – will allow you to change the name and description
Delete
Create a reference CVD – allows creation of Reference CVD from this layer
Compare Base Layer Programs
The base layer capture process creates a point-in-time snapshot of the data and state of the live reference machine, generalized for mass deployment. You can then use this base layer for provisioning new machines from within your datacenter.
The process can be done either via PXE network as an auto-deploy or booting off a USB stick into a WinPE environment with VMware Mirage client executing and pulling the base layer from the Mirage server to the new endpoint. The process is called Provision new endpoint.
We did cover the USB key creation already. Here is our VMware Mirage guide which starts to take a shape…
VMware Mirage Guide
Server Installation and Configuration
Image Management (through Mirage console)
How to Capture a VMware Mirage Base Layer? – [This Post]
VMware Endpoint Management
Next post will be actually doing the Installation of Mirage Management Server. (the biggest part).
VMware Mirage Licensing and pricing
VMware Mirage has a simple licensing system. You can buy it either as:
Standalone VMware Mirage product
Horizon View Advanced or Horizon Enterprise. (ex. 100 licenses of Horizon Advanced entitles you for 100 Mirage Users).
VMware Mirage standalone sells in a package of 10 licenses. (or 100 licenses). If you purchase 1 copy and it allows you to manage 10 endpoints. There is also an option only to license the Windows migration feature. In this case, you're buying a 6-month term license focused on subscription.
More from ESX Virtualization
Stay tuned through RSS, and social media channels (Twitter, FB, YouTube)