VMware vSphere 6.5 Released today!!! Start your download engines. The release brings all the new features that have been announced, plus even one which has been only a tech Preview. It is the vSphere Predictive DRS, which uses integration between vROPs where vROPs calculates and predict VM CPU and RAM usage. The predictions are based on metric history from vCenter, where vROPs creates dynamic thresholds which are evolutive as you gather more data. DRS receives those metrics (default is 60 minutes ahead of time) and uses those metrics to maintain the balance within your cluster before the increase of workload within your VM(s). Simple activation through cluster settings > DRS > Predictive DRS check box. (Needs vROPs within your environment)
vSphere 6.5 has also a Proactive HA and it works with hardware provided OEM vendors (HP, Dell and Cisco) . Those vendors have their own hardware monitoring system, and there will be a vSphere plugin. Once the monitoring system has a fault, vCenter will get alerted and you'll be able to choose what to do. The idea is to vMotion VMs of the host before a more problems on that particular host occur. Note it is more for kind of partial host failures or better say degraded hosts state, where a host has a component failure.
Check my detailed post – VMware vSphere 6.5 – HA and DRS Improvements. You'll be able to configure what to do depending on what kind of failure the host is experiencing. (type of failure).
VMware vSphere and VCSA 6.5: Not only that the features/functions parity is now equal with Windows based vCenter, but we have new features appearing in the VCSA based vCenter, which will not benefit the Windows-based deployments.
vSphere Update Manager – (Now Built-IN), file-based backup and recovery, native VCSA high availability. The VUM has its own
backend DB, server, and also a frontend client. Here is an overview of a remediation assistant, allowing you to save the settings as default cluster remediation options.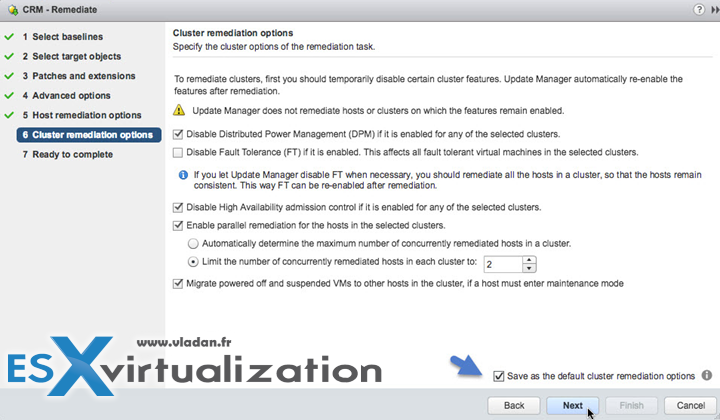 Native HA for VCSA – (Only for VCSA based vCenter) –  Active-Passive deployments with Witness. It allows synchronous DB replication and file-based replication.  Any special requirements? Yes, there will be a new, second vNIC added (eth1) during the configuration (wizard based). A private network, as an only requirement, to have a subnet of the primary network. You can have one VCSA in one datacenter (active) and passive VCSA in another datacenter. The VCSA vPostgress DB will have synchronous replication. VMware uses native vPostgres replication mechanism. There is two ways to activate HA
Virtual Hardware 13 – allows you to create and run VMs with up to 6TB of memory, UEFI secure boot for guest OS.
Host Profiles improvements – New Filters, can find specific value where you can then put your own option. Bookmarks – you can save settings which you need to come back later, or you change certain settings often. By bookmarking the branch you'll find it easier. You can also newly copy settings between profiles. Also, New Pre-check – some hosts will report on what's wrong before remediations. Or, compliance view allowing you to see a side-by-side comparison between host profile and value which is on the host. Parallel remediation for hosts not requiring maintenance mode. Check detailed post VMware vSphere 6.5 – VUM, AutoDeploy, and Host Profiles.
AutoDeploy WITH a GUI – AutoDeploy has a GUI! Yes, you no longer need to use PowerCLI cmdlets for creating and maintaining images. So the GUI is for Image Builder and Deploy Rules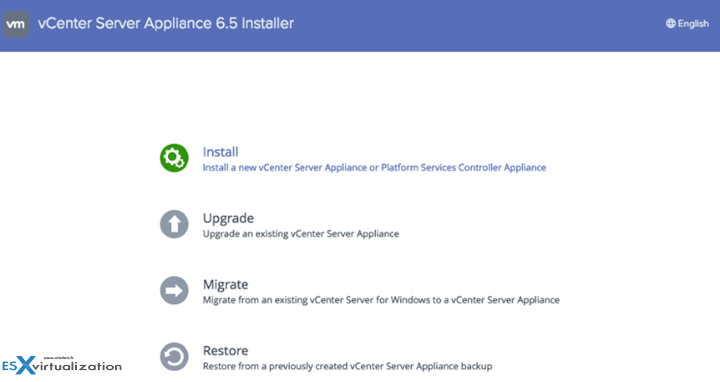 PowerCLI Backup – Backup the state of the whole AutoDeploy environment via PowerCLI cmdlet. (rules, settings, certificates…)
Scripts – you can now run post-boot scripts after the auto deploy boots up the hosts. Those scripts can be on the ESXi hosts. Attach them to your deploy rule and hosts will run those scripts when they come up.
UEFI and IPv6 support – supported now.
Scalability Improvements – now the AutoDeploy can manage easily over 300+ hosts without problems.
Native HA and Backup/restore – now too, available for VUM allowing to have much more resiliency for your entire vSphere environment including VUM.
Round Robin reverse proxy caching – it's possible to integrate proxy cache to store the ESXi bits, rather than to pull them each time from the AutoDeploy host.
New cmdlets for AutoDeploy – you can use Get-DeployCommand to view AutoDeploy cmdlets.
This is only a small fraction of new features that are out! The only regret is that there is no more Windows C# client, but the good news is that there is the new HTML5 based web client which is very fast.
UPDATE: VMware vCenter 6.5e has been released (vCenter updated fixing vulnerabilities).
This patch release resolves the following issue:
vCenter Server 6.5 might fail with an error of the type ERROR: duplicate key value violates unique constraint "pk_vpx_guest_disk"The vpxd service on vCenter Server 6.5 might intermittently fail with the following error stack in the log files:YYYY-MM-DDT00:01:24.342Z error vpxd[7F8DD228C700] [Originator@6876 sub=Default opID=HB-host-476@72123-38e1cc31] [VdbStatement] >SQLError was thrown: "ODBC error: (23505) - ERROR: duplicate key value violates unique constraint "pk_vpx_guest_disk";--> Error while executing the query" is returned when executing SQL statement "INSERT INTO VPX_GUEST_DISK (VM_ID, PATH, CAPACITY, >FREE_SPACE) VALUES (?, ?, ?, ?)"
Patches:
You can download this patch for VCSA by going to the VMware Patch Download Center and choosing VC from the Search by Product drop down.
This page has all our blog posts with deep technical information about different features of VMware vSphere 6.5, ESXi 6.5 or associated products such as DR, Backup, replication, monitoring, with many how-to articles and videos.
VMware vSphere 6.5:
VMware vSphere 6.5 Released – Start Your Download Engines [This Post]