Backup software is usually running on a backup server which is usually a dedicated machine, even though, a VM can also be used with the backup software installed inside. There are some pros and cons to run backup software in a VM. One of the most important ones is the fact that you should always separate your virtual infrastructure from backup infrastructure. Nakivo is one of the backup vendors that have Innovative data backup with intelligent storage systems.
Nakivo is one of the vendors which allows the use of some popular NAS devices to deploy Nakivo backup and replication software and run the backups directly from the NAS device. There are many advantages to this approach.
Installation of backup software on NAS device – the advantages
Reduce load on the production infrastructure – the backup infrastructure, the backup target, is separated from the production storage and production cluster. The software runs and uses CPU and memory from the NAS device itself. We can see a clear shift in NAS hardware where even Xeon CPUs are used now so plenty of horsepowers to handle backups as well.
The path to backup is shorter – you can achieve up to double the backup speeds vs. VM-based backup solutions when the product is installed on a NAS. This is because backup data is written directly to NAS disks, bypassing network protocols such as NFS and CIFS.
Backup copy to the cloud – When you use a NAS device for storing VM backups (NAKIVO Backup and Replication can use SMB (CIFS) and NFS shares created on NAS as backup repositories), you may need to create a backup copy at another storage space, such as Amazon cloud storage. NAKIVO Backup and Replication can create identical copies of your backups automatically.
Installing NAKIVO Backup & Replication directly on NAS allows you to transform your NAS device to a VM backup appliance.
Nakivo Backup and replication Features:
Backup-to-Cloud
VMware Replication
VMware Backup
Hyper-V Replication
Hyper-V Backup
EC2 Instance Replication
EC2 Backup
Disaster Recovery
Backup-to-Cloud
Another aspect to think of is the budget. (N° 1 in many environments). You're already investing money in a NAS device, so why not use its power of the NAS device to run backup software at the same time? Yes so as being said, you already have the NAS, so why not using it to run the backup software at the same time?
Yes, this could be a second benefit to point on. Most modern NAS comes with dual-core or quad-core CPUs so there should not be any performance hit for the NAS to perform some backup work on top of the usual NAS work.
Overview of the DSM….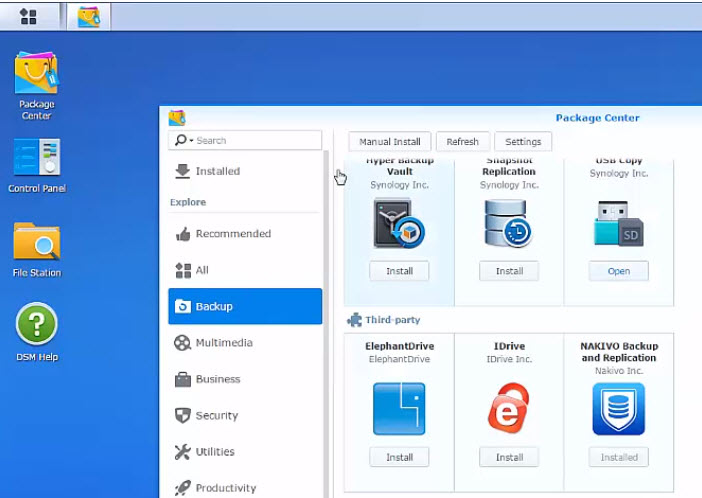 and another example Nakivo on Netgear.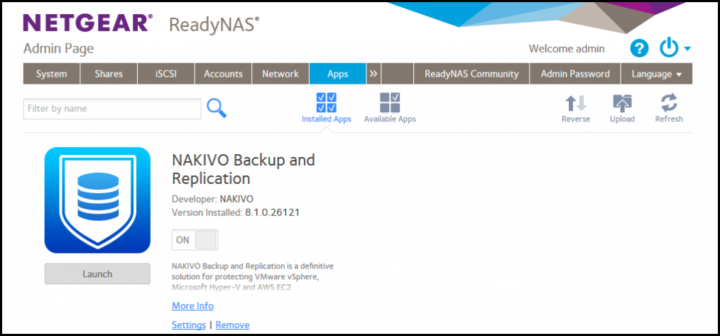 Where else can I install Nakivo product?
It's possible to install Nakivo on Windows or on Linux, deploy as Virtual Appliance, Install on Synology or WD NAS or deploy Amazon Machine image in AWS EC2.
Nakivo Product Website is here. Trials and NFRs also available there.
More posts about Nakivo on ESX Virtualization
More from ESX Virtualization
Stay tuned through RSS, and social media channels (Twitter, FB, YouTube)