Nakivo is releasing another big update. Nakivo Backup and Replication 7.4 brings additional features which makes life easier for VMware and Microsoft admins. The product continues to evolve on regular basis and every time we report on that. Recent last release, the 7.3 version has brought backup repository support for deduplication appliances (NEC Hydrastor, EMC Data Domain, HP StoreOnce, and Quantum DXi).
Today, we'll have a look in details what's new in Nakivo Backup and Replication 7.4. First, this is a major release, which has had a beta phase you could participate. During the beta program, the details were already known, tested and released. Details about features like Automated VM failover which has re-IP and network mapping rules for each job so if your recovery environment has different IP structure than your production environment, Nakivo is able to take care of it.
Nakivo Backup and Replication 7.4 Released – What's New?
Instant File Recovery To Source – when restoring individual files, you have the option now to restore directly to the source. Where previously you could restore to some local drive or send it through e-mail to your coworker, now you can restore directly to where the file was backed up from. I imagine that you'll get a prompt in case the original file is still there (but corrupted for example). If the original file was deleted non intentionally, you restore directly to the original location without receiving prompt.
Automated VM Failover – With your replication jobs, you have an identical copy of your VMs with a data which differs only by the delta of what's your RPO settings. If you let's say replicate every 15 min, you lose at most 15 min of data. The VM failover job you're able to specify which VM replicas should be powered on and create rules for network config (re-ip is necessary in most cases). So all VMs in the VM failover job is powered On at the DR site. This feature is also useful when doing planned failover. During planned failover or a data center migration, you can choose to power off the source VMs at the primary site, ensuring they do not interfere with the VM replicas when they come online.

Enhanced AWS EC2 Instance Backup – Now with Nakivo 7.4 you can save up to 1000 recovery points per protected Amazon EC2 instance. The recovery points can be kept in the cloud or sent to your on-prem location. If there is an issue with Amazon at some location (can happen, remember that), you can restore to another Amazon location.
Automated Self Backup – it saves automatically the whole Nakivo config including jobs, inventory, product config and all other settings such as repositories and replication information. If in any case, you need to reinstall the Nakivo product, you can do so easily by doing a clean installation and then restoring the config. The config is stored in the backup repository, so after installing the clean copy, all you need to do is to attach the repo and load the config from there.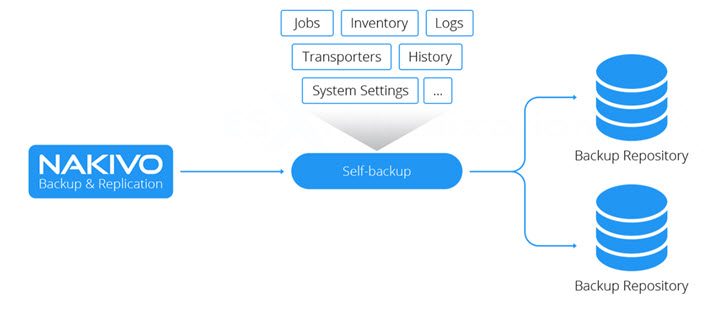 Bandwidth Throttling – You can limit the data transfer speed. This is important if you're running some backup jobs during working hours and your network bandwidth is rather limited. Or you're running a very large environment and some jobs need to use limited bandwidth only. Bandwidth throttling can be set on all kinds of jobs, not only backup jobs, but also replication, backup copy or recovery jobs.
Instant VM recovery for Hyper-V VMs – You can now boot Hyper-V VMs right from compressed and deduplicated backups without the need to restore the VM first. Time saver.
quote:
Flash VM Boot works right out of the box: just choose a VM backup, a recovery point, and a recovery location, then push a button – the VM is booted right away.
Screenshot verification for Hyper-V – how to be sure that recovered VM is actually not corrupted and starts up nicely? By using screenshot verification. After a verification is completed, you can receive a report with screenshots of test-recovered VMs.
Instant Object Recovery for Microsoft SQL Server 2017 – Granular restore of individual databases or tables. You can recover Microsoft SQL objects (databases and tables) to their original location or a custom location. In order to quickly restore SQL server objects, it's first necessary to perform an application-aware backup, which will ensure that the database data is consistent and can be recovered. Then you have the option to run the Instant Object recovery for SQL wizard, select the desired restore point and select the objects you'd like to recover.
Log Truncation for Microsoft SQL Server 2017 – SQL server registers the DB changes in a transaction log, which grows and grows over time. (Files with extension .ldf as you know). Log Truncation feature from Nakivo is able to automatically delete the log files on the source VM after a successful backup or replication to free up space. The original VM is left "logs-free" and can be recovered via desired recovery point using the VM backup file selected from your repository.
NAKIVO does this:
Backs up/replicates the entire VMware or Hyper-V VM running Microsoft SQL Server
After completing a successful backup/replication identifies SQL Server transaction log files, which were already committed to the database
Truncates (deletes) the committed transaction log files on the source VM, thus freeing the storage space
Built-in Chat with Technical Support – you'll be able to get in contact with Nakivo support team via a built-in chat feature. In case you need some assistance, you can do so directly from within the Nakivo UI.
Global Search – you can now search for specific VM, backup, replica, job or any other item. Especially useful in larger infrastructures where you starting to lose track of all items you manage. It's an instant search so it's enough to start typing the name and after the first few letters you'll end up with a handful of examples.
So quite a lot of new features are in. Every release of Nakivo is getting a lot of new features. The product is evolving a positive way to satisfy VMware and Hyper-V admins which needs reliable and fast backup/recovery.
Check Nakivo website here
Release notes here.
More About Nakivo from ESX Virtualization:
More from ESX Virtualization Blog:
Stay tuned through RSS, and social media channels (Twitter, FB, YouTube)