Nakivo Backup and Replication for VMware and Hyper-V can recover files from backed up VMs fast way. But the main reason why Instant File recovery is an important feature for VMware and Hyper-V environment is the fact that this feature is used very often. It's no secret for any admin that very often there are user's requests to recover files which had been deleted accidentally. So having a fast and reliable solution is simply crucial. Today we'll have a look at Nakivo Instant File Recovery – How it Works.
Worth to note that It works for Windows and Linux VMs the same way, without any agents installed within those VMs.
For those of you who don's know Nakivo Backup and Replication software, please check some of our previous posts. Nakivo is here for a few years now and confirmed its status as a solid backup vendor who has fast release cycle and who introduces new features on regular basis.
Nakivo is efficient when storing the backup files by using de-duplication and compression. Even the Free Edition of Nakivo automatically de-duplicates backup data across entire repository and keeps only unique blocks of data. As a result, you'll get up to a 30X storage space reduction for backup.
Nakivo Instant File Recovery – How it Works??
Instant file recovery can restore files back to their original location very quickly (almost instantly) right from compressed and deduplicated VM backups, without restoring the entire VM first. The upcoming Nakivo 7.4 will be able to do an Instant restore to the source (so far you have to manually select the location where you want to restore, then copy the files to the source).
Note: If you're an experienced admin, you might already know your way. But this example shows the Nakivo's UI and the recovery process for folks which are not using Nakivo or are starting to look at backup and replication solution for their environment.
Nakivo's flexible installation options (Windows platforms but also Linux appliance (via OVA file), on Linux servers, on some compatible NAS hardware (some WD, Synology, Asustor, QNAP). Nakivo also supports international users as the UI is not only in English but also in Italian, German, French or Spanish.
Let's jump in the lab and quickly have a look at Nakivo Instant File Recovery.
Instant File Recovery Workflow
Step 1: Start the Recover Individual Files Wizard > Select VM and Restore Point > Pick a file to recover
Step 2: Hit the Recover button and choose Download.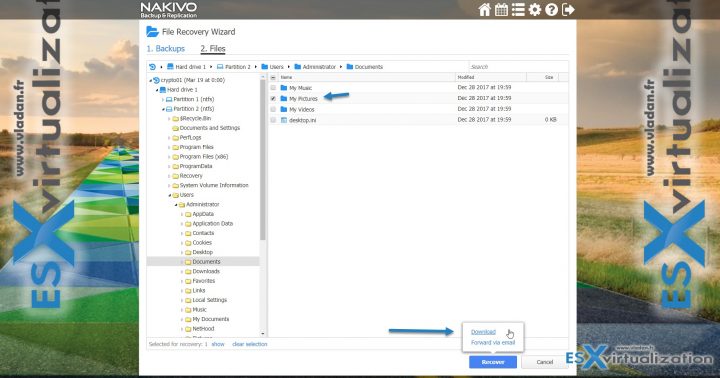 As mentioned previously, the upcoming Nakivo 7.4 will have an option to recover files to the original location which is certainly handy too. But if you just want to download the files and decide where to place them, this is the way.
The Forward via E-mail option is also interesting as you can use it to directly send the recovered files to your end users.
Well, this is pretty much it. Simplicity is the key. We don't need complex backup products. Simpler is better -:).
Make sure that you are using an appropriate backup strategy and retention policy for your backup jobs. Let's say you have a user which came back from 6 weeks vacations, and asks you to recover files from 6 weeks ago, you shall make sure that your backup jobs have retention policy long enough in order to satisfy the user's requirements.
Nakivo software can be installed on Windows system (physical or virtual), Linux (physical or virtual), but it's also distributed as a virtual appliance for VMware (OVA file) or Hyper-V or as an installation package for certain NAS hardware.
There are also cloud options such as Amazon AWS where you can back up AWS EC2 Instances by creating a backup job that specifies which Instances should be backed up, where the backups should be located, how often the backup should occur, and what backup options should be used.
NAKIVO Backup & Replication can back up AWS EC2 infrastructure in the same region, across regions, or to an on-premise site. You can maintain multiple secondary copies of your backup in different destinations.
Upcoming Features (currently on the BETA 7.4)
There is the Instant recovery to the source we have already talked about. Then we have few more like Automated Self-Backup which backup the config, including jobs, inventory and all other settings.
Automated VM failover (must look into it when it comes out) can re-IP your VM and re-map the networks when failover occurs.
There is also Bandwidth throttling which helps to allocate fewer network resources to your backups in order not to disrupt other activities. You can let's say limit your job to 50MB/s. It's a restriction on a per-job basis.
A global search will allow you to search for a particular VM via a search box. Useful for larger environments.
Other upcoming features
Log Truncation for SQL Server 2017, Instant Object Recovery for SQL 2017, Built-in Chat with Technical Support or Screenshot verification for Hyper-V.
Check Nakivo website for further details.
Trial Download: https://www.nakivo.com/resources/download/trial-download/
We like Nakivo product because of its simplicity and easy to use. The UI is clean and fast, without the need of installing any software. Just use your web browser. For larger organizations there is a decentralized deployment model where you install several different components on different sites, but the management is still through the main product, also called Director. We have explained this in our post What Is Nakivo Transporter.
Nakivo main component is called Nakivo Director, which has the main UI, DB etc. Nakivo Transporter is bundled together with the Director or as a separate download. The separate download of Nakivo Transporter is useful when you want to replicate to a remote site (has to be installed there) or when you need to backup VMs on remote site(s).
More about Nakivo on ESX Virtualization:
More from ESX Virtualization
Stay tuned through RSS, and social media channels (Twitter, FB, YouTube)