Nakivo Backup and Replication 9.1 is GA. You can download a free trial here. The product has yet again evolved and new features have been added. We have recently written about the 9.1 Beta here. As any backup product out there, Nakivo keeps adding new functions that are useful for data center administrators. One of those is tape support.
Tape support allows to backing up to tape and it is perhaps one of the features that have been in works for a while. This release of Nakivo has tape support where LTO 3 and later tape libraries, standalone tape drivers or Amazon AWS VTL can be used for backups. You can use it for long term data archiving or for antimalware protection (you never know when you'll get hit by some crypto-malware).
Physical server backup was in for Windows since version 9, but 9.1 has this feature for Linux servers. If you have some physical Linux servers within your organization, you can backup and organize your backups within the same location.
Physical Workstation/laptop backups. Within the same web-based UI you'll be able to remotely back up your laptop/workstation. Useful in corporate environments where you are responsible for protecting laptops and desktops of key employees.
Nakivo is now compatible not only with VMware vSphere, Microsoft Hyper-V, Nutanix AHV, Amazon AWS EC2 servers but now also has physical Windows and Linux server backup.
Nakivo is very flexible when it comes to installation OS. In fact, you can use Windows, but also the Linux machine to install Nakivo. If you're planning to buy a NAS device for storing your backups you might check the Nakivo compatibility list as Nakivo can be installed directly on NAS device. Some Synology, QNAP, Asustor, WD, Netgear or even ARM-based devices such as Rasberry Pi are also supported.
Many modern NAS devices have multi-core CPUs with lots of RAM so the backup jobs won't suffer from performance issues.
Screenshot from the 9.1 beta showing the Physical server backup feature. The agent will install over the network remotely without the user's interaction.

From the release notes of Nakivo Backup and Replication 9.1:
Native Backup to Tape – Tape backup remains one of the most reliable and cost-effective means for long-term data retention to this day. NAKIVO Backup & Replication v9.1 provides a complete tape management solution and supports LTO 3 and later tape libraries, standalone tape drives, and AWS VTL. NAKIVO Backup & Replication v9.1 offers enterprise-grade tape backup features, including tape device management, tape cartridge management, and tape backup management. This means that customers can track all tape cartridges, their location, contents, and status. Customers can also browse, search and filter all tape backups, see what cartridges should be used to restore a machine to a particular point in time, etc.
Physical Linux Server Backup – NAKIVO Backup & Replication v9.1 can now back up Linux-based servers. This feature extends the solution's platform coverage which already includes support for virtual (VMware, Hyper-V, Nutanix AHV), physical (Windows Server) and cloud (AWS EC2) servers. NAKIVO Backup & Replication leverages a proprietary change tracking technology to perform incremental backups of Linux-based servers, improving backup performance and lowering storage space requirements.
Customers can instantly recover files, folders, and application objects directly from compressed and deduplicated backups. Additionally, NAKIVO Backup & Replication allows for recovering physical Linux Server machines to VMware and Hyper-V VMs.
Physical Workstation Backup – NAKIVO Backup & Replication v9.1 can now back up physical Windows workstations. Backups are incremental and can be automatically compressed and deduplicated. Customers can instantly recover files and folders from workstation backups in addition to restoring workstations to VMware and Hyper-V VMs.
Windows 10 based workstation/laptops can be backed up via Nakivo too. The restore operation allows you to restore to Hyper-V or VMware vSphere (You basically generate VHDX or VMDK).

Once you have that agent installed, you can create a new backup job. Click on Create > Physical server backup job.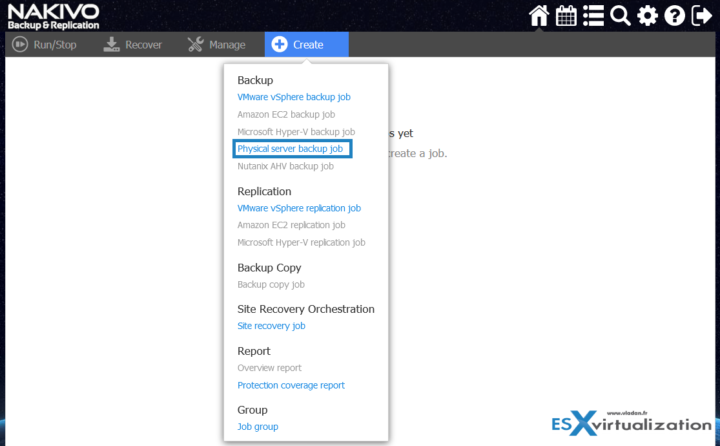 Instant Verification – NAKIVO Backup & Replication 9.1 boasts of an updated version of backup and replica verification. The Instant Verification feature can instantly recover a VM from its backup or boot a VM replica with networking turned off and then check the OS heartbeat via VMware Tools or Hyper-V Integration Services. With the instant verification feature, customers can ensure that their backups and replicas can be successfully recovered.
Quote from Nakivo:
The Backup Verification approach can test the VM recoverability by checking whether hypervisor tools are running (VMware Tools or Hyper-V Integration Services) inside the guest OS. For this purpose, NAKIVO Backup & Replication can recover the VM once the job is complete, start the guest OS, and check availability of hypervisor tools by listening to the OS heartbeat.
Links:
Nakivo Trial Download. You can get Nakivo 15 days trial (and you can extend this period if you want to, by e-mail).
Nakivo Blog post here.
Check out Nakivo Forums too to see other user's questions and answers.
More about Nakivo on ESX Virtualization:
More from ESX Virtualization
Stay tuned through RSS, and social media channels (Twitter, FB, YouTube)