I was playing a lot with Nested ESXi 6 in a lab recently. But it does not matter, we can do quite a lot with a 64 Gigs of RAM and bunch of SSDs… What's new in this release is the fact that VM tools are installed by default so the nested ESXi behaves like any other VM with VM tools installed right when you finish your ESXi 6 Setup. There is nothing else to do. Previously one had to install small vib called VMware Tools for Nested ESXi (used in ESXi 5.x).
Folks willing to run All-in-one nested lab with bare metal ESXi can now do a simple install of ESXi and then just few simple tweaks to start building complete nested ESXi environment on the top. Since it's been a while (I believe I've done it for v 5.0 in the past) and the UI has changed over time, let's recap those steps which are necessary to build a Nested ESXi 6 in a Lab.
Nested ESXi 6 in a Lab
Step 1: Install the physical server with ESXi first. Simple enough and few days to do it….. You can do the installation to or from an USB key (use USB as a destination OR use USB to boot the installer),  OR you can use Workstation or Player to pre-install the ESXi 6 hypervisor (and then plug this pre-installed USB into your server). If you're upgrading from 5.x follow this simple guide.
Step 2: Connect to your ESXi host via vSphere client and go to the Configuration tab > Networking > double click vSwitch properties > Security Tab > change Promiscuous mode to Accept.  Make sue that Promiscuous mode is set to Accept and also Forged Transmits is also set to accept (everything is set to accept, actually). If you don't change the setting to accept you won't be able to pass traffic through to the nested ESXi VM's.

Step 3: Deploy your VM(s) to assure the core network services for your lab like DNS, AD, DHCP … and Install VMware vCenter server 6 (VCSA). Note that there is also simplified scripted installation of vCenter Server (VCSA) available and it's really simple – check my post on it! Once you have vCenter you can start build the nested ESXi 6 hosts.
Start new wizard for creating new VM > choose meaningful name (ESXi6 in my case) > Select host > select storage > and select Guest OS family, choose Other.

Click finish and then modify the VM's properties with 2 CPU and 8Gb of RAM and also check the Expose hardware assisted virtualization to the guest OS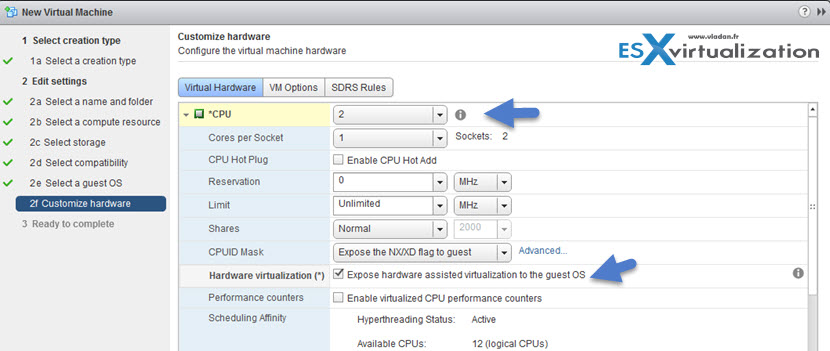 You'll certainly want to use thin provisioned disks (if you don't expand the disk properties and don't changes, by default it will create thick format disk). And another change you'll want to do is to change to VMXNET3 which has performance and has less overhead then E1000 based NIC.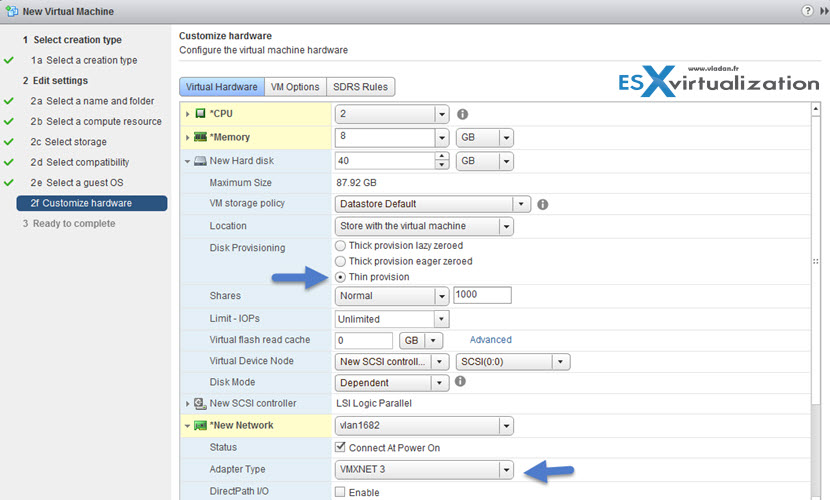 Oh, don't forget to attach your ISO to the ESXi and click the connect check box, otherwise it won't boot the iso.. -:).

That's about it. You have deployed vCenter server and your first ESXi 6 host (as a VM). You now have a solid base to start building a virtual datacenter, play with VSAN and other cool features that vSphere 6 provides even if you only have single ESXi host.
On the image below you can see the ESXi 6 VM running with VMware tools…
*********************************************************************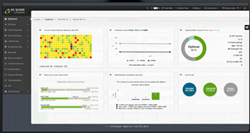 DC Scope for VMware vSphere – optimization, capacity planning, and cost management. Download FREE Trial Here.
Tracks the performance of VMs with a summary view of the resources and metrics in degradation.
Easily improve the performance of your infrastructure.
DC Scope is affordably priced per VM.
*********************************************************************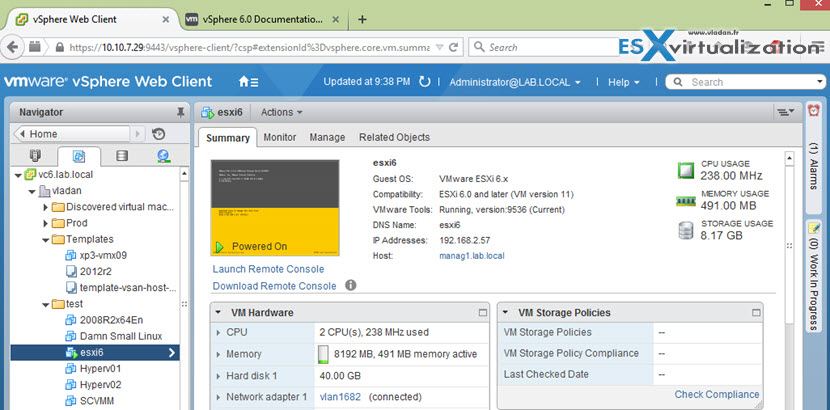 Nested lab does not have a speed of real lab (everything is about cost), but to discover and learn VMware technology,  to prepare for certification exam, nested lab is a good start. Unless you go and take Online lab (remote). RAM is the first resource which gets exhausted and it's also the RAM which you need to do anything. If you building nested lab, get at least 64Gb! Make sure that you run everything on SSD. This should not be a problem today as prices are falling and price per Gb is getting more and more affordable.
Check back often for my Lab page where you'll find the full setup of the 2015 lab and also check back for vSphere 6 page where new how-to, videos, and news articles about vSphere 6 are located.