New free tool from vKernel has been released during VMworld Copenhagen 2011 this year. It's called vScope Explorer and it can show you the instant health of your environment – Per VM – for the whole environment. You can span multiple vCenters environments. You are able to see the performance, capacity and resource efficiency. The default view of your datacenter shows you which VM performs badly or performance problems occurs.
The product deploys itself as a single VM and connects to your vCenter(s). You can monitor up to 1000 VMs. The colors green, yellow and red says what's the immediate problem of particular VM. You can switch to Hosts View where you see the performance of each individual host and also the host capacity, VM resource efficiency and datastore resource efficiency.
You can find more details about this free tool at the vKernel's website here.
In the image bellow you can see that this VM is experiencing excessive CPU wait times.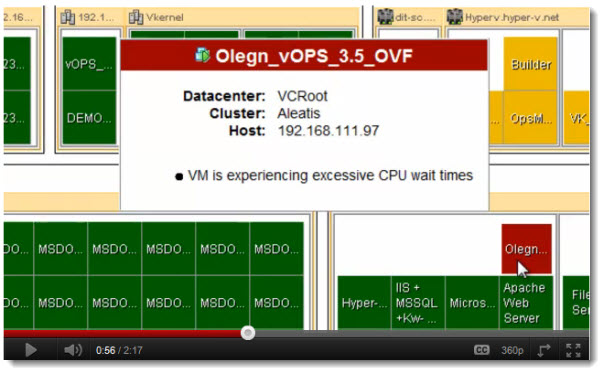 This free product uses the same vKerenel's engine which is present in the paid suite. It's just that you don't have the features which are present in the paid suite, but you can activate certain parts (or all of them) if you got the license key. There is actually a link on the top right corner of the product where you can activate the full trial for 30 days.
A quick quote from vKernel's website:
"Based off intensive analytics from VKernel's Capacity Analytics Engine™, vScope Explorer assesses the performance health of all VMs in an environment, across data centers and from multiple vCenter servers, displaying any existing or developing issues in an easy-to-read heat map. This allows a VM administrator to assess the performance health of all VMs in an environment on one screen. Mousing over a VM will show a pop up dialog box with a brief description of the issue a VM is experiencing."
It's definitely product which is worthy to test. I'm already adding it on my Free tools page here.
You can see a quick video done by vKernel:
And here, I took a pic with Alex Rosemblat from vKernel, in front of the vKernel's booth at the Copenhagen's Bellacenter – VMworld 2011.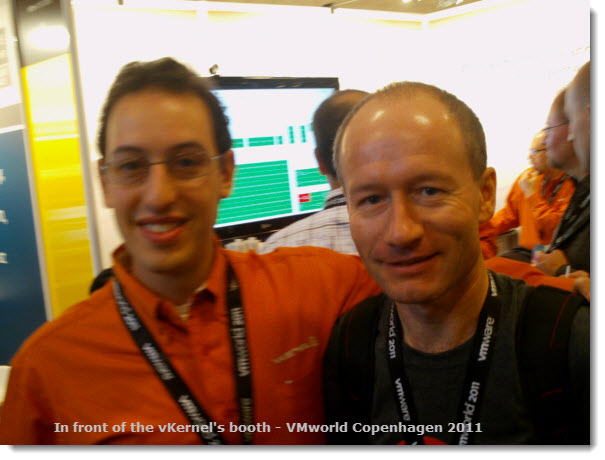 VMworld Copenhagen 2011
VMworld Copenhagen 2011 first impressions
New Free Tool from vKernel called vScope Explorer – this post