Destined for OEM partners this programs enables to build pre-configured VDI environments for fast deployments. While visiting the booths during the VMWorld Copenhagen 2011 few days ago I bumped to a stand from company called Pivot3. As my curiosity to a new technology is always on it's top level during such an events, I've been told that Pivot3.com is an OEM partner for Rapid Desktop Program which has been launched by VMware.
This program allows OEMs to build pre-configured appliances for desktop virtualization, making it easier for enterprises to start using the technology. The news has been announced by VMware's director of product marketing for desktop and application virtualization Raj Mallempati during the VMworld Copenhagen 2011.
A quick quote from the announce
"The Rapid Desktop Program and the resulting products is about making sure that we can get customers and partners to deploy the initial proof of concept and pilot much, much faster."
And as I said in the beginning of my post, Pivot3 is one of those OEM partners which got certified. In fact not only the deployment of the pilot installation can be faster, but in some cases even cheaper, since done in very short period of time. (fyi, price per desktop starts at $350).
A quick quote from Olivier Thierry – CMO at Pivot3
As we talk with our more than 500 customers and channel partners, we understand that while VDI is in high demand, currently there is no out-of-the box solution to deploy it. The Pivot3 vSTAC P3 program together with our certification in the VMware Rapid Desktop Program allows candidate organizations to get from zero-to-VMware View desktop ready' in about an hour.
Pivot3 proposes a ready to go appliance together with the hardware which can be stackable, and as I have been explained by the Pivot3 booth there, one server can scale up to about to 100-115 desktops. So if you can stack 5-8 servers on the top of each other to scale out easily, one can easily imagine the speed of such of deployment.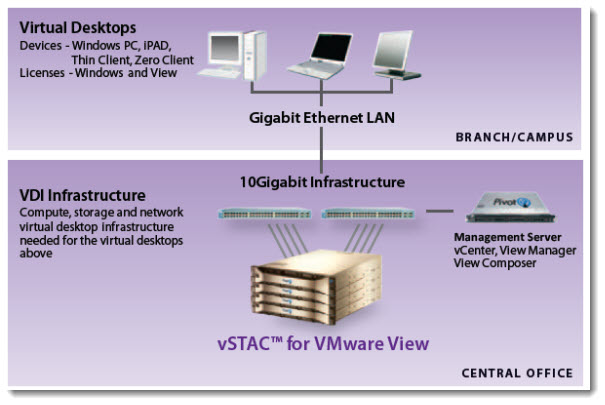 Let see what the vSTAC P3 program proposes in detail:
–  Two vSTAC VDI appliance SKUs:
–  Pivot3 vSTAC VDI "P3 starter appliance":  A self contained ready-to-deploy starter appliance for 50 to 100 desktop production pilots which includes pre-configured trial licenses of VMware View, vCenter Server, Microsoft Windows 2008 Server.
–  Pivot3 vSTAC VDI "standard appliance":  The ability to dynamically and automatically scale out a VDI environment by  adding additional appliances each with a capacity of more than 100 desktops.
– 30-day P3 pilot agreement
– One-day on-site assistance
– Phone support during 30-day period
In addition, the P3 program does provide the following:
–  A real Test drive of the Pivot3's VDI solution – this is a live hosted environment.
–  Potential clients can configure their own VDI environment, complete with ROI, and also there is an online tool which can be leveraged to configure the client's future system. Configure your VDI project using the specialized ROI calculator: VDIconfigurator.pivot3.com
 Some specs from the The Pivot3 vSTAC™ product:
–  Dual six-core Westmere® 5675
–  128 GB RAM
–  Two 10 GigE SFP+ for LAN and iSCSCI connectivity
–  Integrated VMware vSphere 5.0 hypervisor
Storage Specications
–  50 GB SLC write-cache SSD
–  3TB Enterprise SAS tier
–  96 GB SLC tier
–  All storage resources scale-out as appliances are added
P3 Spec Sheet (PDF)
 vSTAC VDI Spec Sheet (PDF)
There is also a starter product which provides smaller scale deployment product for 50-100 desktops. The product is called vSTAC VDI P Cubed™ Appliance.
Source: vLadan.fr
VMworld Copenhagen 2011
VMworld Copenhagen 2011 first impressions
Rapid Desktop Program launched by VMware – this post