Nice to see Eric Sloof at stage for Mythbusters goes Virtual. One of the sessions I attend and appreciated was the one called Mythbusters Goes Virtual break-out session. Presented by Mattias Sundling and Eric Sloof. In this session the Myths were Busted.  -:)
With some great amount of humour and show talent, Eric has started to present this session. And the success was there. The challenge here was not only to present technically the facts, but to make this presentation as a show. And Eric is a master in doing it. I believe he was a showman before……. There was like some kind of magic he was doing….
I mean, it's always nice to see a mix of technical and "show" instead only technical presentation. The attenders does see those technical presentations all the long during VMworld and it's kind of cool to see Eric which is actually makes the atmosphere during this session to be relaxed and like… a real TV Show.. I'm sure that if he was not a VCI, he would work in the Show business…
Mattias on the other hand, he was an excellent technical presenter as well, but could not match the "show side" of Eric Sloof. But it did not took away the whole impression of that session as a….. great and enjoyable experience.
The room was filled up. We could found some answers on the overhead of using CBT, using RDMs or VMDK – why use VMDK almost all the time. Also the resource pools section during which we could hear the explanation on how to use the resource pools correctly and which pitfalls to avoid in order not to have performance loss during periods of contention.Yes, four myths were definitely busted -:).
With that said, the time went really fast. And at the end I was able to catch up with Eric and as you can see, I was able to approach the Godfather of the @Dutch_vMaffia in person with no fear and successfully infiltrate this obscure organization.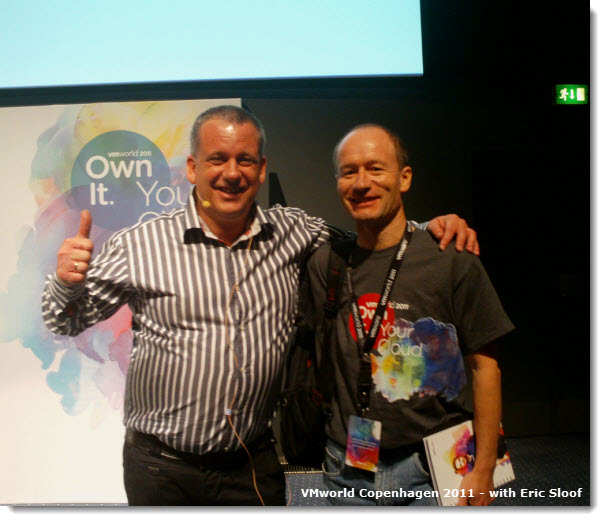 Source: vLadan.fr
VMworld Copenhagen 2011
VMworld Copenhagen 2011 first impressions
Mythbuster Stories at the VMworld Copenhagen 2011 – this post