VMworld Copenhagen – We had a great fun by doing some recordings during this year's VMworld 2011 at the Copenhagen's Bellacenter. At VMware it's always been the community model which worked. The great amount of community users and the enthusiasm in this virtualization technology is always bringing, and bring every year more people to the events like VMworld.
The French community was a bit behind all that VMUG movement until now but it start's to organize itself as well. We did met with other vExperts and bloggers from France at the community lounge and with the leader of all VMware Communities itself   –  John Troyer – at the commands, we recorded a small session where we talk (in French) about VMworld, Virtualization and other topics. So in case you're french speaking you'll be able to follow that through the embedded video bellow.
We talk the Labs, the products, the new products…. and the First French vBeers…    and for the first time I can hear my Czech Accent… -:). Oh by the way, I did not tell you that I'm half Czech ?..
Les participants (in no particular order) are all vExperts, VCPs..and some of them VCAPs….
Jeremi Brison – www.vmnerds.fr – @jbrison
Vladan SEGET – www.vladan.fr – @vladan
Julien Mousqueton – www.vmug.fr – @jmousqueton
Sylvain Huguet – @vshuguet
And our photograph for this event: Fréderic Martin – www.vmdude.fr – @ammesiah
At this stage you can see John doing for us the count down…. -:)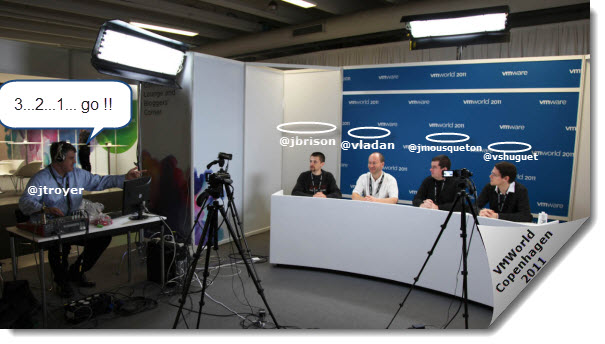 And another picture here: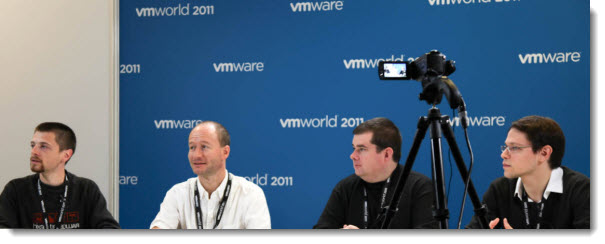 And here you can watch the video from the event.
Enjoy…
VMworld Copenhagen 2011
VMworld Copenhagen 2011 first impressions
French Connection with John Troyer at VMworld Copenhagen 2011 – this post