VMworld Copenhagen 2011 – The rush has started! In few hour time I'll be taking my flight to Copenhagen where there will be an annual Virtualization event – VMworld 2011. If you're not in, you're missing out. If you want to stay home (at warm) and read about VMworld 2011 in Copenhagen, you can tune yourself to many of the different channels which will become to broadcast on Monday.
I'll be posting as usually, a daily post, if I can manage that. I know that It will not be easy and that between the Sessions, Solution Exchange, Labs, and meetings with peers, there will not be many time to write clean posts and edit videos. I think that the videos will be posted afterwards but I'll do my best to keep you updated. You can grab my RSS Feed and follow me on Twitter. You can also subscribe to my YouTube Channel.
The monday 17th of October is when the event will start and it's a partner's day. If you're VMware Partner, there are some sessions for you and the evening there is the Denmark's VMUG party.  Just before, the French speaking participants can be joined at french vBeers, which is a French get together meeting which is close to the VMUG where everybody seems to head afterwards anyway… -:)
Please note that this year's my Copenhagen Trip was from the most part sponsored by Xangati. You can have a look at a review of Xangati's Management Dashboard which has been published here.
You can follow the official VMworld.com blogs, tweets, and videos through those links:
VMworld Channels:
– Twitter
– Bloggers
– Video Channel
– Visit VMworld TV for more videos
– Community Photos
– VMworld on Facebook
VMworld Hashtags:
Conference hashtag: #vmworld
Be sure to include in all your tweets.#VMworld3Word game: #vmworld3word
Mobile App for iPhone and Android:  https://vmworld.com/mobile
VMworld Bloggers:
VMworld 2011 (Copenhagen) Bloggers
VMworld 2011 (Copenhagen) Twitter Contributors
VMworld2011europe_socialmedia.pdf – The "Survival Guide"
ESX Virtualization:
ESX Virtualization: RSS Feed – https://www.vladan.fr/feed
ESX Virtualization Twitter – https://www.vladan.fr/twitter
ESX Virtualization YouTube Channel  –  https://www.vladan.fr/youtube


Enjoy… -:) And Stay Tuned !!!
And the first pictures has started to flow on twitter…
Here is one of them.. from the preparation of the Solution Exchange Area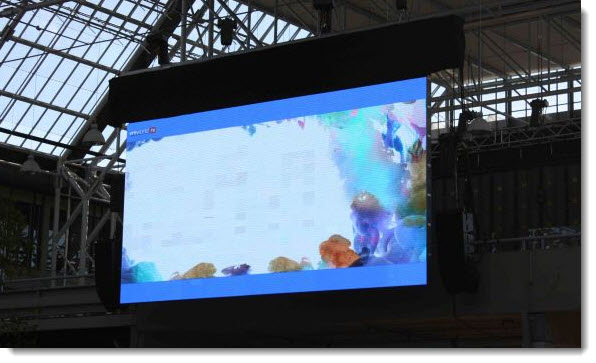 VMworld Copenhagen 2011
Before the show begins – VMworld Copenhagen 2011 – this post
VMworld Copenhagen 2011 first impressions