I stumbled through this utility called OSFMount, which is Free utility to create RAM Disk. It can also mount images as local disks. This free utility isn't new, but it's first time I'm testing it. The interest and curiosity had me download this software and quickly create 32Gb RAM Disk on my destkop workstation which has 64Gb of RAM. The program is called OSF Mount and is from PassMark.
OSF Mount – What the program can do?
OSFMount allows mounting local disk image files in Windows, with a drive letter. By default, the image files are mounted as read only so that the original image files are not altered. There are tons of image extensions supported, way beyond a traditional ISOs…
It can also mount VMDKs or VHDs…
Raw Image (.IMG, .DD)
Raw CD Image (.ISO, .BIN)
Split Raw Image (.00n)
Nero Burning ROM Image (.NRG)
System Deployment Image (.SDI)
Advanced Forensics Format Images* (AFF)
Advanced Forensics Format Images w/ meta data* (AFM)
Advanced Forensics Format Directories* (AFD)
VMWare Image (.VMDK)
EnCase EWF (.E01)
SMART EWF (.S01)
VHD Image (.VHD)
More interesting (for me) was the function to create a RAM disk from available RAM.
You do that via the File menu and choose how much RAM you want to allocate for the drive creation. It's obvious that the drive and the data will be lost after a reboot, but I was quite curious how much performance I could "squeeze" out of it…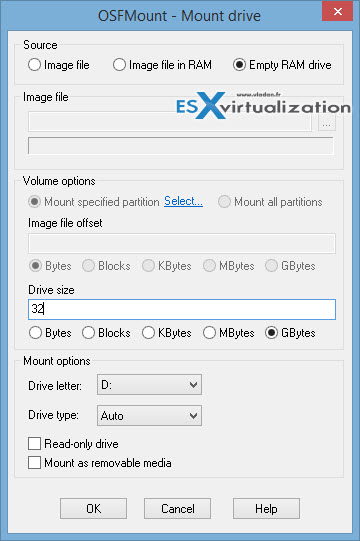 Once done you must format the drive with a filesystem. In my case an NTFS was chosen before I copied a single VM to do quick testing….
Once mounted and formatted you should see this screen with the recap details…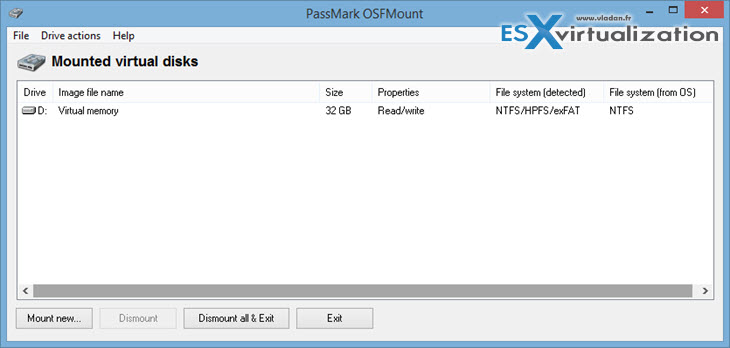 Quick view from HD Tune Pro showed some nice graphs…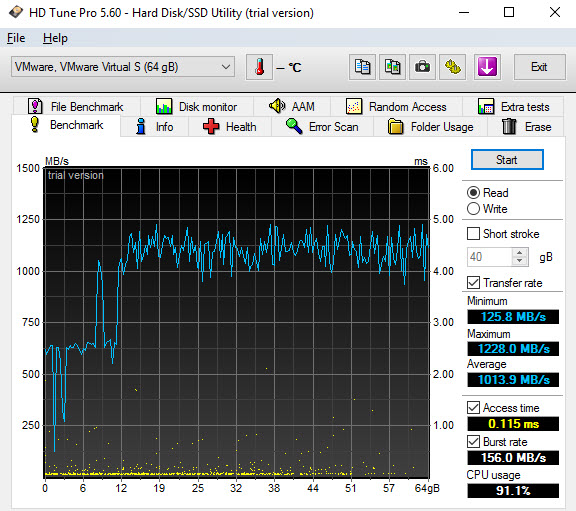 Now, I'm sure that there are other programs to create RAM disks, but as I never tested this and occasionally stumbled through this piece of free software, I had to give it a try… -:).
The host system was Windows 8.1 and the VM tested was the latest build of Windows 10 running in VMware Workstation 12.
You can find the here, but again, I'm sure that there are other tools alowing to create a RAM disks, which are perhaps more performant…
The latest update was last year, in 2014:
Added VHD image file support. VHD is the Virtual Hard Disk file format for disk images, as used by Micrsoft's Virtual PC. This includes support for Dynamic-size (or sparse) hard disk images. Differential images are not supported. Support was added via libvhdi.
Updated EWF library to libewf-20131230
Confirmed Win8.1 support
Source: Passmark website here