The announcement came out on Twitter later today, that Microsoft Remote Desktop Services Team has released a new product. In fact, a Remote Desktop Web Client for Windows Server 2016 and 2019 Preview is Generally Available. A production-ready Remote Desktop Web Client for Windows Server 2016 and Windows Server 2019 Preview. Available through PowerShell deployment, via few cmdlets, the product can be added to an existing Remote Desktop Services deployment.
Even for the multi-language environment, the product supports 18 languages so not only English environments can benefit. Another good news is also the fact that you can also install it on older, Windows Server 2008R2 and latter servers.
Users can access the remote server via lightweight environment, via a simple URL. Chrome, Edge, Firefox, Internet Explorer 11 and Safari browsers are currently supported, as well as all HTML5 compatible web browsers.
So far, the mobile OS isn't supported, but any other common OS (Linux, macOS, Windows, Chromebook) can be used to directly access the RDS server.
A user simply signs-In from the URL provided, and the web client shows the list of applications and resources.
Note that this is 1.0 release and not every feature you migt think of, is already implemented. What features are curently available? Let's have a look:
Single Sign-on
Print to PDF
Access desktops and apps published through a feed
Audio out
Copy/paste text by using CTRL+C and CTRL+V
Keyboard and mouse inputs
18 languages
Full-Screen support and Auto-Resolution
What You need to do first to set things up?
First, you need to setup RDS gateway and RDS connection broker (via Add/remove roles and features).
Second, you'll also need to set up the Web Access role on the host.
Note: The web client does not work when Asure Application Proxy is also used.
Also to note is the fact, that you can only use Client-Access licensing model (not per-device) when you first activate your RDS.
Illustration photo…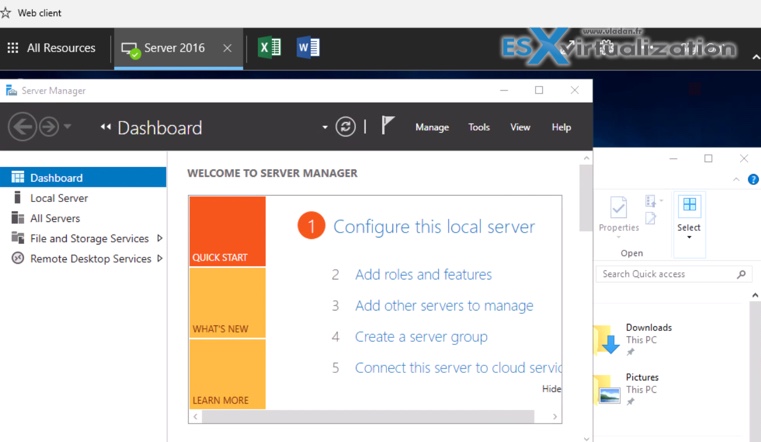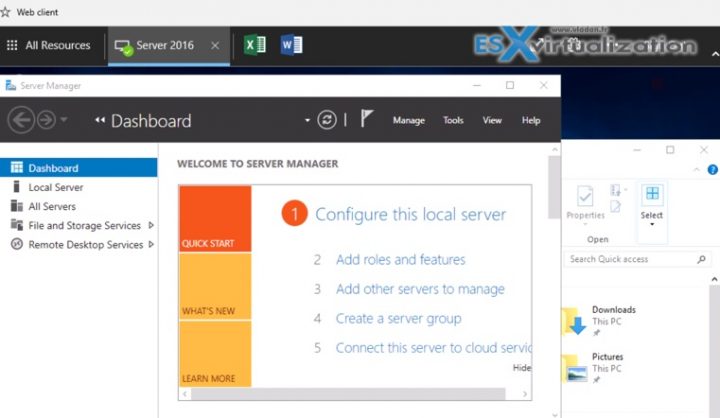 Quote from the installation instructions:
Make sure your Remote Desktop deployment has an RD Gateway, an RD Connection Broker, and RD Web Access running on Windows Server 2016 or 2019.
Make sure your deployment is configured for per-user client access licenses (CALs) instead of per-device, otherwise all licenses will be consumed.
Install the Windows 10 KB4025334 update on the RD Gateway. Later cumulative updates may already contain this KB.
Make sure public trusted certificates are configured for the RD Gateway and RD Web Access roles.
Make sure that any computers your users will connect to are running one of the following OS versions:

Windows 10
Windows Server 2008R2 or later
While the product is fully compatible with older Windows servers (Windows 2008R2 and higher), the best results are achieved with Windows Server 2016 and 2019 preview.
Lastly, there is also an ADMX file (template for GPO deployment) for Windows 10 systems.
Check the installation instructions page to learn about the new PowerShell cmdlets now available in the gallery. These cmdlets make it easy to deploy, configure, and maintain the web client.
Source: Microsoft CloudBlog
More from ESX Virtualization:
Stay tuned through RSS, and social media channels (Twitter, FB, YouTube)