A new announce from Microsoft about an upcoming release of Windows Server 2019. The product is in an early stage of development but there has been quite a lot of details published already. No, Microsoft isn't leaving the server space so Windows Server 2019 will not be free, but prepare to pay more for this product in the future.
While the licensing model will be the same as for the Windows Server 2016, the price increase will be on the CALs (client access license), so more cost for larger organizations with a lot of clients accessing file shares etc.
The same as in WS 2016 there will be two installation options. Server with GUI ("Desktop Experience") and Server Core. The product will be generally available in the second half of 2018.
Update: Windows Server 2019 GA download
Web-Based UI Project Honolulu
We have written about Project Honolulu a while back as we loved the UI. It seems that we have not been only ones as Windows Server 2019 will be using this new user interface, known as Project Honolulu. And at the same time, it is one of the main added features of the product, in addition to Security, hybrid, application platform or Hyper-converged infrastructure (HCI) functions.
Project Honloulu is basically a dashboard for managing your server. It offers detailed data visualizations and analytics as well.
Windows Server 2019 will be more hybrid.
Yes, Microsoft continues to integrate hybrid functions into WS 2019, to make the transition to Azure easier, so they'll be able to make more money with Azure. Quite logical.
Quote:
One of our goals with Project Honolulu is to make it simpler and easier to connect existing deployments of Windows Server to Azure services. With Windows Server 2019 and Project Honolulu, customers will be able to easily integrate Azure services such as Azure Backup, Azure File Sync, disaster recovery, and much more so they will be able to leverage these Azure services without disrupting their applications and infrastructure.
Screenshot from the Windows Server Blog: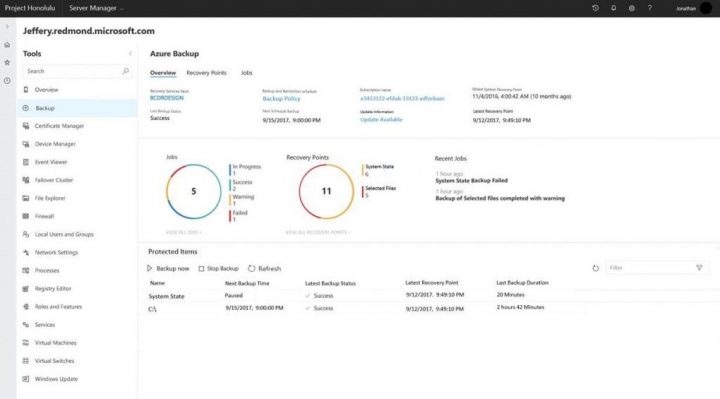 Windows Server 2019 will have Linux
It will feature also have a Linux kernel as Windows Sub-System on Linux (WSL), the same as it is available for Windows 10 desktop users. It means that you'll be able to install Linux shell of your choice (currently there is 5-6 Linux distros available for Windows 10 already, including Kali Linux)
Security Features
Here again, a top priority. We've seen so many cybersecurity attacks over the past few months as never before, at it won't go away. Microsoft is trying to make the product more secure by leveraging already existing features from Windows Server 2016 like Shielded VMs. Shielded VMs protect virtual machines (VM) from compromised or malicious administrators in the fabric so only VM admins can access it on known, healthy, and attested guarded fabric.
While Windows Server 2016 allowed that only for Windows VMs, the upcoming Windows Server 2019 will also support Linux VMs. There will also be some enhancements of VMConnect which will improve troubleshooting of Shielded VMs for Windows and Linux.
Encrypted networks – you'll be able to encrypt network segments between VMs, in order to protect the network layer between VMs.
Windows Defender Advanced Threat Protection (ATP) will be part of the package as well. It provides preventative protection, detects attacks and zero-day exploits among other capabilities, into the operating system.
If you're using System Center, it's good to know that System Center 2019 is coming and will support Windows Server 2019.
Note that there is more to read at the source. Please check the link at the end of the post and read the source article at Microsoft's blog.
Frequently asked questions
Q: When will Windows Server 2019 be generally available?
A: Windows Server 2019 will be generally available in the second half of calendar year 2018.
Q: Is Windows Server 2019 a Long-Term Servicing Channel (LTSC) release?
A: Windows Server 2019 will mark the next release in our Long-Term Servicing Channel. LTSC continues to be the recommended version of Windows Server for most of the infrastructure scenarios, including workloads like Microsoft SQL Server, Microsoft SharePoint, and Windows Server Software-defined solutions.
Q: What are the installation options available for Windows Server 2019?
A: As an LTSC release Windows Server 2019 provides the Server with Desktop Experience and Server Core installation options – in contrast to the Semi-Annual Channel that provides only the Server Core installation option and Nano Server as a container image. This will ensure application compatibility for existing workloads.
Q: Will there be a Semi-Annual Channel release at the same time as Windows Server 2019?
A: Yes. The Semi-Annual Channel release scheduled to go at the same time as Windows Server 2019 will bring container innovations and will follow the regular support lifecycle for Semi-Annual Channel releases – 18 months.
Q: Does Windows Server 2019 have the same licensing model as Windows Server 2016?
A: Yes. Check more information on how to license Windows Server 2016 today in the Windows Server Pricing page. It is highly likely we will increase pricing for Windows Server Client Access Licensing (CAL). We will provide more details when available.
Download Preview
You can download the first preview if you register for the Insiders program.
The preview build is available today to Windows Insiders. Join the program to ensure you have access to the bits. For more details on this preview build, check out the Release Notes.
Source: Windows Server Blog
More from ESX Virtualization:
Stay tuned through RSS, and social media channels (Twitter, FB, YouTube)