If you don't know CloudFlare you're missing out. I'm using their service for years for my ESX Virtualization blog. They provide with DNS resolution, caching, security, SSL, analytics. Tons of services (free and paid). Today we'll talk about how to Setup Faster DNS Resolution With CloudFlare.
In fact, they just rolled out a 1.1.1.1 DNS which brings more speed, more privacy, and more security. This service is now live and can be used by anyone now. In fact, you can just visit the address https://1.1.1.1/ and check all the information about this free service.
If you're using DNS of your ISP they can log sites you visit, so. Unless you're using some VPN service, which encrypts the traffic, your DNS requests aren't that private as you might wish.
Additionally, it's not bad to get some speed increase on those requests. As you can imagine, the DNS requests might slow the first part of the query quite signifficant way. So why not try that new CloudFlare service which is super easy to set up?
What are the benefits of 1.1.1.1 DNS with CloudFlare?
More privacy – Cloudflare claims that they do not log your IP address with the new DNS service.
Speed Increase – Cloudflare's new 1.1.1.1 address is designed to bring more performance. They claim that they have been ranked #1 by DNSperf and their independent analysis of DNS resolver performance.
Screenshot from CloudFlare


In fact, the service has been created because of a strategic partnership between CloudFlare and a non-profit organization called APNIC.
Quote:
Cloudflare had the network. APNIC had the IP address (1.1.1.1). Both of us were motivated by a mission to help build a better Internet.
Addresses:
The two addresses that you want to utilize for Cloudflare's DNS resolvers are the following:
How to setup your server/computer?
Click on the Start menu, then click on Control Panel.
Click on Network and Internet.
Click on Change Adapter Settings.
Right-click on the Wi-Fi network you are connected to (If it's a copper connection, then choose that one), then click Properties.
Select Internet Protocol Version 4 (or Version 6 if desired).
Click Properties.
Write down any existing DNS server entries for future reference.
Click Use The Following DNS Server Addresses.
Replace those addresses with the 1.1.1.1 DNS addresses:

For IPv4: 1.1.1.1 and 1.0.0.1
For IPv6: 2606:4700:4700::1111 and 2606:4700:4700::1001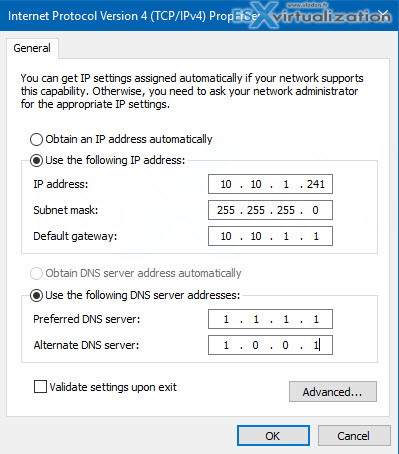 10. Click OK, then Close
11. Restart your browser.
Note: You can also use ncpa.cpl (opens network configuration in Windows)
If you're on Linux
/etc/resolv.conf
Click the Applications  icon on the left menu bar.
Click Settings, then Network.
Find your internet connection on the right pane, then click the gear  icon.
Click the IPv4 or IPv6 tab to view your DNS settings.
Set the "Automatic" toggle on the DNS entry to Off.
Provide the 1.1.1.1 DNS addresses in the DNS entries field:
1.0.0.1
For IPv6: 2606:4700:4700::1111,2606:4700:4700::1001
Click Apply, then restart your browser.
That's it. You're ready to rock-and-roll …
If you're using DHCP on your network, you can simply add those two servers from CloudFlare and put more priority on them (place them higher on the list). Like this your clients will automatically benefit from faster DNS requests after they'll reboot their computers or refresh their DNS settings.
To refresh the IP setting of a client on Windows computer, you can simply use those commands executer via elevated command prompt window
ipconfig /release

ipconfig /renew
That's it for today. I hope you enjoyed this post the same way as we had an occastion to write.
Source: 1.1.1.1
More from ESX Virtualization:
Stay tuned through RSS, and social media channels (Twitter, FB, YouTube)