StarWind just released new free product. It's called NVMe-oF Initiator for Windows and it's completely free. Not so long time ago we have written about NVMe Over Fabric (NVMe-oF) protocol in this post – What is NVMe Over Fabrics (NVMe-oF)? and talked about the advantages of lower latency and higher throughput.
Remember that this protocol is optimized for NAND flash (SATA was optimized for spinning disks) and that NVMe devices communicate with CPU using high-speed PCIe connections directly without the need any separate storage controller (HBA).
We have already learned about NVMe-oF Target, which is at the storage side. Now, at the client's site, we need an initiator. Same as for iSCSI where you have iSCSI initiator and iSCSI target. By having direct access
It is a software module (driver) that connects a client (server) to a block storage target (remote storage server). The client is able to connect to the target over RDMA which means that all I/O can bypass the CPU. As a result, there's more spare compute resources for VMs.
Instead of having a single queue (like in iSCSI) now you have multiple independent queues, up to 64K commands each. The NVMe-Of Initiator is installed as a driver. It allows Hyper-V VMs to get all the performance of PCIe flash.
What's required?
The driver is Windows-based so any Windows System. However, you will need a NICs supporting RDMA. (Remote Direct Memory Access).
Quote From StarWind:
The Initiator works with popular targets like Intel SPDK NVMe-oF Target and Linux NVMe-oF Target, so end users are not locked into any proprietary software or hardware.
How does it work?
In fact, StarWind uses RoCE, RDMA over Converged Ethernet (RoCE) is a network protocol that allows remote direct memory access (RDMA) over an Ethernet network.  The StarWind NVMe-oF Initiator is based on Kernel and NIC components which are installed on the client-side.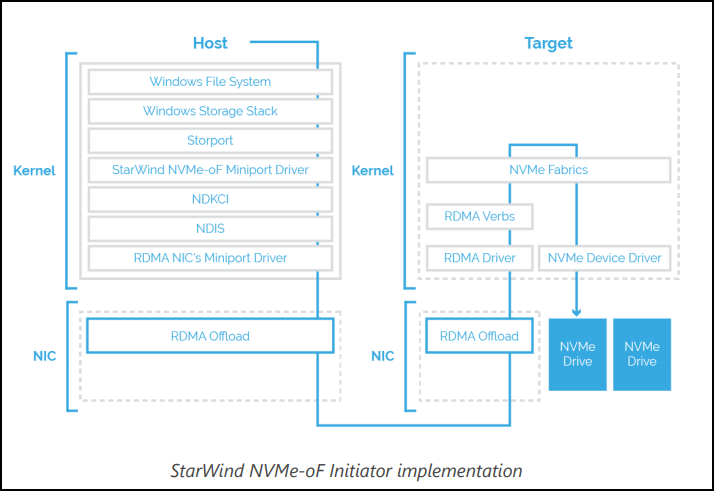 Quote:
StarWind NVMe-oF implementation enables to minimize CPU participation in data transfer, freeing additional compute resource for your applications. The nice thing is that thanks to RoCE remote direct memory access are possible via Ethernet. The only thing you may still need to purchase are NICs that support RDMA.
NVMe-oF, compared to iSCSI has much lower latency. It adds just a very few microseconds to reach the other side of the network and reach the storage device. This is what is really great about NVME-oF and which differentiates from (old) iSCSI technology.
Check this: Top 3 Free Software from StarWind
I'd highly recommend reading this white paper written by StarWind. You'll find a link below this post.
Note: NVMe-oF is an extremely efficient protocol for connecting block storage over the network using RDMA data transfers. StarWind NVMe-oF Initiator is a software module that allows connecting remote NVMe-oF Target to Windows host. The current release is a technical preview version of the initiator.
The final release of the initiator shall be finished in September. After the download, the zip file contains the instructions, self-signed certificate and also a script for install/unistall of the initiator. While you can do the install manually, you'll need to do switching the system to test mode.
But StarWind works towards Microsoft's certification and as such, the certified driver will no longer need the switching to the test mode.
Final Words:
It seems that 2019 is the year of NVMe. StarWind NVMe-oF Initiator is a free solution allowing applications to work effectively with PCIe drives and It can work with such targets as Intel SPDK NVMeoF Target and Linux NVMe-oF Target.
Test it by yourself! It's Free. It is just another free product from StarWind!
Links:
More posts about StarWind on ESX Virtualization:
More posts from ESX Virtualization:
Stay tuned through RSS, and social media channels (Twitter, FB, YouTube)