Usually, software-based solutions avoid you to spend money on additional hardware which needs maintenance, cooling and storage space. This is no different with StarWind Virtual SAN (VSAN) which be an example for virtualization environments running VMware, Microsoft or KVM. StarWind Software Based Storage provides failover capability and is also performance-optimized.
In this post, we'll talk about some of the features present in StarWind VSAN software. In the past we have talked about some, but not much about others. Let's get started.
Before we jump in, worth to note that StarWind has also a free version of their flagship software. Once you install and activate the Free version, you'll have a lifetime license with unlimited capacity.
The only drawback is the fact that you're on your own (or relying on forum support) and you don't have a console allowing you to easily manage the solution. The console works, however, during the 30 days trial during which you can test the full product.
Cost and performance
Whenever you need to consolidate some old hardware, the consolidation of several old SAN and VMware ESXi servers into 2 hyperconverged servers with StarWind VSAN, is a pretty standard and common scenario.
In this way, StarWind VSAN enabled to create a highly available and fault-tolerant IT environment. You can basically cut the costs at least in half. Operational and Capital Expenditures.
Performance and efficiency
It's not often that we can read about data locality. The idea of data locality is to keep the compute and storage resources for every virtual machine on the same physical node. This way the VM data won't have to go through the network.
As such the performance will be optimized to maximum. All or most of the I/O is processed locally within the boundaries of the physical node and ensures much better performance than traditional multi-node configurations with shared storage accessed remotely via network.
StarWind supports data locality.
High Availability (HA)
With StarWind, when configuring your storage, you create an HA device which stays in sync. It is synchronous replication which is usually required for those kinds of architectures, and StarWind has the option.
StarWind HA uses redundant network links between the StarWind hosts to ensure storage resilience. Like this, you have a fully fault-tolerant storage cluster with just two hosts.
It completely eliminates the need in physical shared storage since StarWind Virtual SAN mirrors the internal resources (internal disks, RAM or SSDs) between the servers. Once StarWind iSCSI targets are connected to all cluster nodes, the HA devices are treated as local storage by both hypervisors and clustered applications. Fault tolerance is achieved by providing multipath access to all storage nodes.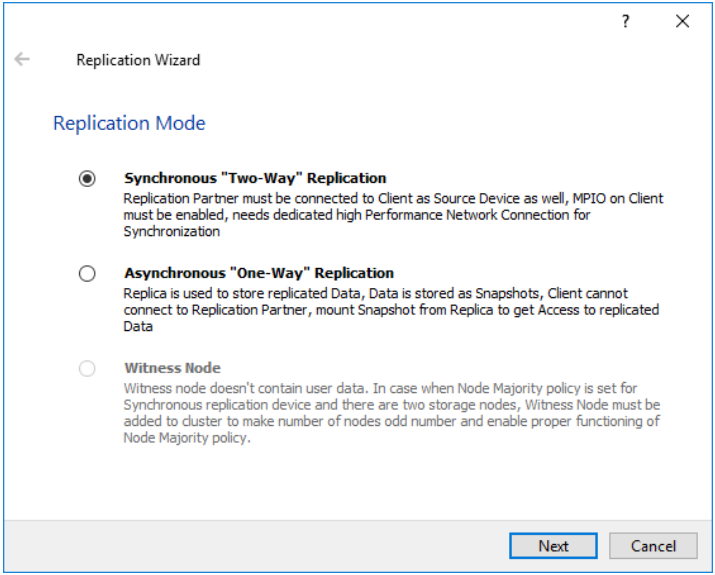 Quote from StarWind:
Using the internal and native OS tools, StarWind HA constantly monitors the state of all the network links between the servers in the HA cluster. Should any of the cluster nodes fail or stop processing requests properly, the failover is instantly initiated from the client OS/Hypervisor side. This guarantees the correct failover procedure and makes StarWind HA automatically compatible with various initiators.
Multi-Tiered Server Side caching – Since over a decade, storage devices are loaded with a cache. The cache can be RAM, SSD of a different kind (SAS, SATA, NVMe…). Write-back cache data is written to the underlying storage through RAM, usually. If there is a failure, the RAM content is gone, lost.
StarWind VSAN can be configured with a cache on SSD. The data are protected and in case a host goes down, the full resync does not even have to be triggered as the logs stored in the SSD pool are not lost. (They would be in case of RAM only). That's why StarWind with cache stored on SSD is an interesting and flexible solution.
The RAM is still used for caching, but the time the data stays in RAM is fairly small, so the risk is minimized here. StarWind calls it Log-Structured Write Cache.
Final words
StarWind Virtual SAN eliminates the single point of failure (SPOF) for storage in virtualized infrastructure by using duplication (or triplication of data), caches and I/O controllers. All resources are "mirrored" between different physical hosts.
The shared storage becomes fault-tolerant (because backed by 2 or more hosts) and provides high availability to higher performance and low-cost.
More posts about StarWind on ESX Virtualization:
More posts from ESX Virtualization:
Stay tuned through RSS, and social media channels (Twitter, FB, YouTube)