Hey readers, it's Friday and today we have a cool news update for you. A free utility from StarWind got a new update. StarWind V2V Converter v9 build 110, which allows also P2V conversions, has been updated so now it can also convert vSphere RDM disks or introducing logging to text files, so you can better track application operations and simplify troubleshooting.
The tool can convert different kind of VM images from one hypervisor format to another. For example from Microsoft to VMware or the other way around. Other hypervisors such as Citrix XenServer or QEMU are also supported.
StarWind V2V Converter allows the conversion of VMs from one format to another, basically "cloning" them and keeping the original file intact.
There is still the need for V2V or P2V conversion even if it's less than in the past when virtualization just started. So it's important to have a tool which keeps up with the technological evolution of all hypervisors on the market and provide us with different conversion possibilities.
The StarWind V2V Converter is already in its version 9 and the folks at StarWind they keep coming new releases every here and there.
Check also:
P2V conversion does everything. It migrates the server OS including its configuration and all applications running on that server, into a virtual machine. With VMware converter we had an option to do P2V into VMware ESXi, but not into Hyper-V. StarWind V2V Converter allows both.
StarWind V2V Converter v9 screenshot showing the support of different hypervisors.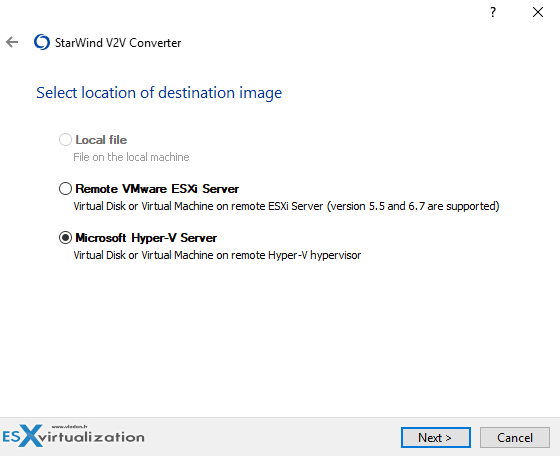 What's New in StarWind V2V Converter?
Added logging to text files allowing to track application operations and simplify issue analysis.
Changed vSphere management client implementation for better handling of API call errors and connectivity issues.
Added support for vSphere VM RDM disks.
Added details about the bootloader type and VM generation for Hyper-V VMs to VM descriptions.
Fixed processing of vSphere VMs with more than one virtual disk.
StarWind V2V Converter – The Features
VMware ESXi and Hyper-V Bi-Directional Conversions – VMs can be migrated directly between Hyper-V and ESXi (in both directions please…)
Physical To Virtual (P2V) – Yes, new P2V function added. A whole physical machine can be converted into a virtual one.
ESXi 6.7 support – ESXi hosts from 5.5 to 6.7 can be remotely accessed with StarWind V2V and conversions can be launched. Virtual disks (VMDKs) from older ESXi versions are also supported.
New x64 Architecture – The utility is now built on x64 architecture and requires x64 OS to run.
A P2V conversion is possible for the following OS:
Vista through Windows 10
Windows Server 2008 R2 through Windows Server 2016.
Check out the release notes here.
Also, worth to note that the conversion does not alter the basic VM settings such as the number of CPU sockets, amount of RAM, the number of network adapters, and the number of disks. However, you'll still need to reconfigure the network adapter in hypervisor after conversion finishes.
About StarWind
StarWind keeps improving their software tools and products all the time. Recently they started to experiment with NVMe Over Fabric by creating NVME-Of Target – How To Create NVMe-Of Target With StarWind VSAN. Super fast NVMe devices are hitting the market, but iSCSI was designed for spinning media. That's why NVME-OF is the big thing in storage right now. NVMe-OF has lower latency than iSCSI and it's faster and more efficient.
NVMe-Of is a high-speed standard which takes advantage of huge IOPS provided by new NVMe devices. NVMe-OF Target designed by StarWind is one of the latest and hot storage technologies overtaking old iSCSI.
They also improve their flagship product StarWind VSAN which also supports VMware VVOLS technology. Virtual volumes are object exported by a compliant storage system. VVOLs correspond one-to-one with a VMs disk and other VM related files.
VVOLs are mapping virtual disk, snapshots, and replicas, directly to objects, which we call virtual volumes, on a storage system. This mapping allows vSphere to offload intensive storage operations (snapshots, cloning, replication) to the storage system.
When creating a volume for each individual virtual disk, it is possible to set policies more granularly, more optimal.
StarWind Virtual SAN for Hyper-V – is a Software-Defined-Storage stack designed specifically for implementation on the Microsoft's virtualization platform. VSAN installs as a bare metal Windows application directly on the Hyper-V cluster nodes intended for the virtualization. Once installed, it creates a highly available storage pool for the entire cluster. StarWind VSAN for Hyper-V smoothly integrates with Windows Server management and security tools to provide administrators with a centralized user-friendly StarWind Management Console.
StarWind Virtual SAN for vSphere -is a VMware-only Software-Defined-Storage stack. A ready-to-go Linux VM installs on the cluster nodes to share their storage resources.
Once installed, Virtual SAN creates a fault-tolerant storage pool available to the entire vSphere cluster. VSAN users get limitless virtualization capabilities in terms of features, storage capacity, and cost-efficiency. Enterprise-level functionality and performance are available in the infrastructure of your choice.
StarWind Virtual SAN FREE Version Features:
StarWind Virtual SAN Free is completely unrestricted: it is allowed for production use, supports all usage scenarios of the commercial version, has a perpetual license, and is not feature- or functionality-limited version of StarWind VSAN.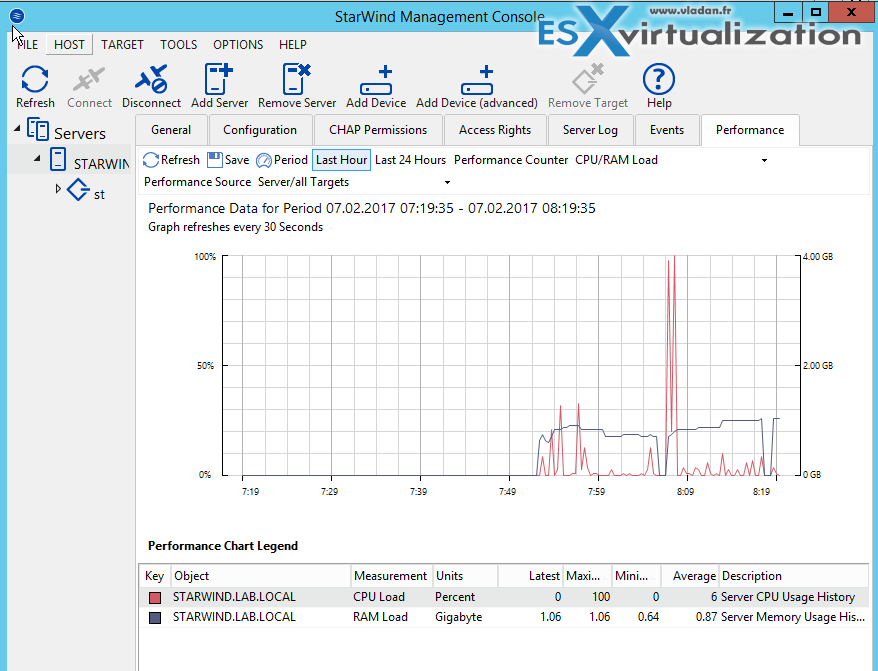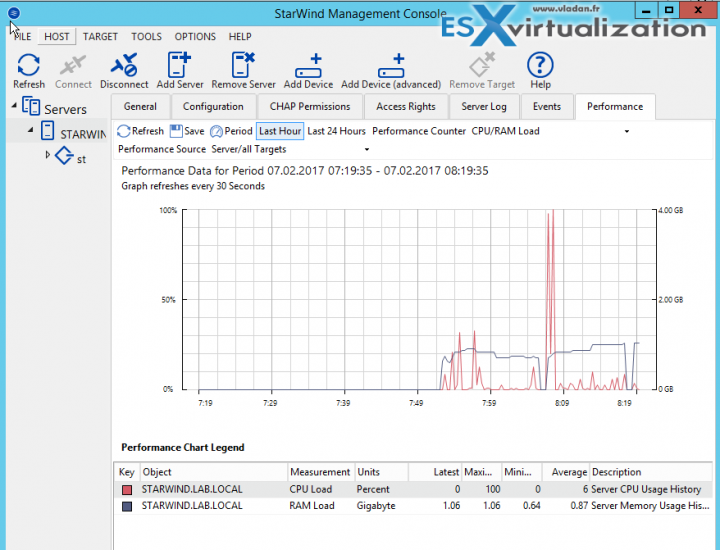 No Capacity Restrictions – you can use as many capacities for your mirrors, as you like (previously restricted)
No Scalability Restrictions – as many nodes as you like. (previously limited to 2-nodes only)
No Time Limit on License – The Free license if for life. After 30 days, the only management option you'll have is PowerShell or CLI.
Production use – can be used in production, but if anything goes wrong, you will only find support through community forums.
PowerShell Scripts – StarWind Virtual SAN Free is shipped with a set of ready to use PowerShell scripts allowing users to quickly deploy the Virtual SAN infrastructure.
No StarWind Support – only community-based support.
StarWind HA – The shared Logical Unit is basically "mirrored" between the hosts, maintaining data integrity and continuous operation even if one or more nodes fail. Every active host acts as a storage controller and every Logical Unit has duplicated or triplicated data back-end.
No virtual tape library VTL as on the paid version.
More from ESX Virtualization:
Stay tuned through RSS, and social media channels (Twitter, FB, YouTube)