StarWind is known for their Virtual SAN software solution for VMware, Hyper-V, and KVM. However, there is a new offer, a Linux version for VMware vSphere which is especially beneficial for users willing to save some money on Microsoft Licensing. You don't have to pay an extra license for the underlying OS as it uses Linux. So this post will detail the news about a new StarWind Virtual SAN on Linux for VMware vSphere.
Note that StarWind Virtual SAN for Hyper-V environment is still Windows based as in this architecture you'll deploy the solution on the physical host already running Windows Server with Hyper-V role active.
StarWind Virtual SAN on Linux for VMware vSphere has the same set of features as the one running on Windows. You basically simply deploy a new pre-configured OVF Template, and then you finish the configuration within a web browser.
By default, the solution has only a system disk which is really flexible. You can simply add a second disk (should be Thick eager zeroed for best performance) and create size you wish, to fit the configuration to your needs.
While you can start with DHCP, it's best to login to the console and assign a static IP.
(Default login/password are simple to retain… root/root and should be changed as well. You can do that within the browser as there is a small Web-based UI I'll show you right after. )
Note: the connection port is 9090, so after deployment, make sure to connect via this port.
Here is an overview of the web-based login screen.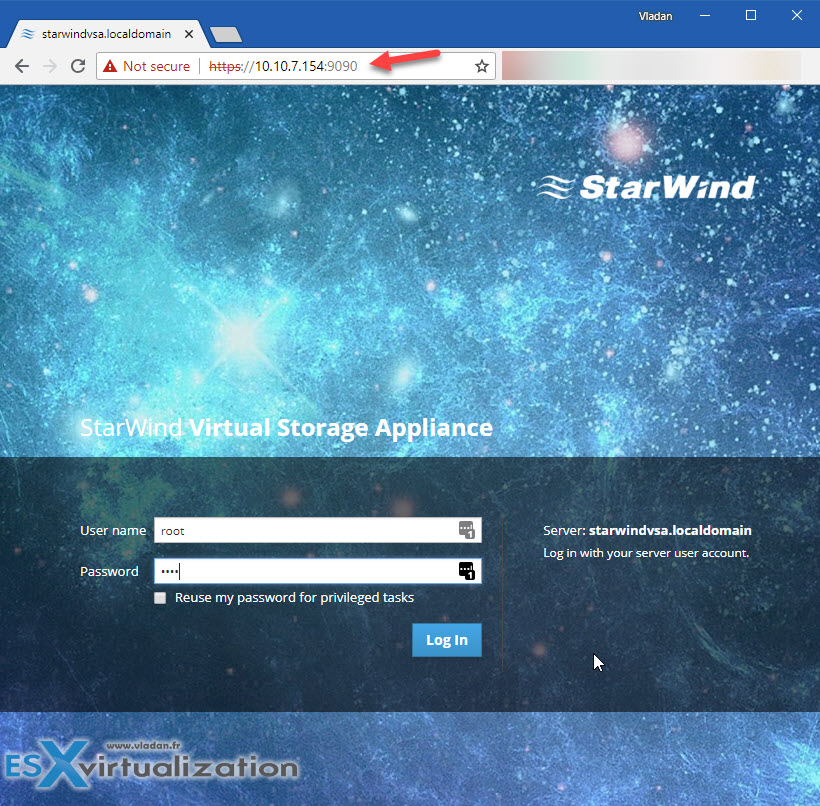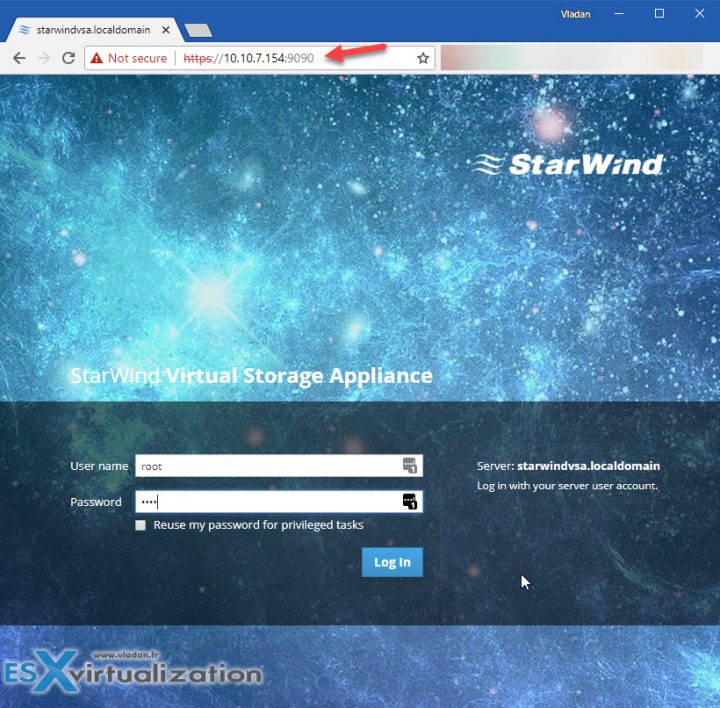 The product behaves the same way as the Windows-based StarWind Virtual SAN. You need to configure at least two nodes and create a mirror. You'll need at least 3 vNICs (iSCSI, management, sync) to respect the good practice.
Here is a view after the login, you can add an additional account, and also change the password of the root account.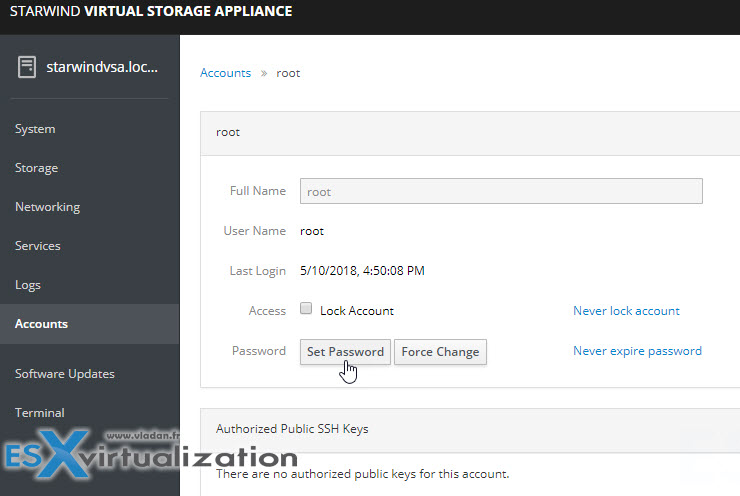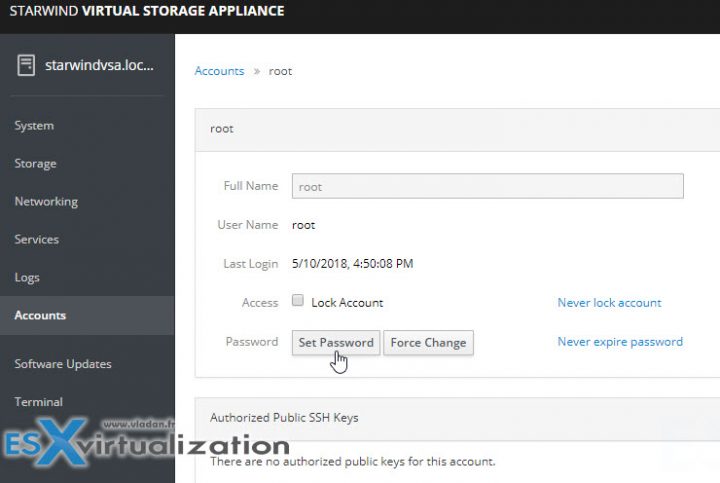 There is more you can do from this lightweight web-based console. You can:
Check for updates
Add additional user(s) and manage passwords
Manage Services (start, stop, restart, status, disable)
Manage Storage (view, add NFS mounts, create a new partition on disks you have added, configure iSCSI targets)
Manage and monitor networking (You can configure IP address of the StarWind VSA Virtual Machine, IP addresses for iSCSI and Synchronization networks)
Check Logs
Terminal – you have a terminal window where you can go for a CLI.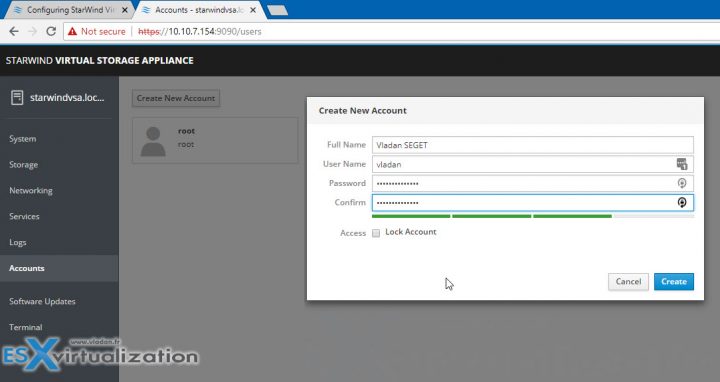 While you can do some basic configuration within the VSA itself, for further configuration of StarWind Virtual SAN you'll need the traditional StarWind GUI Console you already know from the Windows version.
So yes, you'll need a Windows management workstation where you'll install a StarWind console to finish the configuration.
Here is the overview from the lab showing the first connection (we need to add a data disk,  so we have received this prompt).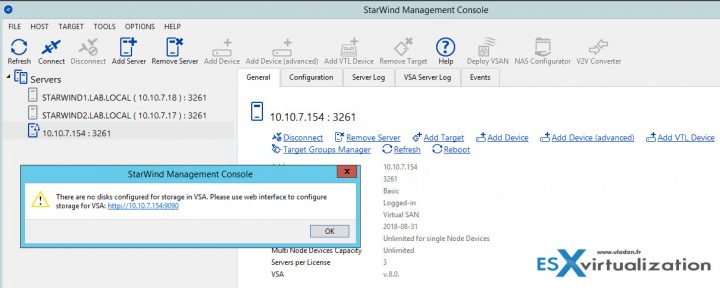 You can then continue the configuration as stated within the StarWind deployment guide. This does not change from the Windows version. You'll need at least two nodes to be able to create a mirror and expose this highly-available storage as an iSCSI target to your VMware vSphere VMs.
Other then that, there are some recommendations and best practices.
StarWind Virtual SAN on Linux – System requirements:
(Note: The download has the VM already right-sized, with the correct number of vNICS etc.)
Minimum 4Gb of RAM
4 vCPU
3 NICs (management, iSCSI traffic, Sync traffic)
20Gb of disk space (more storage needs to be added – this is system disk only)
If you're planning to use it in production, please check with StarWind for the latest details, tweaks, and recommendations.
Quote from the product page:
A ready-to-go Linux VM installs on the cluster nodes to share their storage resources. Once installed, Virtual SAN creates a fault-tolerant storage pool available to the entire vSphere cluster.
Screenshot from the StarWind Virtual SAN product page.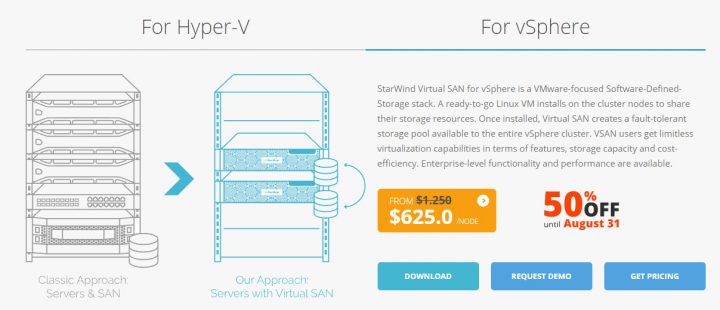 The StarWind's new offering (quote):
StarWind Virtual SAN for Hyper-V – is a Software-Defined-Storage stack designed specifically for implementation on the Microsoft's virtualization platform. VSAN installs as a bare metal Windows application directly on the Hyper-V cluster nodes intended for the virtualization. Once installed, it creates a highly available storage pool for the entire cluster. StarWind VSAN for Hyper-V smoothly integrates with Windows Server management and security tools to provide administrators with a centralized user-friendly StarWind Management Console.
StarWind Virtual SAN for vSphere -is a VMware-only Software-Defined-Storage stack. A ready-to-go Linux VM installs on the cluster nodes to share their storage resources.
Once installed, Virtual SAN creates a fault-tolerant storage pool available to the entire vSphere cluster. VSAN users get limitless virtualization capabilities in terms of features, storage capacity, and cost-efficiency. Enterprise-level functionality and performance are available in the infrastructure of your choice.
StarWind Virtual SAN Free – remains an SDS solution that serves the production, POC (Proof of Concept), or test and development purposes completely for free. StarWind VSAN Free provides an ample set of virtualization tools for admins, developers, and IT geeks who have the skills necessary to maintain virtualization infrastructures using only CLI. At the same time, it becomes even more appealing for vSphere users. Now, VSAN Free turns into an SDS stack with a Management UI, unrestricted features, unbounded capacity, and unrestricted production use.
As being said, the vMware licensing is based on "per-host" while Hyper-V licensing has different editions – standard, professional, enterprise, datacenter. Those are licensed per node and per capacity.
Note: the enterprise edition has the capacity unlimited. And in the datacenter edition, there are unlimited nodes.
Links: 
In fact, there is also a detailed video from StarWind you can follow and check the steps. Watch in HD and full screen…
Wrap Up:
StarWind Virtual Storage Appliance is a very simple and easy-to-deploy solution. The fact that it does not need Windows for the underlying OS is certainly a good news for VMware users willing to create an easy solution without additional spend on Microsoft licensing.
With just two nodes you're able to create a highly-available storage which uses the local disks (DAS) of each server and creates a pooled storage exposed as an iSCSI storage visible by all hosts within the cluster.
Hyper-V users did already buy their license when running a Hyper-V cluster so for them, it does not really make sense to have a Linux version.
More posts about StarWind on ESX Virtualization:
More from ESX Virtualization
Stay tuned through RSS, and social media channels (Twitter, FB, YouTube)