We have already written about StarWind VTL which allows you to create air-gapped backups to blob storage. But Hyper-V admins using on-premises only instances might be interested in having a supported scenario with an active-active cloud storage in Azure. In fact, the shared storage between on-prem instances and cloud instances, created by StarWind, is used as a "bridge" between the On-prem environment and Azure.
StarWind Virtual SAN distributes highly available shared storage replicating the data between those two locations. Delivering active-active storage, StarWind provides Disaster Recovery site in a public cloud in order to meet the required RTO and RPO.
Of course, nothing is free. You'll need some bandwidth, setup a VPN or Azure subscription. But as a result, you'll be able to perform a live migration or VM failover between On-Premises and Azure nodes. 
You'll find a link at the end of the article which will guide in details, how to set up the solution, with step-by-step. But before heading there, let's have a look at what's the benefits and what's the requirements.
What're the Benefits?
Failover and Failback – As a smart admin, you will never put all your eggs in the same basket, right? Here is a perfect example of how to stay protected with having all the chances on your end. In case something goes wrong at your end, VMs are restarted at Azure, because the shared storage spans both locations so you don't lose any data.
Consolidation – Let's say that you're out of resources locally, because of testing, dev operations which need to be done locally. Why not move some VMs to Azure to free up resources
Management from Anywhere – you can manage the StarWind solution from anywhere. In case your local nodes are offline, simply connect to any of the cloud nodes.
Automated Failover and Failback – many cloud-based solutions does not have that. If yes, not for the same price tag. StarWind can do automated failover to the cloud, and when things goes back to normal, it fails back to on-premises.
Proactive support – You'll get the fastest and best. It is Microsoft supported solution, coupled with StarWind proactive support. You'll only deal with StarWind in case of problems.
If the costs are your principal problem, you can simply run the maximum of VMs within your on-premises environment in order to consume fewer Azure resources (which are not free). Simply keeping the Azure Nodes running, but not placing any workloads. The solution is very flexible.
Active-Active Cloud Storage – What are the requirements?
Azure subscription (you can start a trial too)
External, public facing IP address at your end
100 Mbps network speed (preferable 1Gbps)
Microsoft AD/DNS on Premises
Windows Server 2016 – it will be used for setting up the clustering
The management server is on a high available VM so as long as you have a connection to that VM you can manage the environment in case the underlying host goes down.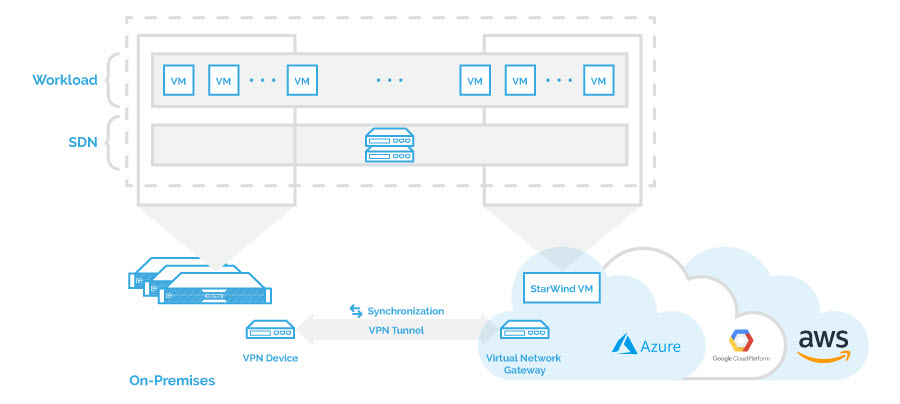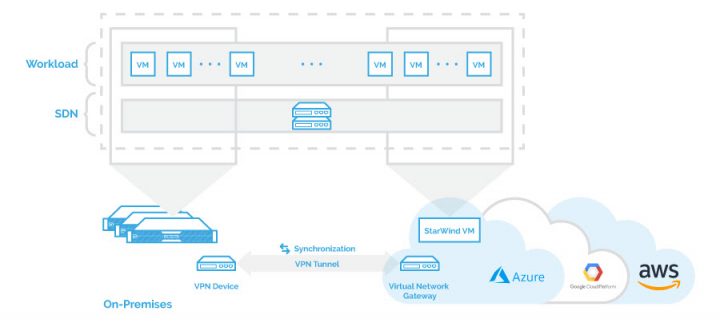 How to Install and Configure?
The installation and configuration of the whole solution, including the Azure part, is documented in step-by-step on StarWind's website (including a PDF for offline read), so we won't reproduce this here, just gives you the principal steps which need to be done.
After verifying your pre-requisites, you can start.
Site-to-Site connection to Azure (at Azure)

create resource group
create virtual network
gateway subnet
create VPN gateway
create local network gateway
create VPN connection

Install Routing and Remote Access (RRAS) server role ( at your On-premises node, WS2016)
Firewall config
Install Failover Clustering, Multipath I/O and Hyper-V roles
Deploy and configure StarWind VM in Azure
Screenshot from StarWind Blog post…

Add NIC
Setup IP forwarding
Install Hyper-V role, Failover clustering, Multipath I/O roles
Join this VM to your On-premises domain
Configure Shared storage via StarWind console
Create failover cluster via Windows Server Failover Cluster console
Add Cluster Shared Volumes (CSV)
Create a VM and test Failover.
Done -:)
With this overview, you could not see all the details, but you get the point on what's necessary to be done. If you follow the step-by-step article done by StarWind, you can't go wrong. There is also a PDF you can download, which has the same content.
Wrap Up: As you can see, the solution provides high availability for Hyper-V environments using an Azure cloud, your On-prem environment and StarWind shared storage – StarWind Virtual SAN. Having a possibility to stay protected in case of a disaster is crucial today. In case something goes wrong at your local site, the VMs have restarted at Azure automatically, without losing any data. When you resolve your local problem, everything falls back automatically as well.
Nothing is free, but for organizations with only single main office, it is definitely more cost-effective to use the cloud as DR solution and assure RPO and RTO. Rather then staying offline for hours/days. The whole setup might take you few hours to deploy and configure, but you'll have a DR which will keep you up and be running in case of disaster.
The solution can be coupled with StarWind VTL and Veeam Backup for Air-gapped backups to blob storage at Amazon.
Source: StarWind Virtual SAN for Hybrid Cloud (step-by-step) – and there is also a PDF download.
StarWind Trial:  Free trial of Virtual SAN
More about StarWind on ESX Virtualization
More from ESX Virtualization:
Stay tuned through RSS, and social media channels (Twitter, FB, YouTube)