Ransomware and cyber attacks are multiplying lately. Enterprise admins have the hardest task of protecting the company's data and backups from ransomware, from accidental deletion of more and more sophisticated cyber-attacks. The protection that was sufficient 2-3 years ago now seems not so solid anymore. One of the solutions to protect backups is to isolate them. By isolation, we mean usually storing the backups on different media in different buildings, or replicating them to the cloud. The solution I want to highlight today is StarWind Virtual Tape Library (VTL) and the good news is that there is a FREE version that can be also used in production environments, POC etc.
In the past we usually had to deal with physical tapes that were moved to other buildings and shipped physically around. Time changed and we now have virtual tapes inside of virtual tape libraries. The advantage are pretty obvious. The tape can be damaged while the virtual tape sitting on a physical volume is usually backed by underlying hardware RAID.
Now you could perfectly buy new hardware, a new tape library. But there is a more efficient way to do that for those who do not have funds for new hardware. There is even a free solution from StarWind that can get you started – StarWind VTL FREE (limited to 4 tapes). But hey, why not try it for free with limited tapes, and when you realize that it fits your scenario, just upgrade by purchasing a license! I mean, a FREE solution is always better than a time-limited trial which you'll have to reinstall from scratch.
As you know, Veeam's backup rule 3-2-1 is the way to go for storing backups. Recently they introduced an even better rule – Veeam 3-2-1 backup rule becomes 3-2-1-1-0 backup rule.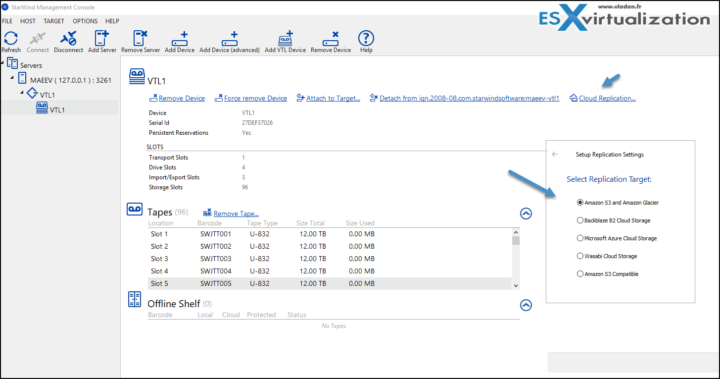 StarWind VTL advantages:
StarWind VTL FREE
There is a Free version of StarWind VTL which is limited to 4 tapes and does not provide local option. Also, there is a PowerShell config only (with Free PowerShell scripts bundled), but for lab testing, it's just perfect.
Quote from StarWind:
Free VTL is designed for production purposes, PoC (Proof of Concept), or test and development. Free Virtual Tape Library allows offsite archival in the cloud but doesn't store any data locally. To restore or test the backup, data has to be first downloaded from the cloud storage. The full version though, allows fully customized data retention, replication, and tiering profiles to keep the important backup data on premises for immediate recovery. StarWind VTL Free ships with a set of ready-to-use PowerShell scripts that will help users to conveniently deploy and configure the solution.
The architecture

The free version is supported only in the open public community forum. Check our detailed post about setting up Veeam Backup server and StarWind VTL on the same server.
Download link:
More posts about StarWind on ESX Virtualization:
More posts from ESX Virtualization:
Stay tuned through RSS, and social media channels (Twitter, FB, YouTube)