StarWind software has a free version of their software and in this post, we'll have a look what's important to know and show the comparison between the StarWind VSAN Free and paid offering. StarWind VSAN eliminates any need for a SAN or NAS or other physical shared storage as the local disks and SSDs of each server nodes are used to create a shared storage pool.
Once you install and activate the Free version, you'll have a lifetime license with unlimited capacity. Later in this post, we'll show a comparison graphic of all features and installation options as you can deploy StarWind VSAN different manners.
You can, for example, deploy hyper-converged infrastructure or you can deploy storage and compute nodes separately, where the storage nodes serve the storage via iSCSI,  or NAS only.
With commercial StarWind Virtual SAN for VMware or Hyper-V, you are in touch with StarWind engineering team, who can assist you 24/7 with any issues. Worth to note that there are also a version for KVM and XEN.
StarWind VSAN Free
StarWind VSAN Free has multi-tiered server-side caching available out of the box, scale-up and scale-out are both allowed, however Virtual Tape Library (VTL) option is not included.  You can create a hyper-converged infrastructure by converting the internal storage capacity of the clustered servers into a Virtual SAN.
Data Locality
I'd like to talk a little bit about data locality.
Is used in StarWind appliances to maximize performance. When I/Os has to go over the fabric, usually, a latency increase occurs. The idea of data locality is to keep the compute and storage resources for every virtual machine on the same physical node. This way the VM data won't have to go through the network. As such the performance will be optimized to maximum. All or most of the I/O is processed locally within the boundaries of the physical node and ensures much better performance than traditional multi-node configurations with shared storage accessed remotely via network.
Multi-Tiered Server Side caching – A system without any cache, cannot really satisfy high IO demands from any virtual infrastructure. Even the smallest ones. That's why since over a decade, storage devices are loaded with a cache. The cache can be RAM, SSD of a different kind (SAS, SATA, NVMe…). Write-back cache data is written to the underlying storage through RAM, usually. If there is a failure, the RAM content is gone, lost.
StarWind VSAN can be configured with a cache on SSD. The data are protected and in case a host goes down, the full resync does not even have to be triggered as the logs stored in the SSD pool are not lost. (They would be in case of RAM only). That's why StarWind with cache stored on SSD is an interesting and flexible solution.
The RAM is still used for caching, but the time the data stays in RAM is fairly small, so the risk is minimized here. StarWind calls it Log-Structured Write Cache.
StarWind VSAN Free vs Commercial
Instead of writing feature after feature, I borrowed an image from StarWind website where you can see not only the differences between the Free and Paid version, but also the differences between VMware vSphere and Hyper-V.
But I'd like to highlight few of them:
No Capacity Restrictions – you can use as many capacities for your mirrors, as you like.
No Scalability Restrictions – as many nodes as you like.
No Time Limit on License – The Free license if for life. However, after 30 days, the only management option you'll have is PowerShell or CLI.
Production use – can be used in production, but if anything goes wrong, you will only find support through community forums.
PowerShell Scripts – StarWind Virtual SAN Free is shipped with a set of ready to use PowerShell scripts allowing users to quickly deploy the Virtual SAN infrastructure.
No StarWind Support – only community-based support.
StarWind HA – The shared Logical Unit is basically "mirrored" between the hosts, maintaining data integrity and continuous operation even if one or more nodes fail. Every active host acts as a storage controller and every Logical Unit has duplicated or triplicated data back-end.
Here is the overall compare between Free and Paid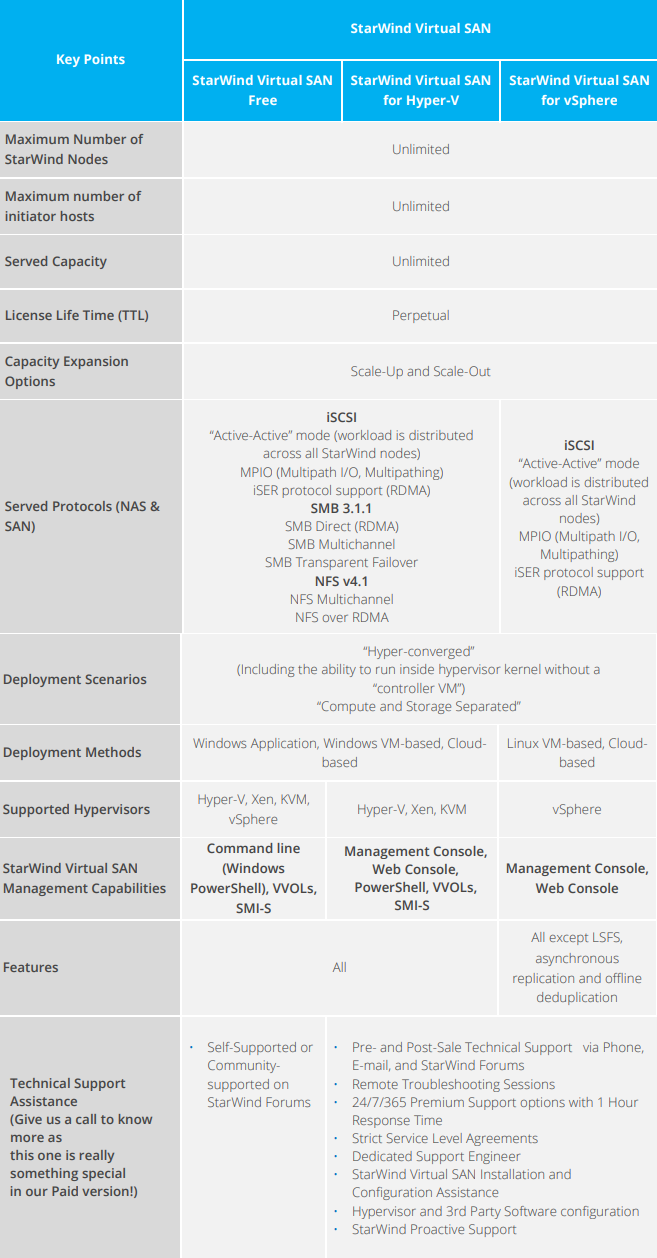 StarWind VSAN is flexible and can adapt to multiple scenarios and hypervisors. The two main scenarios are hyper-converged and dedicated storage, but there are more. Let's have a look.
StarWind VSAN use cases:
Shared storage for Microsoft Hyper-V VMs and SQL Server DBs (HA iSCSI & CA SMB 3.1.1)
Shared storage for Microsoft Failover Clusters, Exchange, Oracle and SAP DBs (HA iSCSI)
A shared storage for KVM, Citrix XenServer and Xen Project VMs (HA iSCSI & CA SMB 3.1.1)
An HA file server (general purpose file sharing, VDI profiles, backups) (SMB 3.1.1 & NFS 4.1)
Shared storage for VMware vSphere Clusters (HA iSCSI)
Shared storage for VMware ESXi VMs (HA iSCSI)
HA storage (VDI, Backups) (HA iSCSI)
Final words
I remember, back in the early days when VMware infrastructures just started, StarWind's iSCSI target was one of the first and easiest options to test in the lab. Now when their virtual appliance is Linux based it's even easier. StarWind VSAN free product is designed for production purposes, POC (Proof of Concept), or test and development. To have a piece of mind, the commercial version is a way to go.
More posts about StarWind on ESX Virtualization:
More posts from ESX Virtualization:
Stay tuned through RSS, and social media channels (Twitter, FB, YouTube)
Check out StarWind Software Website for further details and downloads.