DestkopReady is a new Anunta product that provides remote cloud desktops for your organization. However, this is not your plain vanilla desktops in the cloud, but come with the full package: onboarding, migration or expansion and creation of Microsoft Azure AD environment for your business. The desktops are fully managed so day to day operational issues are taken care of. Windows Virtual Desktops (WVD) are maintained with patches, protected with antivirus software and the whole setup is continuously updated and available for the end user to ensure performance and availability.
The customers and their workers can connect to their cloud desktops either by using browser-based thin client or native Windows endpoints.
Types of cloud-hosted architectures:
Pooled desktops use Microsoft Windows Virtual Desktop's (WVD) new Windows 10 multi-session OS providing a Windows 10 environment for multiple connections at once. A multi-session desktop on Windows 10 is a new technology from Microsoft which was previously reserved only for Server OS. They are cost-effective, and save storage and CPU cycles. Multiple users can connect to a single cloud desktop at once the same way as it was with a RDSH server.
It is worth noting that Windows 10 Enterprise multi-session desktops cannot run on-premises production environments. This is because it's optimized for the Windows Virtual Desktop service for Azure and also, that It's against the licensing agreement.
Personal desktops provide single session Windows 10 desktops so one user can connect only.
The Anunta overall architecture connects the On-Prem existing environment with Microsoft Active Directory (AD) and file servers, to the cloud environment where you have your desktops.
At any time, you can adjust, via the billing portal, the number of desktops or change number of users accessing the platform.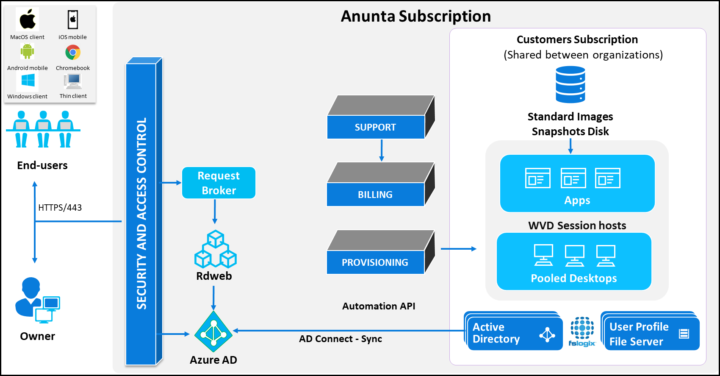 Customization Options
Individual Desktops
When at the portal at DesktopReady, you can pick the cheapest option called Light, which is Individual Pooled desktop option.
It allows you to run 8 simultaneous connections on the same virtual machine (VM) so basically each of those users will have their own Remote Desktop Protocol (RDP) connection with personalized environment and profile.
The VM will run with 2 vCPU and 8 Gigs of RAM. Each user will have a 5 Gb of storage by default. There is no connection to an Active Directory or file server via mapped drive.
The other two options, Medium and Heavy differs with number of users and storage space for the particular user.
Medium: 5 connected users max, 10 Gb of storage
Heavy: 3 connected users max, 20 Gb of storage

Each desktop will have a standard set of applications (Microsoft Edge Browser, Zoom VDI, Libra or Open Office, Print to PDF, O365, Sticky notes, Chrome, Internet Explorer, Adobe reader, 7 zip, Windows Defender).
Business desktops
Business desktops are more for corporate use where users are working on company's shared files in a standard network environment. There is a file server attached to an Active Directory (AD) and users are authenticating and accessing the resources centrally managed by AD.
The business desktops can be of two types
Pooled
Personal
The personal business desktops are individual desktops which are the best option for intensive users or content creators.
Again, those desktops have 2vCPU and 8Gb of RAM, however, only a single person is connected to each VM.
The main benefit is of course the fact that those desktops are within a secure environment of Microsoft AD with shared resources.

Business desktops have 24×7 support, as well as endpoint and peripheral assistance (think of impression, scan or other peripherals that might be in use in a corporate environment).
The administrator can also add/remove new users and assign them to the individual desktops. This is done via an Admin portal.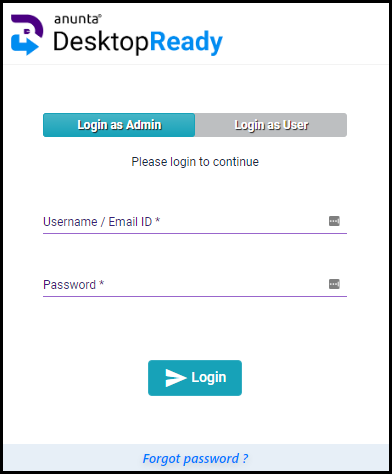 The profile configuration is done via FSLogix. This is a Microsoft's recommended solution for user profiles. It can maintain user profiles and provide the best speed by optimizing file IO between host/client and remote profile store.
It redirects user profiles to network location where only a portion of the profile that contains Office data is really redirected providing short login times.
Frequently Asked Questions (FAQs)
Can I add/delete desktops?
Yes, absolutely. You, as an admin, can always add or remove desktops from your plan anytime. Anunta uses APIs to automatically provision desktops when requested. The automated desktop provisioning engine fulfils your order immediately after successful payment and you are charged for the upcoming month. Whenever you add (or remove) new desktop, itwill be considered as a new order in your account and will be added to the existing subscription.
Are there any minimum/maximum desktops per order?
There is no upper limit to the number of desktops per order, however for the first order alone, a minimum of 5 (mix and match between desktop types) must be purchased.
May I transfer desktops to different region?
Yes. The DesktopReady platform is running on Microsoft Azure, and is able to migrate the desktops to other Azure regions. However, since it involves moving data, there is an additional cost
Do we have some long-term discounts?
Yes, Anunta has a 10% discount on a 12-month subscription.
Is it possible to connect to my cloud desktops from Linux or MAC, Or from a Chromebook?
Yes, at an additional cost Users wanting to access the desktop from Non-Windows Pro platform (Android devices, Mac devices, iPhone, and Chromebooks), can do so with an optional Windows Virtual Desktop Access (VDA) license that can be purchased at the portal.
A 7-day trial period is available during which you can test setup.
In Conclusion
Anunta DesktopReady is simple, flexible and robust. It uses automation API for support, management, and billing.
Whether you need to spin a few desktops in the cloud quickly or integrate part of your organization, I think it is worth your while to take a look. The best part is that you don't have to be a cloud or network expert. Anunta is taking care of the architecture, migration, and assistance. You can test, do a trial or onboard part of your employees and see how it goes.
If you want standardized images of working environment with remote management and security and you don't have enough local resources, it might be an easy solution for your company.
Check it out at DesktopReady.com
More from ESX Virtualization
Stay tuned through RSS, and social media channels (Twitter, FB, YouTube)