Do you know Live Optics? If you don't, there is a new webinar where you can participate in, ask questions, and get a good overview of the product. I'd like to share a new webinar which will be held next week by StarWind's Vladyslav Savchenko who works as Solution Engineer. The title – Understand Your IT Environment with Dell Live Optics.
Dell Live Optics is a software allowing you to collect, visualize, and share data about your IT environment and workloads. As with any software, there is some learning curve. That's why it is usually a good idea to attend some training, webinar or watch some videos.
When?
******************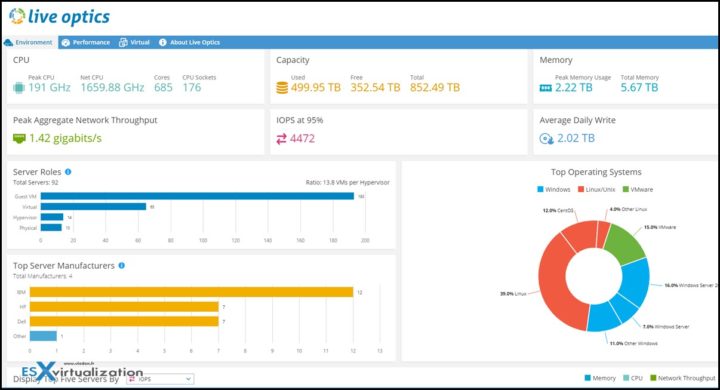 June 11, Thursday is the date. 11am PT / 2pm ET
*******************
Quote from StarWind's announce:
What's In It for You
Dell Live Optics helps collect and neatly visualize the data on how your IT resources are currently doing. The webinar will explain it in detail, show you how to properly run it to collect the necessary data and how to use the reports to understand if you need an upgrade.
Especially
It will be useful for system administrators. Modern environments generate so much data that it's really hard to know the status of one's existing IT resources. Luckily, Dell Live Optics is a tool that can help you diminish the resulting headache and anxiety.
LiveOptics gives you insides on 4 principal elements:
Server and Virtualization – Live inventory and performance insight of hosts and VMs regardless of platform or vendor.
File – Rapid characterization of storage growth, files types, and predictive potential for archive, compression, or deduplication.
Storage – Detailed break down at the hardware appliance level of configuration and performance.
Data Protection – Insight to platform-specific backup and protection cycles as well as the capacity being protected.
Register for the webinar.
*******************
June 11, Thursday is the date. 11am PT / 2pm ET
*******************
StarWind has many free tools. One of them is a free tool I blogged about yesterday, is a converting utility that can be used for virtual and physical systems. Many workloads needs to be moved from one hypervisor to another. StarWind's V2V converter creates a copy of the original system so you can always come back and start using the old system again if new hypervisor has issues or dos not perform well enough.
The main StarWind's product is Virtual SAN (VSAN) which uses internal SSDs of servers and creates shared storage. By using caching techniques which includes part of a RAM and SSD, their solution is not only cost-effective but also resilient and performant.
StarWind VSAN can be used in Microsoft Hyper-V, VMware vSphere/ ESXi, Linux KVM, or Xen.
Here is a couple of articles which you can read about StarWind's products:
More from ESX Virtualization
Stay tuned through RSS, and social media channels (Twitter, FB, YouTube)