One of the problems that small customers are often facing is a lack of expertise. Look at for example at HyperConvergent infrastructure (HCI). Much different knowledge is necessary to put everything together including the right choice of hardware and components. While flexibility is important it is not always good for someone who does not have enough expertise to put all things together for optimum performance. That's why StarWind HyperConverged Appliance (HCA) for SMBs is just a perfect fit.
StarWind has refreshed its offer on HyperConved Appliances and the news is that there are no more spinning media. It is All-Flash only available all-NVMe storage setup for use with Microsoft Hyper-V. StarWind's different HCA appliances can be optimized for performance, capacity or best value. They are a perfect fit for SMB or Remote offices (ROBO) when you know that you only needs 2-nodes and some configurations can be configured "switch-less" (so additional savings).
Why only 2 nodes when other competitors need 3-nodes or more?
StarWind HA needs redundant network links (multiple NICs) between the StarWind hosts to maintain storage resilience. Those links are used for monitoring and failures. If any of the nodes fail or stop processing requests properly, the failover is instantly initiated from the client OS/Hypervisor side. StarWind has also an internal heartbeat mechanism, which ensures proper storage path isolation in the event of synchronization network failures and prevents so-called storage "split-brain".
Quote From StarWind:
Heartbeat – The Heartbeat failover strategy allows avoiding the "split-brain" scenario when the HA cluster nodes are unable to synchronize but continue to accept write commands from the initiators independently. It can occur when all synchronization and heartbeat channels disconnect simultaneously, and the partner nodes do not respond to the node's requests. As a result, StarWind service assumes the partner nodes to be offline and continues operations on a single-node mode using data written to it.

If at least one heartbeat link is online, StarWind services can communicate with each other via this link. The device with the lowest priority will be marked as not synchronized and get subsequently blocked for the further read and write operations until the synchronization channel resumption. At the same time, the partner device on the synchronized node flushes data from the cache to the disk to preserve data integrity in case the node goes down unexpectedly. It is recommended to assign more independent heartbeat channels during the replica creation to improve system stability and avoid the "split-brain" issue. With the heartbeat failover strategy, the storage cluster will continue working with only one StarWind node available.
And StarWind Proactive Premium Support is included with all StarWind HyperConverged Appliances (HCA)
Starwind new HCA offerings are coupled with StarWind Proactive Premium Support which comes with every appliance, the responsibility for health status monitoring and availability of your
applications are covered by StarWind Intelligent monitoring service and a team of professional support engineers.
Whether you're VMware or Hyper-V shop, the fact that the appliance comes up pre-installed and pre-configured it saves tons of time and avoids errors.
The platform uses all industry-standard uplink protocols: SMB3, NFSv4.1, iSCSI, VVols on iSCSI, NVMe-oF, iSER, and others.
StarWind Command Center is used to have a single web-based console for the infrastructure.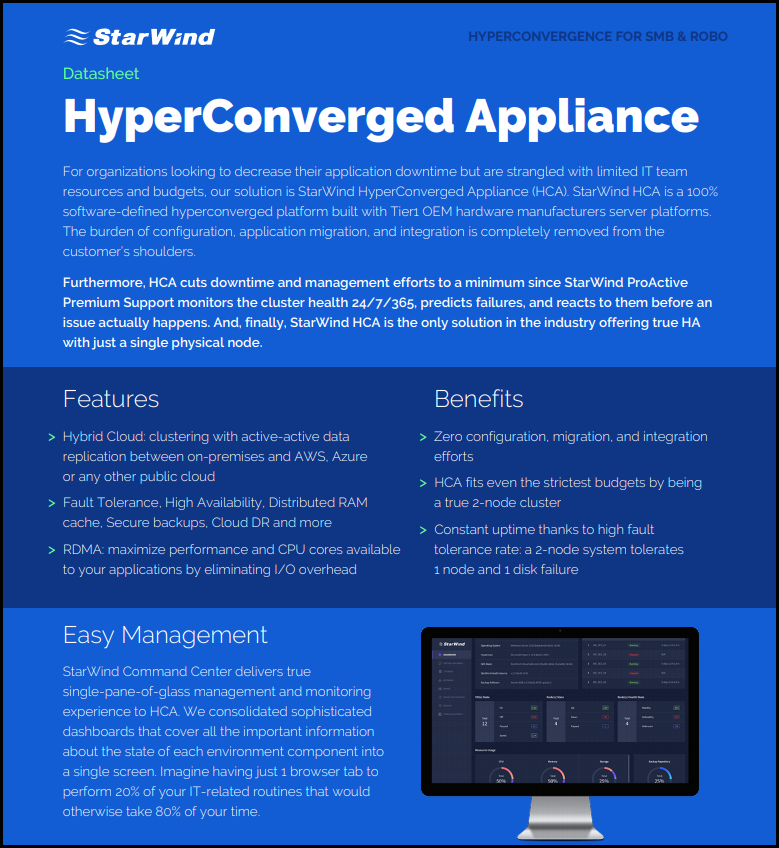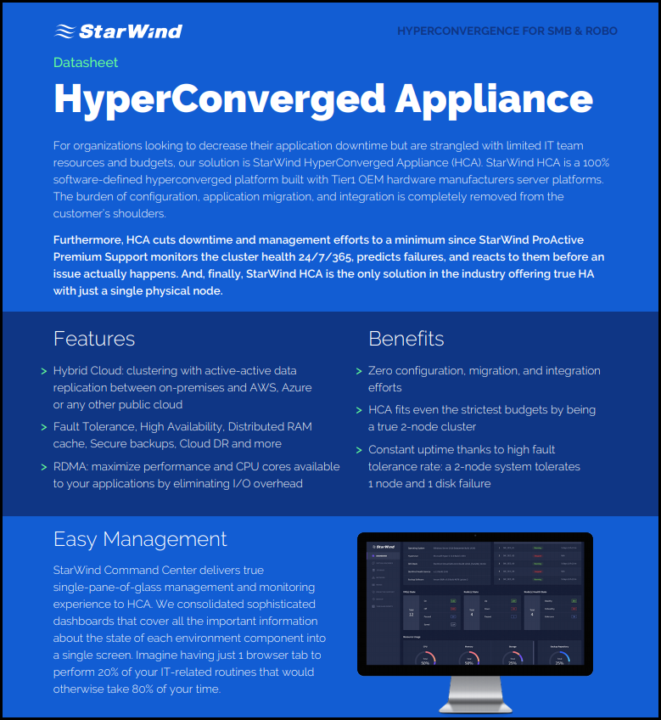 Links:
So the solution is a perfect fit for ROBO and SMB and can be coupled with vSphere Essentials or Essentials plus license, you obtain performant and resilient platform for a reasonable cost without investing in costly hardware SAN devices.
Recent Gartner recognition
Quote from Gartner:
StarWind develops HCI and SDS solutions. StarWind's HCI offering is the StarWind HyperConverged Appliance (HCA). StarWind first started shipping an HCI solution in 2009. The vendor also enables hardware-agnostic offerings with its StarWind Virtual SAN (VSAN) HCI software and sells a backup appliance, the StarWind Virtual Tape Library Appliance (VTLA). StarWind has honed its marketing focus to bring enterprise-level HCI features to the small and medium enterprise market at appealing costs. Over the past year, StarWind has introduced its Command Center, Virtual Appliance and ProActive Premium Support Extended as enhancements to its HCI offerings.
StarWind has been expanding its channel partner relationships outside of its base country of the U.S. to grow business in EMEA, Asia/Pacific and Japan. The StarWind HCA primary use cases are edge, mission-critical, core IT, VDI and cloud. StarWind focuses on specific features for each use case like high availability and high performance for edge, storage replication to prevent downtime and data loss for mission-critical workloads, and simplicity and flexibility for core IT.
StarWind's Advantages:
Low-cost solutions with high availability, StarWind offers either a single cluster of two physical on-site nodes or one physical on-site node and one virtual node in the cloud.
For IT leaders seeking specific features and functions, StarWind offers a high level of customization through its engineering teams.
StarWind's NVMe over Fabrics (NVMe-oF) support for Windows Server uses significantly less compute resources than nonfabric NVMe solutions for Windows
Final Words:
StarWind only needs two physical servers where other solutions usually have physical shared storage as a third physical "box" or use 3 hosts to create a shared storage pool. StarWind HCA is cost-effective because it's an optimized package including configuration and installation and proactive support.
Links:
More posts about StarWind on ESX Virtualization:
More posts from ESX Virtualization: