Over the past couple of months, I've been working on new VCP6.5-DCV Study Guide and there is a good news today. This guide, which so far was accessible through all those individual blog posts covering each exam topic, is now available as a free PDF. Thanks to Nakivo who stepped in to sponsor this PDF. You can download the whole guide for an offline studying.
In the past, I have created a VCP6-DCV study guide and feedback from folks studying towards this exam was very good. People were really glad to be able to use it as an additional study material.
As new exam for VCP6.5-DCV has been around for a while, the idea was to stay up to date and create a new guide. So this is done and the new VCP6.5-DCV Study Guide PDF is now ready.
There has been quite a lot of edits which had to be done. Could not simply take text from the blog posts and paste it to the PDF. A lot of formatting needed to be done as well, including some sentences within the context of the PDF did not really make sense compared to an individual blog post.
You can download your free copy via this link – Download Free VCP6.5-DCV Study Guide at Nakivo.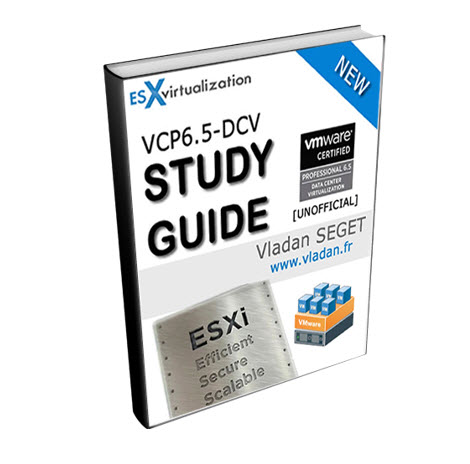 I wanted to cover most of the knowledge required (if not all) but add more screenshots from the lab and from my own experience. This does not mean that this is the only guide you'll need to pass the exam.
There are certainly some official guides or books as well (paid) which you can get through VMware education shop, Amazon or other online shops.
The guide has 250 pages and covers 32 Chapters from VMware Exam Preparation Guide.
I highly recommend getting the full vSphere 6.5 documentation set and the latest exam preparation guide (PDF) as well, when preparing for the exam.
Find the direct links to the documentation set below (those links might change over time. Please notify me in the comments so I can update the post).
vSphere 6.5 documentation library (Direct links to PDFs – can change over time…):
VMware Exam page link:
VMware Exam Preparation Guide link:
Exam Details
Exam Price: $250 USD, there are 70 Questions (single and multiple answers), passing score 300, and you have 105 min to complete the test.
Not ready for VCP6.5-DCV?
No problem. You have a choice to study towards the older VCP6-DCV to earn your VCP – Exam Number: 2V0-621, ( it has 28 Objectives). It has fewer chapters, so less to remember. You might also have more experience with vSphere 6.0.  Both exams are valid for two years, then you have to renew. You can also go further and pass VCAP exam, then VCDX.
Note: VMware released new "bridge" upgrade path. Any VCP who is two versions of the most current available version in the same solution track can upgrade to the latest by only taking one exam. Previously, you would first have to earn the VCP6-DCV (and passing the delta exam) and then upgrade to the VCP6.5-DCV (again, through the delta exam.) Now you can go straight from VCP5 to VCP6.5.
This exam validates that you have the skills required to successfully install, deploy, scale and manage VMware vSphere 6.5 environments.
You can download your free copy via this link – Download Free VCP6.5-DCV Study Guide at Nakivo.
More from ESX Virtualization:
Stay tuned through RSS, and social media channels (Twitter, FB, YouTube)