It's been a while since I've completed my VCP6-DCV Study Guide page with all the VCP6-DCV objectives. The work on it has started actually after the vSphere 6 release, then the work has continued during several months. The good news for folks willing to use this resource page, with all the linked sub-chapters, is that the whole VCP6-DCV Study Guide has been released as a Free PDF which has 28 chapters (210 pages).
Thanks to Simplivity who support this effort. This study guide is available as Free Download from their website. I guess that you have previously browsed few sections on my VCP6-DCV Study page and saw that any screenshots and explanations are in each of those objectives. I cannot judge, but it seems that it's fairly popular within the community. During past few events that I was personally present (VMworld Barcelona and VeeamON) quite a few folks came to me to say hi telling me that they have found the blog, and the study guide very useful and it helped them to pass their VCP6-DCV exam! What else I could have say… That's awesome !
—————————————————————————————————–
Thanks to Simplivity you can download this VCP6-DCV Study Guide as a Free PDF !!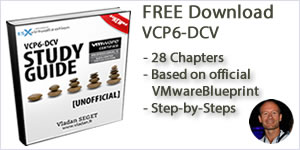 —————————————————————————————————–
Helping to learn stuff is the-the main purpose of the blog since its beginning – helping with configs, virtualization, backups/replication,  DR, …. the daily IT job. At first, the idea was to bookmark procedures to (at that time) popular online bookmarking sites like delicious.com or stumbleupon.com and have my stuff somewhere there organized if I need it. But then I thought why not create my own space? That's how the WordPress blog was born…

To tell you the truth I really did not expect that the site will be that successful, serving so many web pages a year. Note that 2015 was a record year in terms of web traffic as we had almost 6 million pages view … That's 3x more than in 2014.  Check more details on our Advertise page. Thanks to continuous efforts, daily updates, and passion…
The blog has started as a small bookmarking site, where I needed to bookmark new configs, new tools, news about new products… in my own space. A WordPress has started to be quite popular as a CMS even if many other content management systems has existed. I thought how cool would be to get vladan.com then? Unfortunately, this domain was taken and the guy wanted some $2000 for it which was simply out of the question….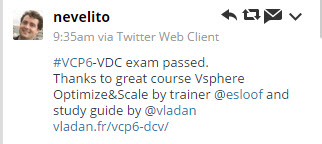 Then after posting few dozens of a posts I realized that people actually finding those posts through Google and that they read what I write. THAT was awesome. People are reading what I'm writing. Imagine that? I never wrote anything publicly accessible on the internet. This gave me a responsibility, and I learned more about blogging, English grammar, spelling, I learned through the years A LOT. Few bloggers more experienced than I was in that time has helped me out as my written English wasn't perfect and I had a tendency to rush my posts too……
But then, I went on and kept blogging. Day after day. And if one want to do this job seriously, it's a full-time job, as a Technical Marketing person. Many successful startups and enterprises trying to hire the last successful independent blogger left or just grabbing the good ones from a competition…. That's today's reality. Very few consistent and independent bloggers exist actually.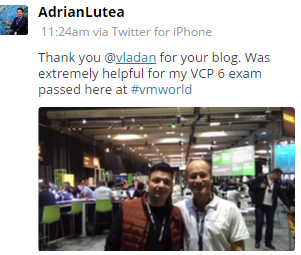 What's the present?
As I'm an independent blogger and IT consultant. I share the available stats through the Advertise section…
I keep providing local IT services to local businesses here where I live, I'm also an IT trainer. Different topics can be programmed, not only virtualization, backups/replication or DR, but also basic IT training teaching the basics about IT administration, NTFS, AD…. One would not believe how many very "small shops" are left without a possibility to hire an IT guy, so in those small shops it's usually the accountant who is in charge of the "IT" in the company. And often those folks are not born IT engineers…
What's the future?
I shall be preparing to VCP6-CMA and VCP6-DTM (Is half way through) in the months to come. Don't expect this to be finished anytime soon….. You can join the forces if you're interested. Perhaps a future sponsor might join us as well so the effort is well rewarded!
The readership community keeps very active through comments and coming back to the blog to re-read some step by step posts which are the most popular. It gives me the force to keep writing and pushes me forward … Thanks for reading our blog !!! Stay tuned through Twitter, FB, YouTube or RSS.
Lastly I'd like to point to fellow bloggers Eric Siebert (@ericsiebert) running vLaunchpad and Top vBlog (voting for 2016 is in preparation, stay tuned !!! ), and also Andreas Lesslhumer (@lessi001) who has a very interesting database which he put in place, providing details how many blog posts has been published by bloggers and further details. Eric has fixed some rules for being accepted to the voting – 10 blog posts per year. I absolutely agree. No 'dead' blogs….
With that said, Get your Free copy of VCP6-DCV Study Guide From Simplivity !!