There is a new release and it is not a small one. Veeam Backup and Replication 10 was announced today. It is a major release from Veeam, which brings some major new features and enhancements.
We have already hinted a few features coming in our previous posts here. There is NAS backup with real fast processing for backing up file shares, or there is my favorite security feature to fight ransomware – Immutability feature. Check our post on that here – Fight Ransomware with Veeam 10 Immutability Feature.
Also, very cool is Multi VM Instant Recovery allowing you to select more than 1 VM and do instant recovery of those VMs.
We have got the RTM installed in the lab so we have some screenshots, but expect more articles later this month where we will focus more on the new features and enhancements individually. It is a major release from Veeam today and we're very excited that this day is finally here.
Veeam NAS backup is one of the highlights of this release allowing you to backup your NAS devices and file shares. The processing is incremental so you have only one full and then incrementals. The technology behind that is that it verifies the checksum of the folder structure and see whether there is a change.
You can access it from the "File Shares" options when you're in the "Inventory View"

When click the Add file share, you'll get the following options:

and for restores, you can restore entire share, rollback to a specific point-in-time (useful when you know that you have been hit by ransomware at a specific day/hour.). The last option allows restoring individual files and folders.

Capacity Tier Enhancements
Veeam 10 also brings enhancements into the Capacity tier where you can have all your backups to be copied to the object storage once they are created on your on-prem storage, you simply check this box within the settings of your SOBR repository.
This is just perfect for 3-2-1 backup rule! You'll be able to have one full copy of your data off-site, and not create a separate copy job for it -:). When running your backup job and creating local backup files, they're immediately copied to the capacity tier, within the same job.
Image from the lab…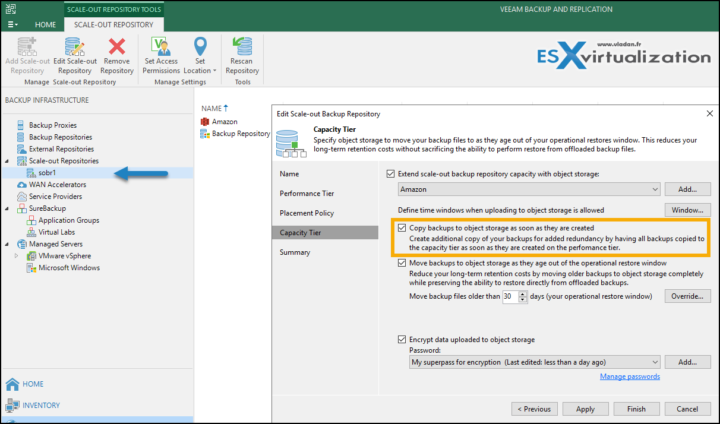 This immutability is to prevent accidental deletion of data by admins, malware, or an admin with bad intentions. (Yes, even that can happen). After you set the lock for let's say 3 days, your backups cannot be deleted during that period.
For now, this will work with Amazon, but Azure should introduce immutability as well.
Screenshot from the lab…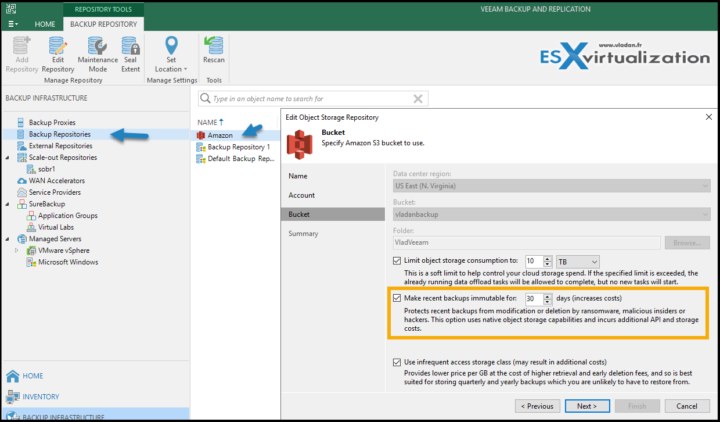 Download your latest copy of Veeam Backup and Replication 10 here. There is also a community edition v10 available for download allowing you to use many of the functions that the enterprise has, for 10 workloads (VMs or physical desktops/servers/laptops).
Veeam Agent for Windows
There are some new options when you want to recover a PC/laptop/server backed up with Veeam Agent for Windows. You can now recover the whole system, but have instant-recovery options:
Instant Recovery to vSphere VM
Instant Recovery to Hyper-V VM
Bare Metal Recovery
Restore to Azure VM
Restore to AWS EC2
Export to virtual disk formats
Here is the view from the lab (using beta of v10)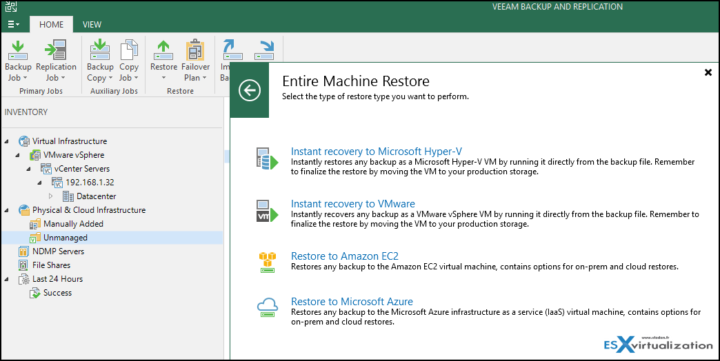 Veeam keeps making its data protection product better in every release. Since my whole IT career, there have not been many backup vendors which have a product which "just works", is simple to use and learn.
There are VMware vSphere version which are Unsupported with Veeam 10
Dropped VMware ESXi 5.0 and 5.1 support (5.5 is still supported).
Dropped VMware vCloud Director 8.x support (8.20 is still supported).
Dropped Windows Server 2008 support (2008 R2 SP1 is still supported).
Dropped Windows 10 1507 and 1511 support (Windows 10 1607 or later are still supported)
Dropped Windows 8.0 support (Windows 8.1 and Windows 7 SP1 are still supported).
Dropped Windows Server 2003 and Windows XP support for all guest processing (only crash-consistent backup is now possible).
Links:

<<<<< Veeam Backup and Replication v10 – Trial >>>>> 
<<<<< Veeam Backup v10 Community Version FREE >>>>>

If the download isn't yet available, come back later.
You might want to check our Free Tools page where you can find VMware utilities, but also utilities for Microsoft systems or other "Swiss Knife" software there.
More from ESX Virtualization
Stay tuned through RSS, and social media channels (Twitter, FB, YouTube)