Veeam Backup and Replication 12 Beta 2 has made the apparition for Vanguards and Legends, so after downloading I figured out that I'll record a video of the installation process. Note that early access to the new version is for Vanguards and Legends. If you want to test it by yourself, you'll need to contact your Veeam sales rep (or system engineer) and ask if they have any beta spots available in your region.
The installation is done in the lab where I'm using VMware Workstation. And to make things more interesting, I tried installing Veeam v12 Beta 2 on the latest beta of Microsoft's vNext Server system (name shall be WS 2023?) which looks like Windows 11. And it works -:). The Microsoft vNEXT server is a pretty looking server OS reminding me of the old days when we've transitioned from WS2003 to WS 2008 If you know what I mean. Am I getting old?
Later in the video, I'll be adding my virtual vSphere lab where I'm running a single cluster with two ESXi 7.x hosts managed by the vCenter Server, and a couple of tiny VMs to mess with. I'm adding a VM to the backup job, running the backup job immediately, then doing an Instant VM restore with Migrate to production via vMotion. You don't have to worry about the length of the video as I accelerated the installer, partly.
As a repository, I'm using a second hard drive added to my WS2023 VM, and the volume is formatted as a ReFS. Other than that, that's all I've done. I plan to do a follow-up video on configuring hardened Linux repo, eventually testing some S3 compatible local storage, locally, as Veeam v12 has the possibility to use S3 compatible storage locally and not only as the part of the public cloud offers.
That's basically all. Enjoy the video, comment if you like, and please give me some suggestions on object storage. I know about MinIO a bit, but haven't tested it just yet. I think it might be a good lab test to hook MinIO storage to v12.
****************************************************************
Free Trial of Veeam Backup and Replication v11  – Latest ISO.
****************************************************************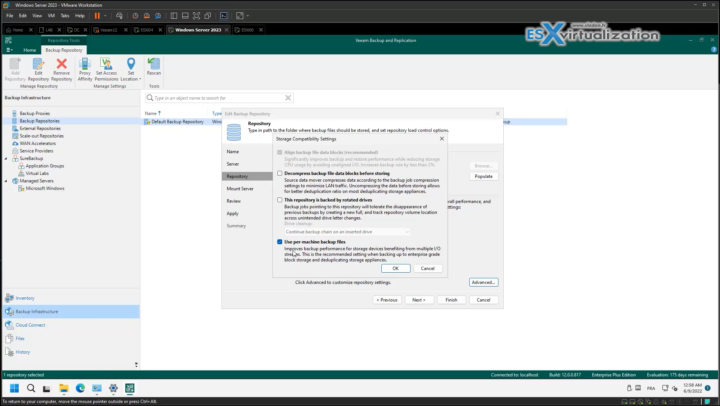 Here is the video. Watch in HD full screen for the details. Enjoy -:)
 Check also other posts about v12:
VeeamON 2022 – (recordings are online…….v12, Ransomware, Kubernetes, Cloud-native Backups, Salesforce and Microsoft 365)
More posts from ESX Virtualization:
Stay tuned through RSS, and social media channels (Twitter, FB, YouTube)