Vembu BDR Suite 3.8 was released. This version brings new features and enhancements to the already feature-packed product suite. We'll go into details in a sec, but let me doe recap of what's interesting about Vembu BDR first. It is basically the fact, that just one year earlier, nobody really knew who they were as they operated only at the service provider's market.
Vembu BDR 3.8 support VMware vSphere and Microsoft Hyper-V, as well as physical Windows servers and client OS for image level backups. VMware and Hyper-V backups are agent-less as the product leverage VMware Virtual Disk Development Kit (VDDK) and VMware vStorage API for Data Protection (VADP). Vembu BDR has a web based console allowing you to manage both hypervisors from within the same console.
Worth to note that no plugins or software are necessary in order to connect to the management console, which is also tightly integrated with the online Vembu portal allowing to manage the licensing, online storage or billing.
Image from the lab showing the Vembu BDR Web console managing VMware vSphere and Microsoft Hyper-V.

We have reported on some of the features of Vembu BDR and we have also done a Review (sponsored) of Vembu BDR. What's unique about their technology is Vembu HIVE which is a file system designed by Vembu. It has built-in version control, deduplication, encryption, and inbuilt error correction.
Vembu Virtual Drive – reads/write using VHFS (Vembu Hive File System).
The same backup file can be exposed to different hypervisors like KVM, Hyper-V, and VMWare. Via the Virtual drive, the same backup shows up as VMDK, VHD, and IMG simultaneously so you can basically just have a Hyper-V role activated on the backup server and "mount" practically the VM within the Hyper-V console.
Image from the lab, showing the single backup exposed in different formats on the Vembu Virtual drive.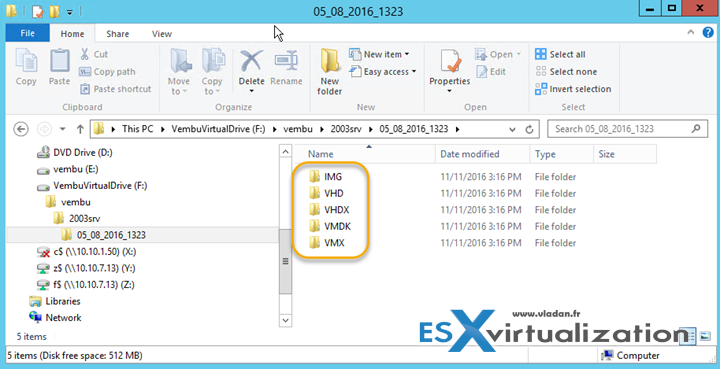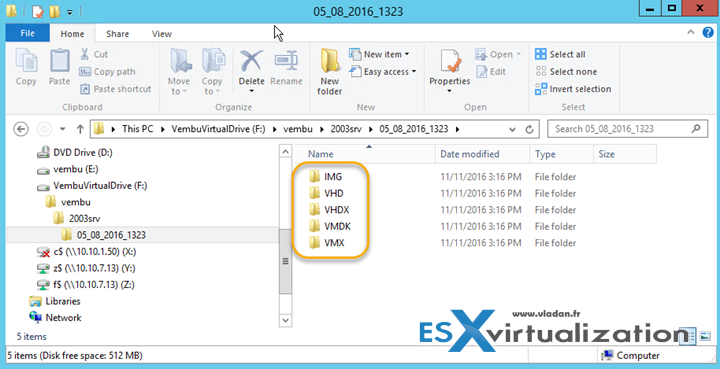 What's new in Vembu Backup and Disaster Recovery (BDR) Suite?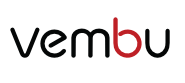 Disk Image Backup from BDR ServerDisk Image Backup from BDR Server – Disk Image Backups can now be configured and managed via Vembu BDR Server. Relying on proxy agents is no longer required unless it's a distributed deployment which requires individual proxy agent installation.
FLR from GUI (Backup & Replication) – File Level Recovery(FLR) is now available for both backup and replication jobs where the user can choose specific files and folders from VMware/Hyper-V/Disk Image backups and VMware replication, to be restored in a quick fashion.
The product restores the file to the main Vembu BDR server where you can pick a volume of your choice.
Seed load backup data to OffsiteDR – Storing a copy of backup data for DR requirements is now an easy task to be accomplished by seed loading backup server data to desired offsite data center. This saves loads of time and bandwidth from being consumed.
Auto Authorization – Enabling Auto authorization in Vembu BDR allows proxy agents to get registered to the backup server using unique registration key generated by respective BDR server.
Encryption Settings – Users can now provide additional security to their disk based backup jobs by assigning custom-password to the backup server, such that all their backup data will be encrypted and can be restored/accessed only by providing the custom-password.
Storage Pooling – Storage Pools are used to aggregate the space available from different volumes and utilize them as a storage for specific backups. The hybrid volume manager of Vembu BDR Server supports scalable and extendable backup storage for different storage media such as Local drives, NAS(NFS and CIFS) and SAN(iSCSI and FC). Vembu BDR provides storage pooling option for both backup level and group level.
Screenshot from the lab… You can see adding both volumes were added to the storage pool.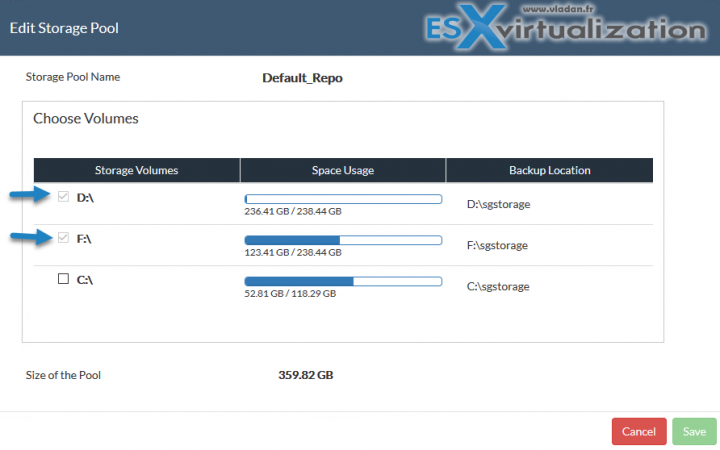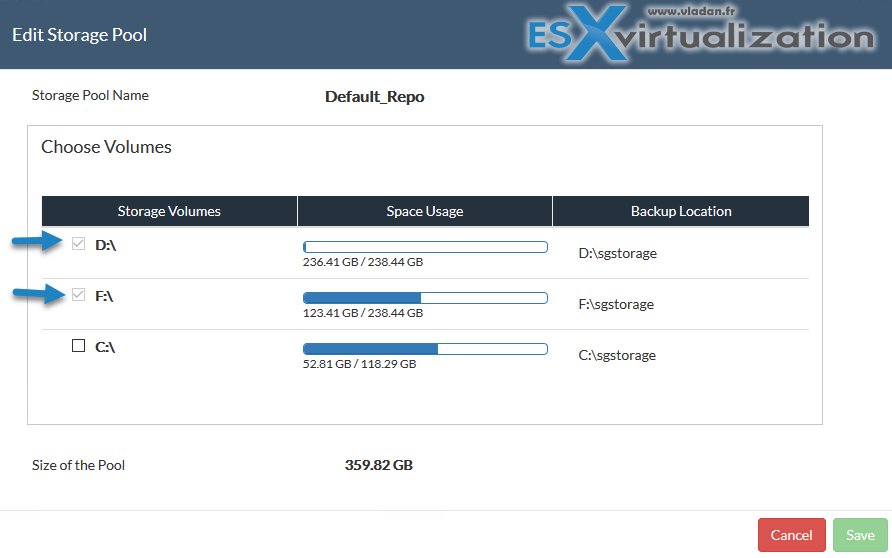 MSI Installer For all Clients  – Users will now get the client agents installer as .msi format also. The installer will check on the user's system, for the following packages, based on the OS types (32 bit or 64 bit) and it will install Visual C++ if not already installed on the client's system.
Vembu BDR 3.8 Enhancements
Enable or Disable retention for VMBackup / ImageBackup – User can enable or disable retention policy for the backups based on their requirements. Disabling retention allows user to maintain all the backups without any merging of the incremental timestamps. This option is used when the backup size is low.
Disk level download option for VMware & Hyper-V plugins – Users can download backup data in multiple disk file formats such as: VHD, VMDK, VHDX, VMDK-Flat and RAW. Similarly, if user need to download individual disks in a virtual machine, he can perform disk level download by selecting the disks. From a group of virtual machines in a host backup, multiple disks can be downloaded with same disk file format.
Disk Management Mount(Hyper-V) – This option lets you instantly attach backup data to disk management as a VHD/VHDX file and proceed with the restore process. The VHD/VHDX file is created by virtually mounting the backup data on the Vembu virtual drive. Users can access backup data via disks attached to disk management. Once done with the requirement, unmount backup data. This will resume the backup job so that incrementals will run as scheduled.
List VMs in an alphabetical order – Virtual Machines that are present in the host will be listed in an alphabetical order based on the ASCII table values, thereby making it simpler for the user to search and configure the backup. In the Review Configuration page, the Virtual machines that are chosen for backup is listed in the selected order.
Note: Virtual Machines will be listed in the following hierarchical order <special characters>, <numeric characters>, <Uppercase letters>, <lowercase letters>.
Search option for VMs in backup config page & restore list page – This option allows the user to search the Virtual machines that are available in the ESXi host. Also, the user can search VMs/ host/cluster from a vCenter server. By specifying the required VM name in the search option you can select the VMs that are to be backed up from an ESXi host/vCenter Server.
VM level reports in OffsiteDR Server – This page lists all replicated jobs configured from backup server to the offsite server where you can see a report option alongside every replicated job.
New menu for consolidated VM level report in BackupServer & OffsiteDR – VM level report gives the user the centralized report page of all VMs that are configured for backup. It allows user to view the detailed backup reports of virtual machines configured from both ESXi or Hyper-V Host.
Full featured free edition – After 30 days trial, the user can either opt to purchase the product or continue using the free edition. In the Free edition, the user has two options to proceed with backup configurations:
Full featured free edition
Limited Edition.
Further enhancements:
Admin\Read Only Access privileges at both Backup Server and Group Level
Email Settings in Backup Agents
Email Report for OffsiteDR
Backup Verification Email Report (Backup Server & OffsiteDR)
Backup Level Report in Backup Status Report (Backup Server)
Download:
30-days free trial: https://www.vembu.com/vembu-bdr-suite-download/
Wrap Up:
It seems that Vembu BDR Suite has packed up a number of useful functions and enhancements. The product gets more user-friendly with the new enhanced FLR restore providing an option to recover directly via the GUI, and also get a more modern look with a new logo. Whether you're a fan of another product or not, the only way to figure out if Vembu BDR is for you to test the trial.
Whether you're a fan of another product or not, the only way to figure out if Vembu BDR is for you to test the trial. Check it out – download your copy of Vembu BDR 3.8
Read more post about Vembu at ESX Virtualization:
More from ESX Virtualization:
Stay tuned through RSS, and social media channels (Twitter, FB, YouTube).