In today's post we'll talk about a solution for VMware ESXi Free version incremental backups. Fairly often those people are facing problems to be able to back up their VMs on regular basis by using incremental backups. There is a Free backup solution called VMCom backup that can be used for the job.
ESXi free supports both Windows and Linux operating systems and offers robustness and stability. Some features are only available with VMware with a paid full license where the entry ticket is roughly about $500 with vSphere Essentials. This is not much for an SMB that has a small infrastructure to run. With "Essentials" you get central management via vCenter server and backup at the hypervisor level.
You could possibly install backup agents inside the VMs and do an image-level backup but makes the full VM restore quite cumbersome and lengthy. The RTO (recovery time) is approaching the recovery of a physical server.
VMcom brings a backup solution for VMware ESXi Free. It is possible to add an unlimited number of ESXi Free servers to the web console and manage backups of all virtual machines from one place. Eventual recovery can be performed on an ESXi server with the same or higher version of the hypervisor as the original host. Recovery to the paid vSphere platform within a mixed environment is also supported.
This solution opens up several new ways to use the ESXi Free hypervisor. From the development environment, in which the last backup from production can be easily restored, through the construction of the Disaster Recovery site, to the simple validation that the backup works correctly.
Why VMware ESXi Free cannot be backed up with regular backup software?
The reason why ESXi Free cannot be backed up by common methods is that the functionality of the ESXi API is limited to read-only access. Thus, it is not possible to create a snapshot during a backup operation, which is a necessary condition for a consistent backup state. Even more complicated is recovery, which fails at every step.
VMcom addresses this limitation in a similar way to an experienced administrator. For change operations, SSH uses access directly to the ESXi server and calls the necessary commands locally. The actual copying of new data to the backup storage and back then proceeds in the same way as with the paid version of vSphere.
All this is free?
The VMcom team believes that the ESXi Free community deserves a solution that makes their work easier, increases security, and is completely free for them. To back up ESXi Free servers, VMcom applications do not require a license key and can be run indefinitely with an unlimited number of virtual machines. Download Free trial (which expires after 14 days) and use it after that period for your ESXi Free Version, for free, forever… -:)
It is also possible to combine ESXi Free servers with the vSphere paid platform in one VMcom instance, while it is enough to license servers belonging to vSphere.
VMcom Backup is distributed as a virtual appliance so you deploy it via vCenter or via ESXi. It is not CPU hungry as it uses fixed block length deduplication instead of variable block length deduplication which might not be the most efficient at first look, but VMcom is smart to overcome this limitation.
By default, it uses 1MB block lengths so, during backups, it checks each incoming chunk of blocks against the checksums and an internal table of blocks already backed up. In case he finds a duplicate, it creates a reference to the location without backing up the repetitive block. Simple.
If it is a new, unique block, VMcom will write it to the hard drive like all previous unique blocks and create a checksum and table reference for all future incoming blocks. Deduplication works best for VMs with similar OS so it clearly makes sense to backup let's say Windows VMs as a group. The Windows OS, which is common for all the VMs, will be backed up only once. This gives a smaller footprint.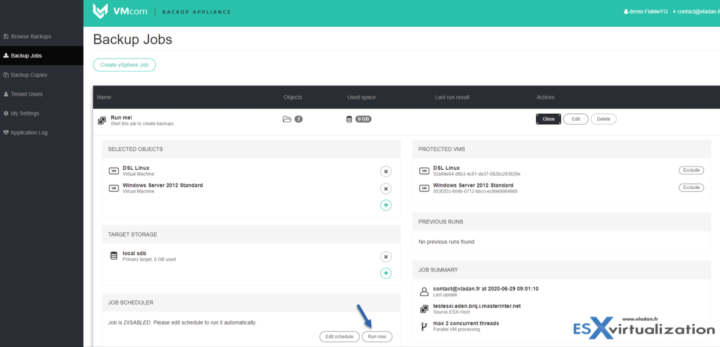 VMcom Backup Features
Fast backups and restores using VMware CBT (Changed Block Tracking), uses VDDK 7.0 library
Deduplication at the datastore level, to save space
vSphere 7.0 and ESXi 7.0 support
Full VM or File-Level restores (for Linux or Windows). Also supports restoring to a different vCenter or ESXi host.
Multi-tenancy for Service Providers (or for internal use of larger organization). Each tenant can be assigned a set of privileges for backup and recovery of particular vSphere objects.
A HTML 5 Web-Based User Interface
Based on Linux so you don't need additional licensing
Agentless
Built-in Deduplication and Compression
Supported Hardware and Minimal requirements:
Supported VMware vSphere / ESX(i) versions : 7.0, 6.7, 6.5, 6.0, 5.5, 5.1, 5.0, 4.1
VM requirements – 1 vCPU, 2 GB RAM, 40 GB storage
More about VMcom Backup at ESX Virtualization Blog
More posts from ESX Virtualization:
Stay tuned through RSS, and social media channels (Twitter, FB, YouTube)