This post is trying to gather all available (including some old ones) VMware posters. It is not an easy task as new posters are released on regular basis and so updates are needed into this post.
But we try to keep up and update this post with the latest reference posters from VMware.
So far we have seen many posters from VMware, like the ones for VMware vCenter Server Appliance (VCSA) and the different deployment topologies. This poster has also different section, such as Firewall requirements or migration possibilities.
The poster has twelve sections, most of which are interactive by way of clickable links, which will leads you to the apropriate VMware Kb article, to learn more or to find a solution.
Firewall Requirements: the bottom section provides a grouping of ports needed between:
PSC to PSC
PSC to vCenter Server
vCenter Server to vCenter Server
Migration from Deprecated to Recommended Topology:  The left side of this section displays deprecated topologies. A deprecated topology is supported in vSphere 6.0 but will not be in the next vSphere release. The high-level steps are provided to get you from deprecated to recommended topology.
Command Line Interface: A few commands on both the appliance and bash shells to get you started.  You'll find this poster below: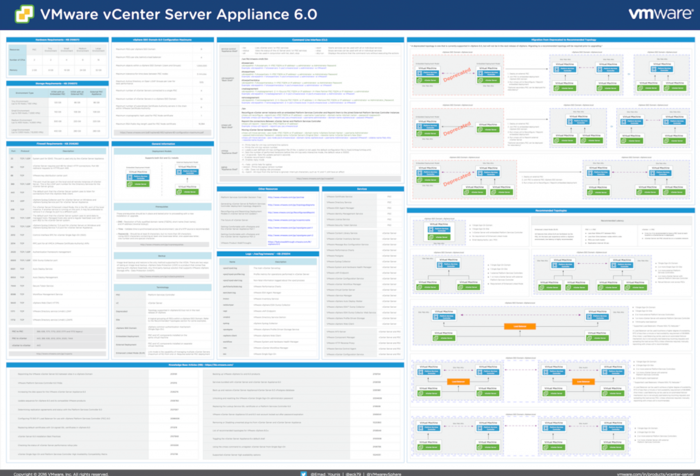 VMware Cloud Foundation 2.0 Private Cloud Architecture Poster.
Cloud Foundation provides maximum flexibility in choosing on-premises deployment options. Organizations can procure fully integrated systems from select OEM vendors that integrate software and hardware at the factory to deliver a turnkey customer experience. Dell EMC was the first partner to offer a hyper-converged integrated system powered by VMware Cloud Foundation in VxRack SDDC.
Get your copy here.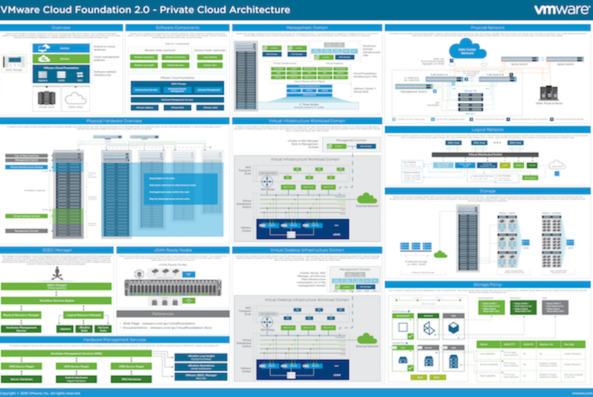 VMware PowerCLI 6.5 R1 poster
Another new poster covering latest innovations from PowerCLI. It is a VMware vSphere PowerCLI 6.5 Release 1 version. Get it here.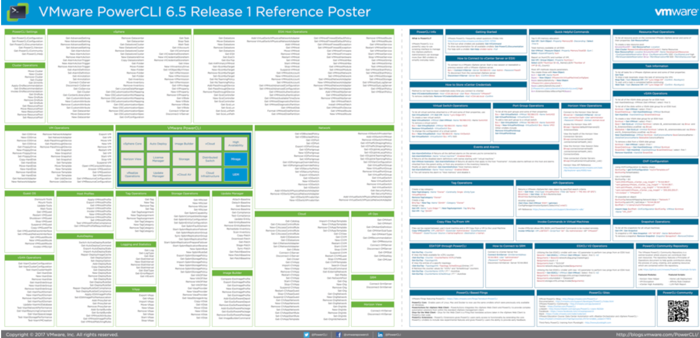 VMware Platform Service controler (PSC) Poster.
Another poster from VMware covering VMware Platform Service Controler (PSC) decision tree.
The Platform Services Controller Topology Decision Tree aims to be a quick reference guide in determining which high-level PSC topology is the best fit for a design's requirements. There are six high-level PSC topologies VMware recommends:
vCenter Server with Embedded PSC
vCenter Server with External PSC
PSC in Replicated Configuration
PSC in HA Configuration
vCenter Server Deployment Across Sites
vCenter Server Deployment Across Sites with Load Balancer
There are also several PSC topologies that are deprecated. The deprecated topologies are not covered in this diagram as new designs should not be using those topologies. There will be no support or upgrade path for the deprecated topologies in the next version of vSphere.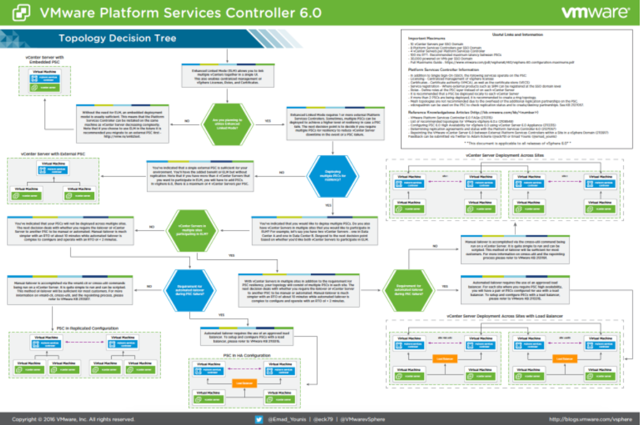 Get VMware PSC Poster here.
VMware Validated Designs Poster
Quote:
As we talk to customers and partners on a daily basis, there are many questions about the design. We wanted a way to provide a quick architecture reference as you get started with the design.
Here it is… Get your poster here.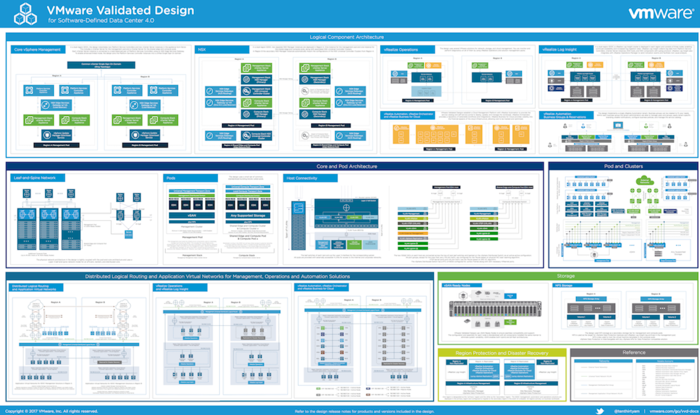 Some older posters…
There is a Power CLI 5.0 poster and also VMware ESXi 5 Reference poster. Both are delivered as a PDFs.
I don't know if there is any compact size as it was the case for the Power CLI 4.1 PDF version, but I'll try to find out. The PowerCLI 5.0 has been here for a while and I already reported on that in my article together with an introductory vCLI video.
On the ESXi Reference poster in addition to all the CLI commands there are quick links for vMA deployment tips and also those CLI commands which you need to know when setting up vMA fast pass.
I remember attending VMworld Copenhagen where the Power CLI 4.1 paper poster was distributed at the labs. Well, time pass by.. -:).  You'll be able to find all the commands and all
You can download the new PowerCLI 5.0 poster and the VMware ESXi 5 Reference posters.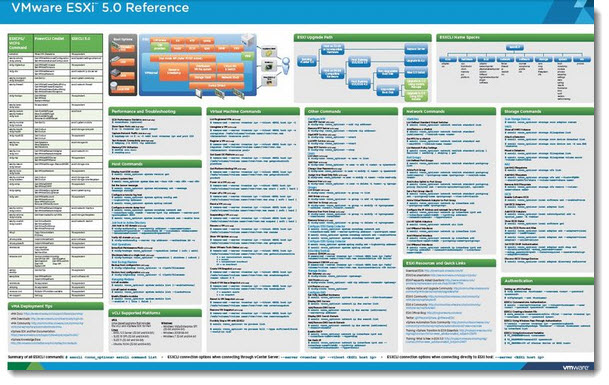 More from ESX Virtualization:
Stay tuned through RSS, and social media channels (Twitter, FB, YouTube)