VMware vSphere 7 has been announced and it brings an interesting feature for VM template management via Content Libraries. As you know, Content libraries introduced in vSphere 6.0 are continuously evolving with every release of vSphere, even not a major release. Content libraries, when first introduced, did not support many features as they do now and VMware keeps adding more supported features. VMware vSphere 7.0 – VM Template Check-in and Check-out is the title of this post and we'll show you the details in a sec.
VMware Content Libraries have introduced different ways of management of your VMTX templates for your VMs. In vSphere 7, once you create your template and copy it to the library, you'll be able to Check-out the VM from this template for edits and then Check-in that template VM back to the content library, to save the changes you made.
And once you do at least one change, you'll be able to see the versioning.
The VMTX templates will now have a possibility to see different versions when you change the template. You may want to apply some patches to the VM or change add/remove some virtual hardware of the VM.
The versioning and the view will give you the possibility to see those different changes which have been done. So be prepared to change a little bit you work with your templates and content libraries.
Quote from the UI:
VM Templates in Content Libraries can be edited with the flexibility of version control. You can checkout a Virtual Machine from the template while you keep the template as is. You can then patch or edit the Virtual Machine. When you are ready, you can check it back in to update the VM Template.
Here is the screenshot from the lab where selecting a template you have a new view allowing you to do check-out a VM to do some changes and then check that VM back IN.

A New View within vSphere Web client
There will be also two different views where you'll have more tiles (draggable around) where you can check and uncheck some tiles to make your desktop view cleener.
Classic View
New view with summary
The new view, you can switch On or OFF, and which gives you different details. This is a view when you select a VM (because the view is different when you select a template, you have less check boxes).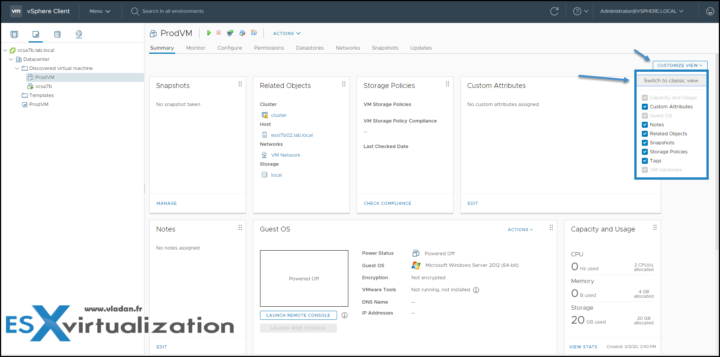 As you might know, vSphere 7 also brings virtual hardware 17 (vmx-17) which brings a possibility to configure VMs with Virtual Watchdog timer especially useful for clustered applications such as databases or file systems. Another new addition to the virtual hardware 17 is the Precision Time Protocol (PTP) allowing you to get sub-millisecond accuracy for financial applications or some scientific apps which need this kind of precision.
Advanced Configuration of Content Library:
Yes, while we're talking about the content library, worth note that you have a new option called Advanced configuration giving you the hand on some parameters which were not accessible (easily) before. Things such Auto-sync refresh interval, performance optimization and maximums etc.
Here is the screenshot from the lab.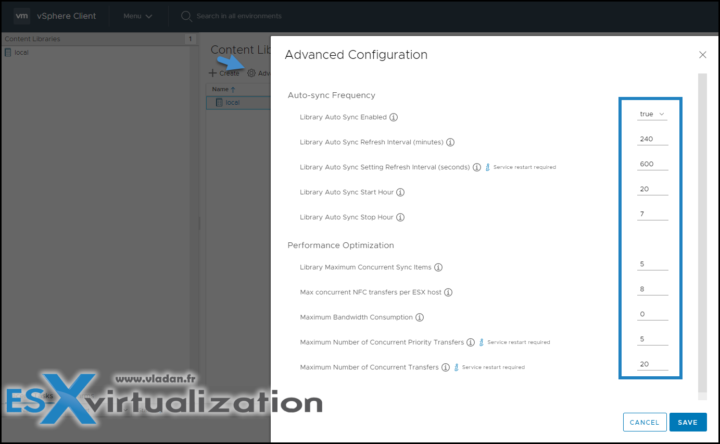 Don't forget to check other articles and also our vSphere 7.0 WordPress page below. Content creation is hard work too, so make sure to support our sponsors and partner by visiting their websites and products. There are not many up-to-date blogs that are able to push almost daily content with quality, regularity, and expertise that we do.
More about vSphere 7.0
VMware vSphere 7.0 – VM Template Check-in and Check-out and versioning [This Post]
You might want to check our Free Tools page where you can find VMware utilities, but also utilities for Microsoft systems or other "Swiss Knife" software there.
More from ESX Virtualization
Stay tuned through RSS, and social media channels (Twitter, FB, YouTube)