VMware vSphere 8.0 has been announced during VMware EXPLORE. This new version of vSphere will be released later this year (probably during the autumn). Compared to vSphere 7, there are some areas of scalability improvements, as you can see in the image below. The download of ESXi 8.0 and the whole vSphere 8.0 should be around the 11th of October.
However, most of the improvements stay identical as already vSphere 7 had maximized the platform's possibilities. For example, we can see that we have the same amount of vMem, vCPU per VM, or pCPU per host. What's changed is the vGPU per VM which has doubled, and also we have the lifecycle manager that can now manage up to 1000 hosts. The maximum VMs per cluster has also risen, now up to 10k VMs per VMs is allowed.
Update: vSphere 8.0 and vSAN 8.0 GA date is out – 11th October 2022
Another improvement is the number of VMDirectPath I/O devices per host which has been raised from 8 to 32.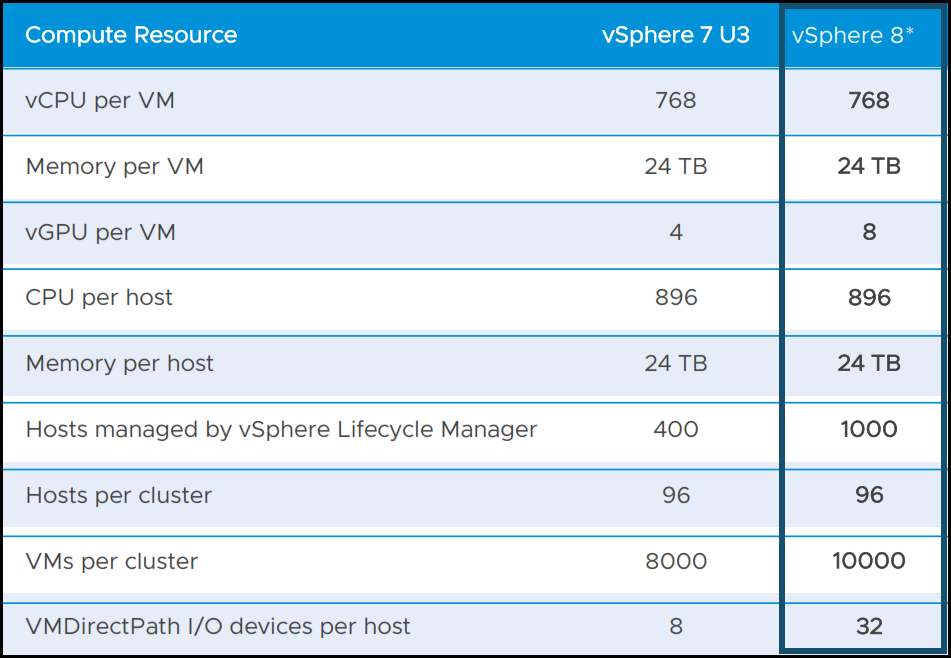 Artificial Intelligence and Machine Learning
A challenge that customers have today, is the management of multiple devices. VMware brings a concept of Device groups. The groups are then presented to the ESXi. They are automatically discovered by vCenter. The group will be represented as a single unit, not as individual devices.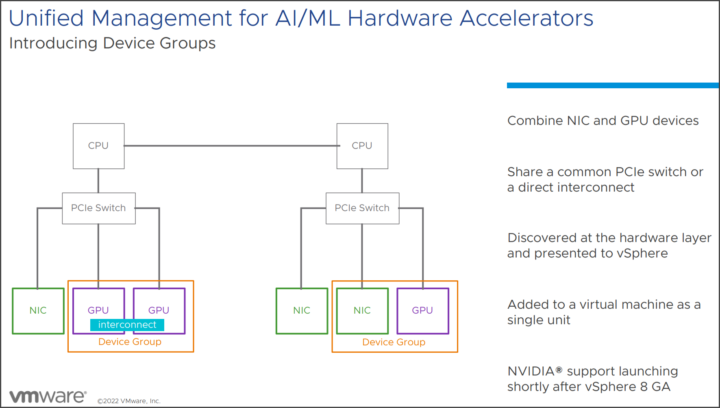 You can combine NIC and GPU devices, and share a common PCIe switch or direct interconnect.
Then you're able to attach to the virtual machine as a single unit. vSphere HA and DRS are aware of device groups so they'll work together and they'll make sure that the VM will be placed on a appropriate host that can satisfy the device group.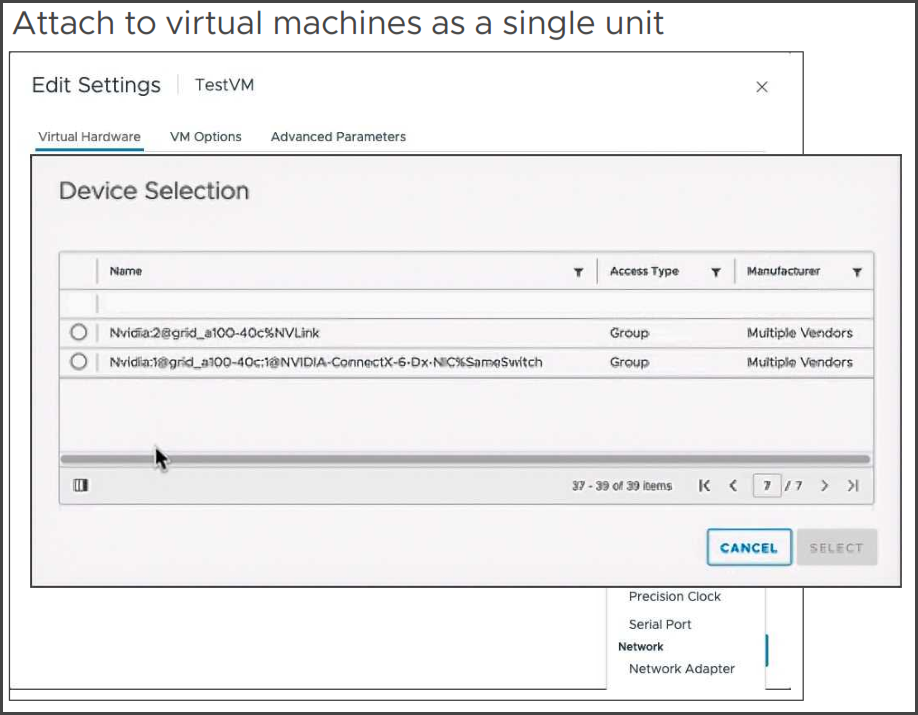 Guest OS and Workloads
New Device Virtualization Extensions (DVX) that has been introduced in vSphere 8.
In previous releases of vSphere, VMs consuming physical hardware devices using direct path I/O were limited in their mobility.  DVX introduces a new API and framework for vendors that supports hardware-backed virtual devices that support vMotion,  DRS, HA or suspend and resume. Can also support disk and memory snapshots.
A DVX driver must be installed on ESXi and at the same time at the VM level.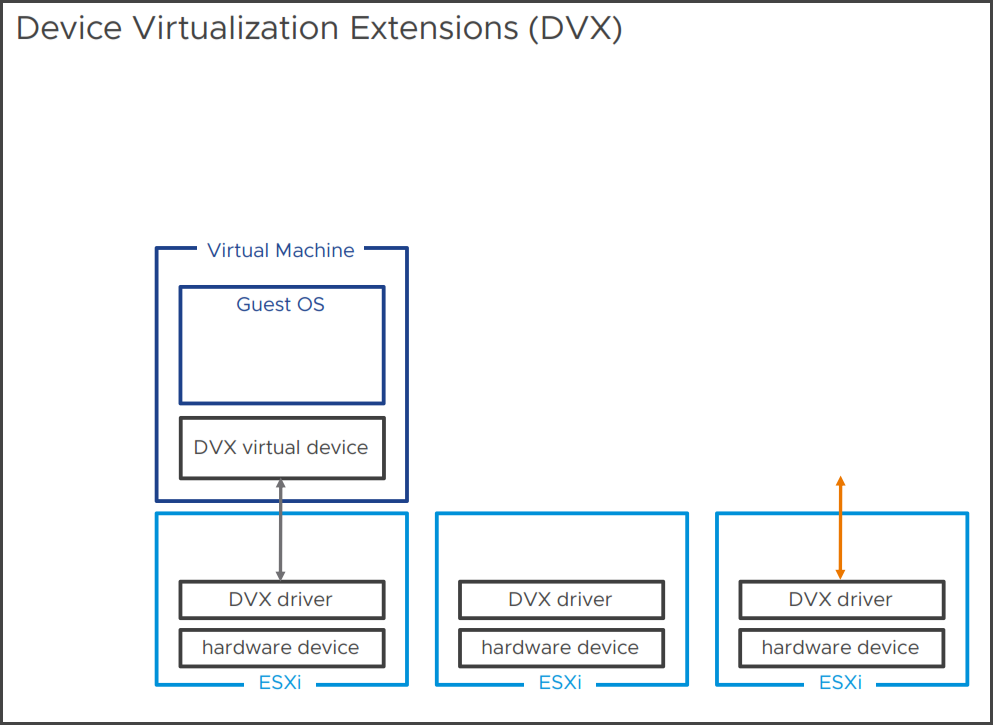 Virtual Hardware version 20
The new virtual hardware 20 (vmx-20) brings virtualized hardware innovations, and guest services for applications and increases performance and scale.
There are 3 main areas of innovation:
Virtual Hardware Innovations – support for latest Intel and AMD CPU, devices virtualization extentions, and up to 32 DirectPath I/O devices.
Guest Services For Application – vSphere DataSets, application-aware migrations, latest guest operating system support.
Performance and Scale – Up to 8vGPU devices, Devices Groups, High Latency Sensitivity with HyperThreading
Windows 11 Virtual TPM Provisioning Policy
The problem with TPM and cloning VMs is that it can introduce a security risk. That's why VMware has introduced a new feature where you can specify whether you wand to copy or Replace the TPM device.
During the clone of the existing VM, you can choose the Replace option and the VM will be created with a brand new TPM device which will not have access to the source VM's secrets. However, it might not be expected for some apps that might already be installed within that VM…..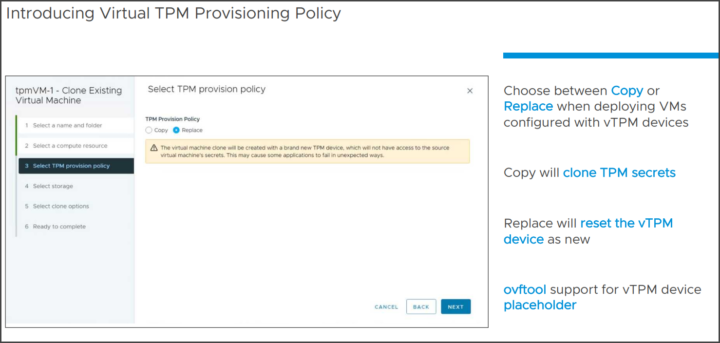 There is a TPM provisioning policy
Applications that are migration-aware
Certain applications cannot tolerate the stun that happens during vMotion operation. Applications can be written now to support migrations and vMotion operation. Applications can be notified that migration will take a place, and in this case, there might be some services that need to be gracefully shut down before the migration, or performing a failover operation.
The application itself can delay the migration until a configurable timeout, but it cannot stop the migration from occurring. This could be some Time-sensitive applications, VoIP, or clustered applications.
New latency sensitivity with hyperthreading will allow VM's vCPUs scheduling on the same hyperthreaded physical CPU core. The physical host must support hyperthreading. This feature needs the latest virtual hardware 20.
You'll also need to set 100% CPU and memory reservation for this VM. The VM is optimized to meet the low latency requirements of latency-sensitive applications. Each virtual CPU is granted exclusive access to a thread on a physical core.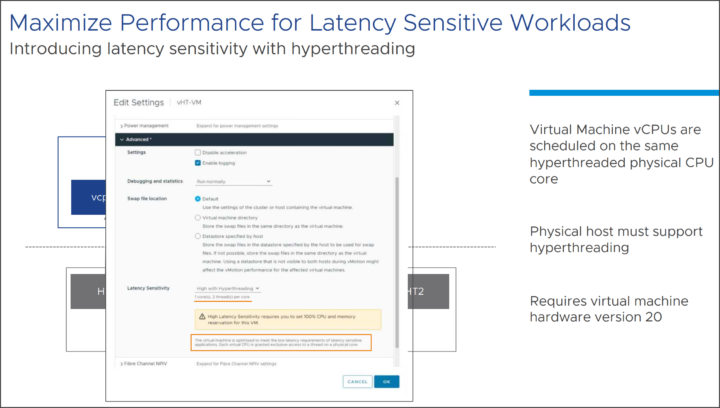 Simplified virtual NUMA Configuration
Virtual NUMA topology is exposed to the vSphere client now. (Where in previous releases, this had to be done via CLI.). Virtual hardware 20 is required. You can configure it during the new VM creation wizard or edit the CPU topology settings of the existing VM.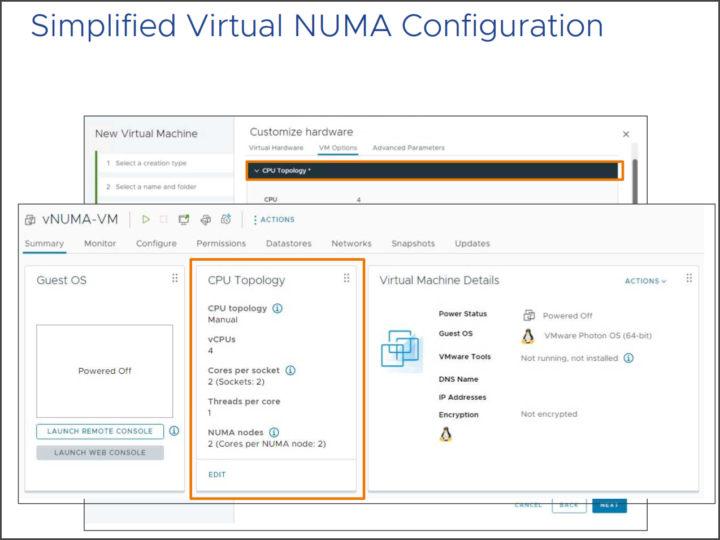 vSphere Datasets
vSphere introduces a new way of sharing data between vSphere and Guest OS. Data is stored and moves with the VM. Some of the use case might be things like Guest deployment status, guest agent configuration, or guest inventory management.
The mechanism works with VMware tools installed. Also, it needs virtual hardware version 20.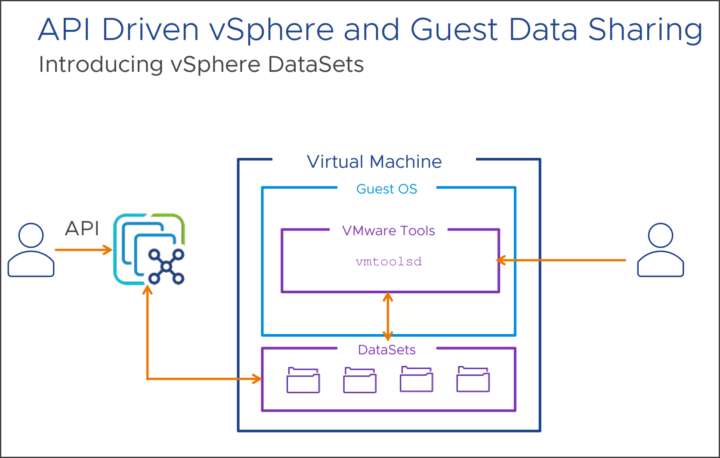 vSAN 8 updates and new features will be a separate article.
There is a new vSphere 8 page on the blog, which will centralize all new vSphere 8 content, including installations and configurations. For now it looks pretty much empty, but make sure to come back and (or) to bookmark this page for future references.
Shop:
More posts from ESX Virtualization:
Stay tuned through RSS, and social media channels (Twitter, FB, YouTube)