VMware has been quietly working on vSphere 8.0 U1. This new major update of vSphere that is coming up next. It's not a secret that everybody is waiting for U1 to be as stable as possible without any update glitches etc. After the last year's October's release of vSphere 8, we're now like 6 month later and we have a new release. We did not have the information when this will be available for download, but I'd expect it to be able to get the bits within a week or two.
UPDATE: Follow-up post – VMware vSAN 8.0 U1 What's New?
What's new in VMware vSphere 8.0 U1?
vSphere Configuration Profiles are no longer in Tech Preview, but full supported feature. (Note that host profiles are still supported and part of the vSphere.) vSphere configuration profiles uses desired-state model for all config operations. It allows you to monitor and remediates configuration drift across your clusters. The cluster configuration can be managed in more simpler and modern fashion.
Note: You need to use vSphere Lifecycle Manager with Image based (not baselines based) for this to work.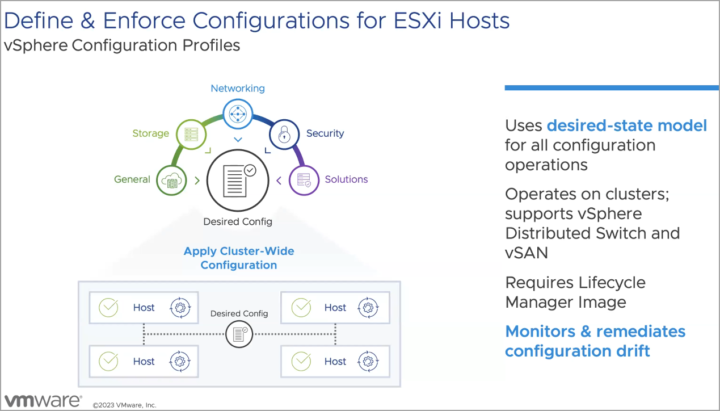 vSphere configuration Profiles in vSphere 8.0 U1 supports vSAN environments and also they support vSphere Distributed Switches (vDS). This feature can now coexist with vDS and vSAN. It's not vSphere configuration profiles who manages the config of vDS for example, however they manage VMKernel adapters that are part of vDS.
So you basically create a configuration (either manually, or from reference host) then validate, precheck and apply if needed.
The remediation is manual, however the periodic check of the compliance will pop-up a bubble or as an alert notifying the administrator that some of the hosts are out of compliance. The remediation decision is up to the admin, and it is a manual step.
Transition from Host profiles to vSphere Configuration Profiles
New Workflow allowing you to transition has been created. It allows you to manage the configuration at the cluster level.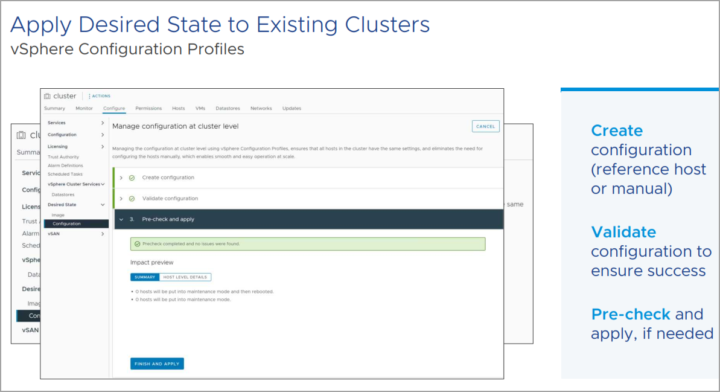 If the cluster still uses baselines, you must first convert it to use the vSphere Lifecycle Manager (vLCM) method (Single Image Lifecycle Management).
Standalone Hosts
There is still many standalone ESXi hosts within datacenters. You can define custom depot that will be stored within the ESXi host (in case the vCenter server has remote links unstable).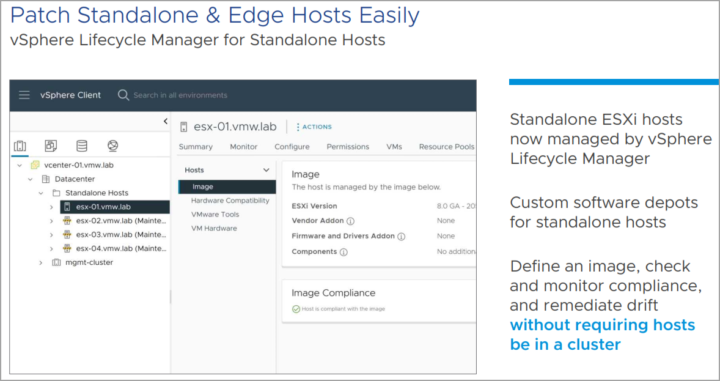 Hardware Accelerators
vSphere 8.0 U1 brings now NVIDIA multiple profiles for VMs using vGPUS. You can mix those profiles for your VMs configured with vGPU. There is only one limitation with that, and that is that the memory sizes must match (VMs on the same host must be configured with the same amount of vGPR memory).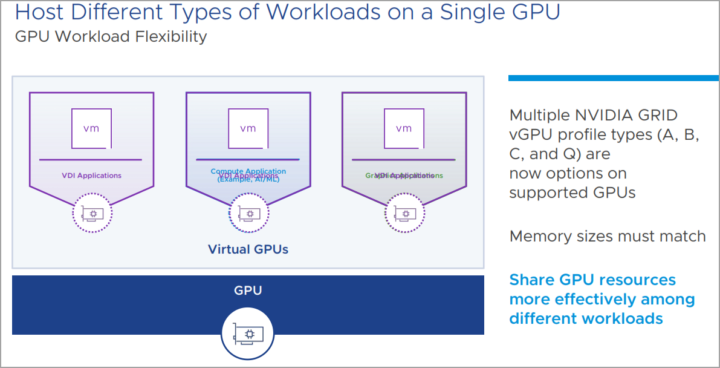 Tanzu Supervisor Services
vSphere Distributed switch networking stack will now have a possibility to leverage Supervisor services. This supervisor services are available with NSX networking stack, but now VMware brings those services with vDS networking stack. AVI network balancer, NSX load balancer or HA proxy load balancer, can now be used together with those supervisor services.
Supervisor services are vSphere certified Kubernetes operators that deliver infrastructure as a service components and they are very tightly integrated to vSphere. You can install and manage supervisor services within vSphere Tanzu environments so you can make them available to those workloads.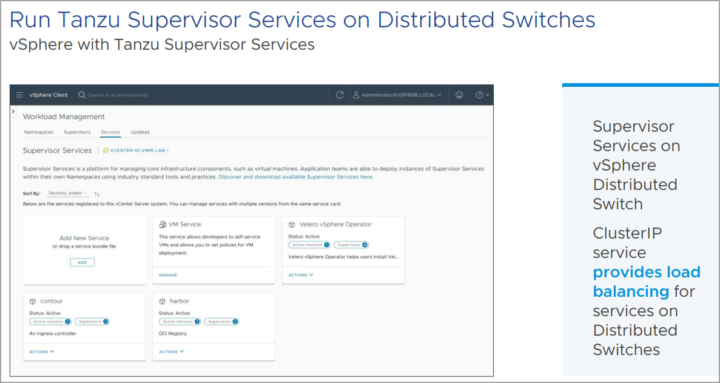 Flexible and Customizable VM Images
Services such as Harbour, Contour, Velero vSphere Operator (for backup and restore), VM Service as well as others that are (or will be made) available to admins.
vSphere with Tanzu will have now a possibility to "Bring your  own image". The vSphere 8.0 U1 you'll be able to customize your own Linux OS (any modern Linux OS) that supports Cloud Image or vAppConfig construct image. So admins can save this image to the content library and make it available to the developers.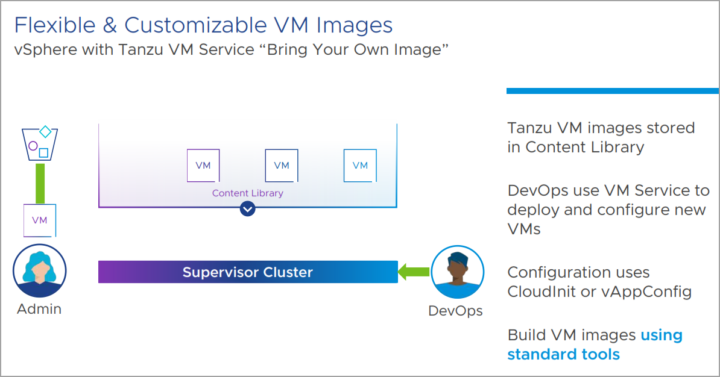 Developers with access to the content library of their namespace can easily deploy new VMs from the content library.
vSphere Tanzu VM Consoles – to the developers
The developers withing their namespace and their rights, will be able not only to deploy new VMs from content library, but also they'll be able to have an access to the VM's console (without any additional rights).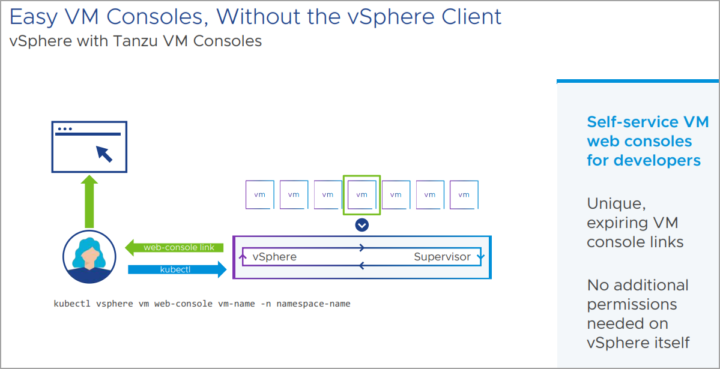 Self-Service Diagnostics
VMware Skyline Health Diagnostics platform allows diagnose any issues within your environment, can be easily deployed via new workflow.  The VMware Skyline Health diagnostics provides replies via KBs and advices on any issues you might have within your environment.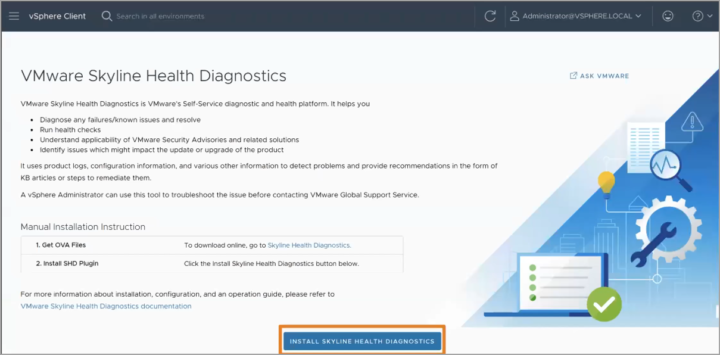 VM Power Consumption Statistics
As power consumption becomes more important more than ever, VMware can now help you to identify VMs and their power consumption. There are new metrics that capture the values at the host level. VMware did attribute the individual power consumption of each VM, so it's a better VM metrics. It provides customers more data to aggregate VM power consumption and understand the energy efficiency their VMs.
Those data are visible within vSphere client, but you can also send it to VMware Aria Operations.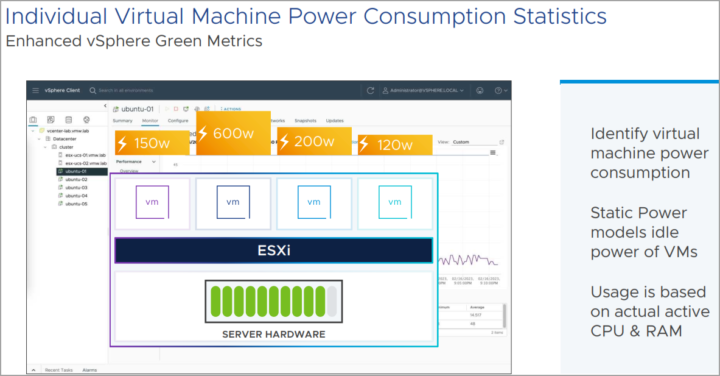 You can identify VM consumption with VMs that are Idle. Usage is based on actual active CPU and RAM usage.
Hot-Pluggable NVMe Devices Reduce Downtime
You'll be able to hot-add or live add any NVMe devices to a Virtual machine. With vSphere 8.0 Update 1, a VM direct path I/O will allow NVMe devices to be hot-added or removed. Servers must be certified with a special PCIe hot plug certification in order this to work, and it is currently only supporting this for NVMe devices.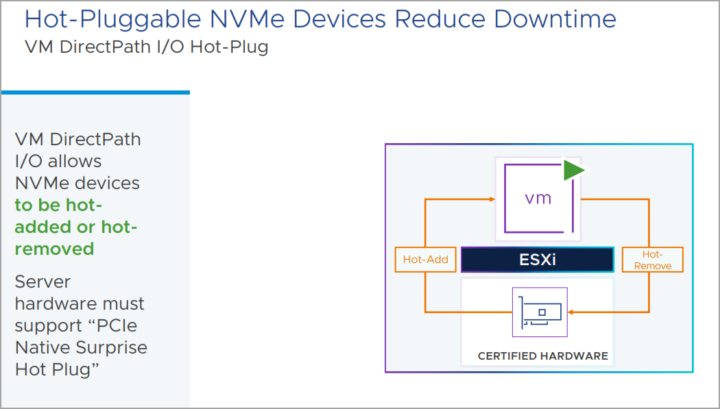 NVIDIA and NVSwitch Support in vSphere 8.0 Update 1
Via partnership with Nvidia, VMware supports NVSwitch.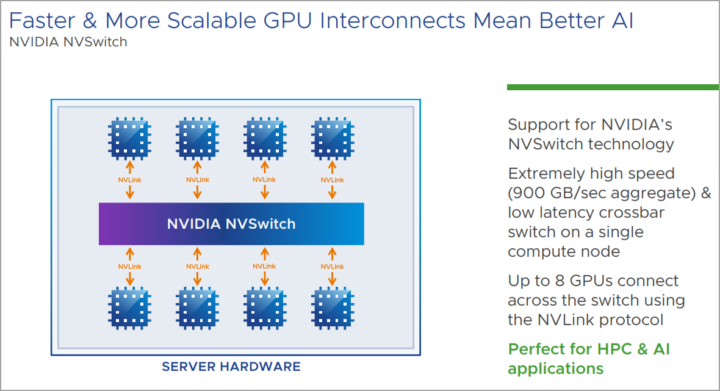 Nvidia has a technology called NVLink, so it is 1:1 linking GPU technology. With NVSwich you can link up to 8 GPU together in an array, by using the NVLink protocol, to have a super fast performance. Any GPU can talk to any other GPU, which is perfect for HPC and AI applications. This technology does not uses PCI bus.
Security with vSphere 8.0 Update 1
There was an incompatibility of Quick boot feature with customers using TPM 2.0 devices (that has become very popular). So with vSphere 8.0 Update 1, VMware now allows to have hosts with TPM 2.0 and still be able to benefit from quick boot.
Quick boot allows you to bypass some BIOS verifications and initializations interrupts so instead of waiting during 15 min for server to reboot, with quick boot feature that happens much quicker. No more trade off between security and speed when patching and reboots.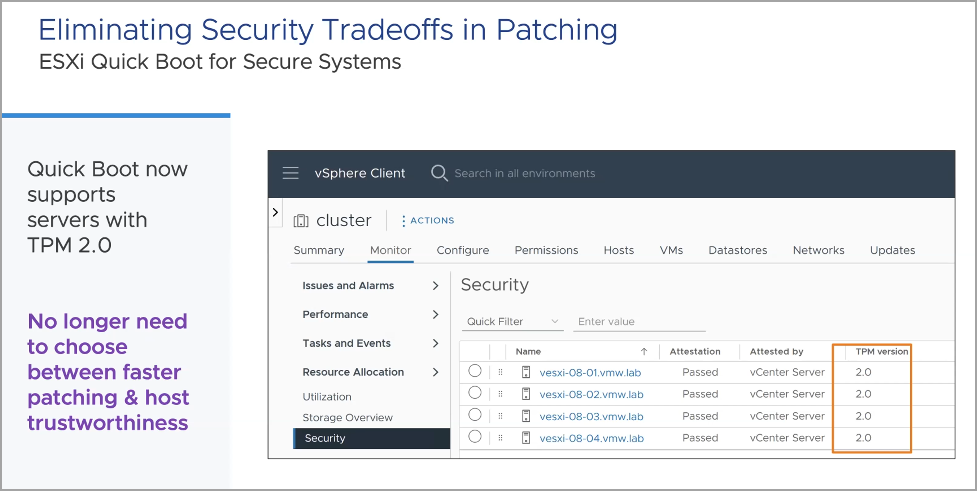 Fault Tolerance supports vTPM-Enabled Workloads
Previously, when you had a VM with vTPM device, you could not activate a VMware Fault Tolerance (FT). Similarly as above, vTPM enabled workloads are now being able to be protected with VMware Fault Tolerance (FT).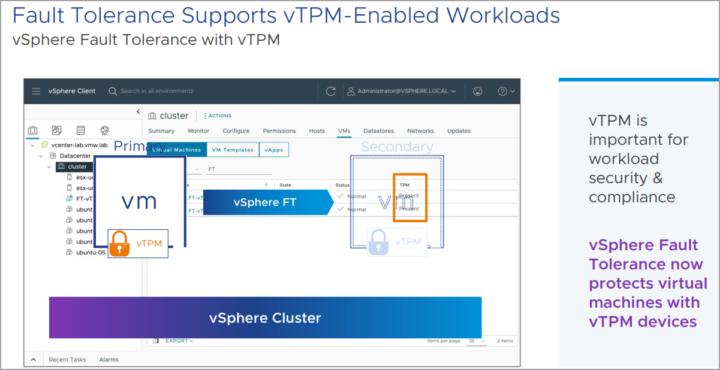 It is important for Windows 11 workloads that require the vTPM to be present.
Isolate, Manage, and Secure NFS Storage Network Traffic
Now you can do bind NFS traffic to individual VMKNIC. This was previously possible only for iSCSI traffic, but now with vSphere 8.0 Update 1, you can also do that with NFS traffic. When you creating NFS datastore, you'll be able to bind that to an individual VMKNIC, and you can do that on a per-datastore level as well. Individual datastores are able to use different VMKNICs.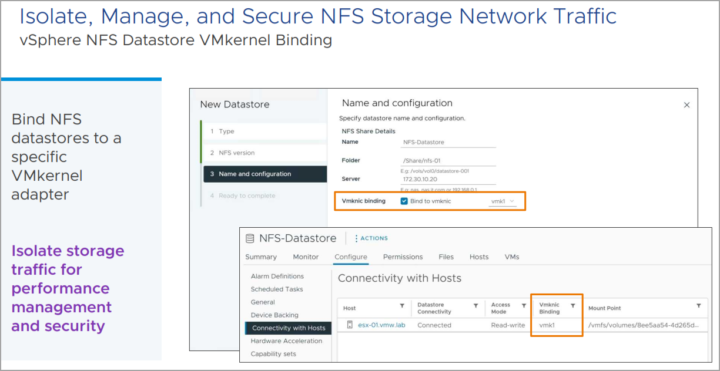 vCenter Server Direct Federation with Okta Identity Providers
This security feature was asked by customers for a long time. With vSphere 8.0 Update 1, you'll be able to use 2FA/MFA, and use cloud identity providers, (starting with Okta),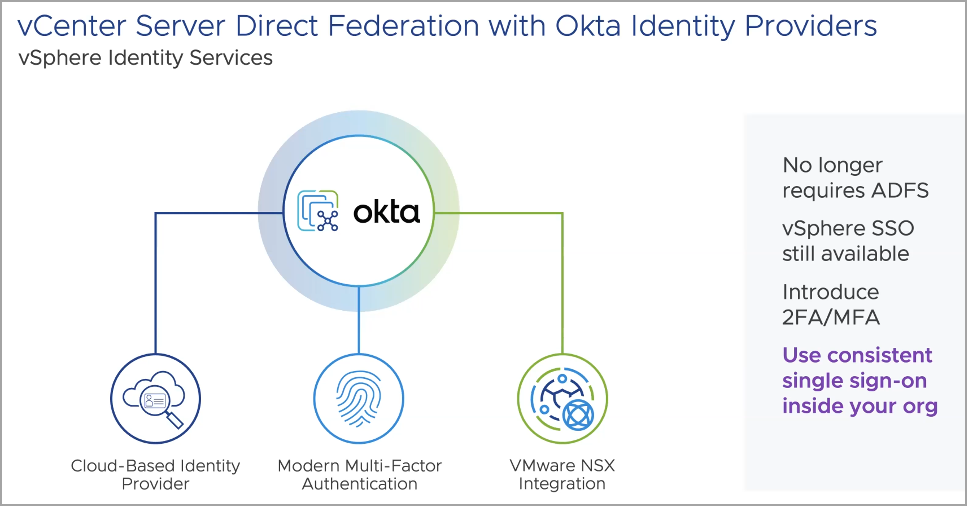 VMware is looking to add additional identity providers in future releases.
What's good is that vSphere "never sees the credentials" so, as such, vSphere is removed as an attack vector as an attack to get user's credentials.
By default, vSphere 8.0, and Update 1 the default configuration is hardened.
More posts from ESX Virtualization:
Stay tuned through RSS, and social media channels (Twitter, FB, YouTube)