This is a follow-up article about what's new in vSphere 8.0 U1, and this article will be unveiling what's new in vSAN 8.0 U1. With the latest vSAN 8.0 U1, customers will be able to leverage HCI mesh with Express Storage Architecture (ESA) vSAN clusters. This has not been possible with 8.0, as you could only use HCI within Original Storage Architecture (OSA) enabled vSAN clusters.
Similar capabilities/limits. You can use it with other vSAN ESA clusters or Compute-Only clusters.
UPDATE: Check also – VMware vSphere 8.0 U1 Announced
vSphere 8.0 U1 Compute-only clusters offers flexibility:
Connect to ESA server clusters (exclusively)
Connect to OSA Server clusters (exclusively)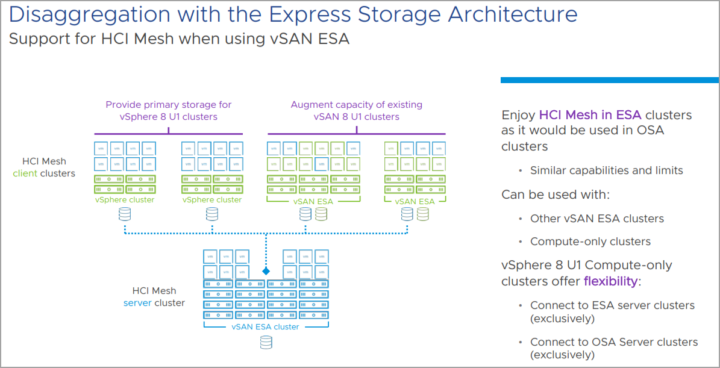 Consume Storage Externally using vSAN Stretched Clusters
You'll be able to have a workloads running in a cluster stretched cluster to remotely mount a server cluster that is geographically spread across two sites. VMware is able to understand and use site-aware optimal data path for each respective workloads. If you have VMs living a client cluster and those VMs are accessing resources living in a server cluster, and those are not in the geographically same site, you want to make sure that runs an optimal data path. You don't want to use that inter-site link to access data and have potentially issues with bandwidth and latency that usually occurs when dealing with WAN links.
This solution also supports a traditional VSAN clusters accessing remotely resources in a server clusters, accessing VSAN cluster that is stretched. If customers have some mission critical workloads and want to make sure that the are "geographically protected" that they want to make sure that those workloads do use an optimum path.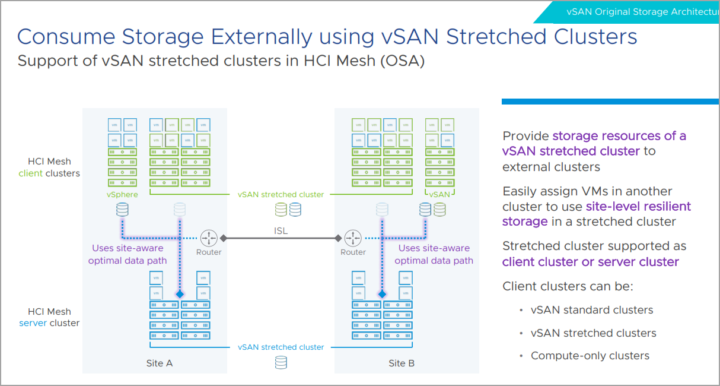 Consume vSAN Storage across vCenter Server Instances
Now with vSphere 8 U1 and vSAN 8.0 U1 you can have HCI connectivity and use multiple vCenter server instances. This might be and advantage for VxRail or large vSAN deployments.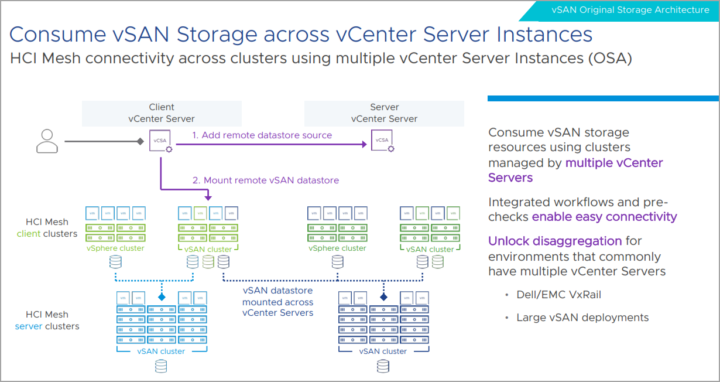 Previously, the client cluster and server cluster had to be managed via same vCenter server.
Core vSAN 8.0 U1 Enhancements – Better Performance using New Adaptive Write Path
vSAN 8.0 U1 brings an improved performance of streaming writes (in ESA architecture). It uses an alternate write path for guest VM writes using larger I/O sizes.
In this case, the log structure file system was used to accommodate the different sizes of writing data based on the different characteristics of the NVMe Flash devices. Sometimes, VMs will write a large I/O sizes, and that's why VMware found a better way in case large I/O sizes are generated by those VMs.
It is a secondary way, that is able to write higher throughput and lower latency for sequential write workloads.
It will be particularly visible is on the VMware cloud datacenters where inherently issuing larger I/O writes or that they have a lot of pending I/Os (known as outstanding I/Os), so this new update will be able to recognize those patterns and accommodate this. It is on per-object basis.
It should drive down some of the CPU utilization and network requirements.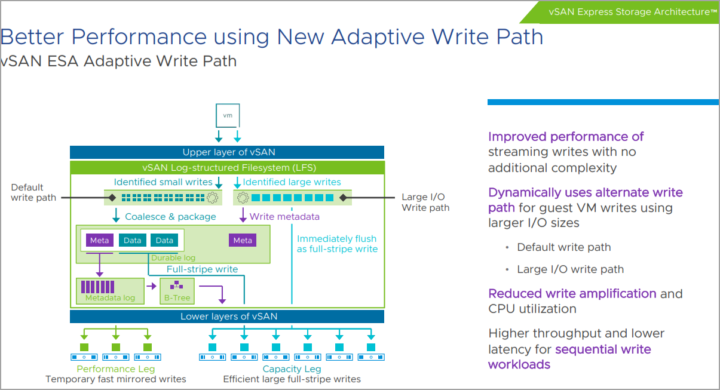 Improved performance of vSAN 8.0 U1
VMware increased parallelism, reduce CPU exhaustion. Thos improvements are up to 25% in IOPS and throughput. This is quite signifficant.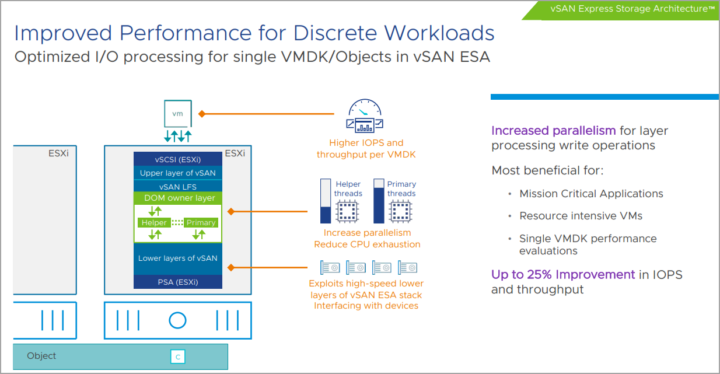 Enhanced Durability During Maintenance mode scenarios
In case that there is a maintenance mode activated and at the same time there is a failure, the additional writes are captured into another host which are then merged back once your host is back from maintenance mode.
This feature was already supported within the Original Storage Architecture (OSA) during several releases back, however not for the latest ESA. Now it is the case also for the Express Storage Architecture and RAID 5/6 erasure coding.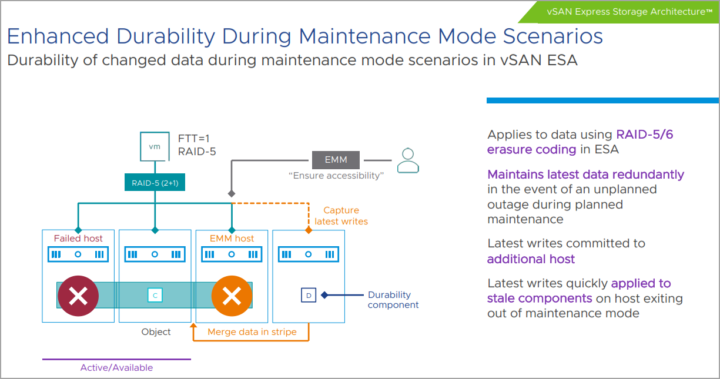 Better Handling of Infrastructure-Related Files on vSAN Datastore
There is an easier manageability for VSAN datastores.  You can now have ISOs, content libraries on vSAN datastores. In the past, there were some size limitations for folders and files stored on vSAN datastores. Those limits has been lifted and VMware has made it available.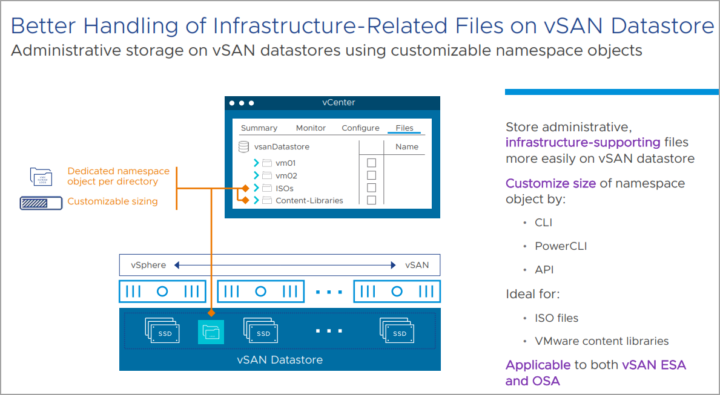 Simplified Management with Auto-Policy management and more
The system is able to recognize the cluster's topology (if its normal, stretched), it will look in how many hosts you have, and whether you have enough hosts for rebuild. It will chose the policy that is the best adapted to your environment (example that you have a 6 host cluster, it will automatically set the default storage policy as RAID6 erasure code).
The system basically create and set optimum storage policy for that specific cluster based on:
Type of cluster
Number of hosts in cluster
Host Rebuild Reserve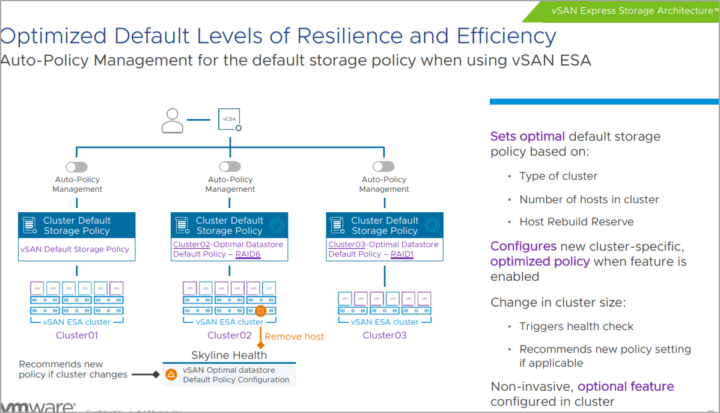 It is an optional feature that is configured in cluster. It is per-cluster setting. It will issue health-check alert for clusters, so the customer can actually change that manually.
Cluster Health Status and Troubleshooting
vSAN Skyline Health was improved as well. VMware brings more useful feature which is called Cluster Health Score that basically brings on your attention the actual health of your clusters. Issues has been prioritized to help address most important conditions first.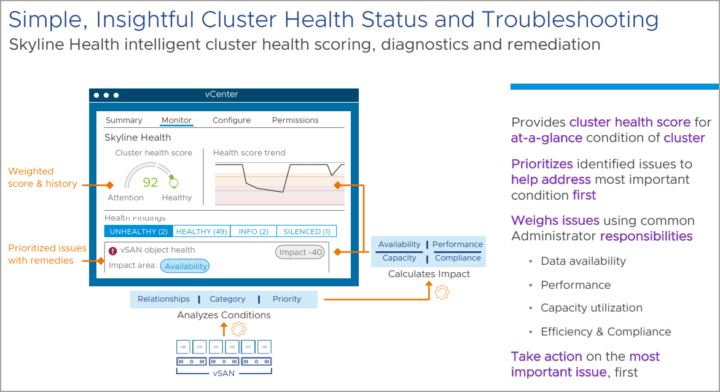 The levels of details were improved as well where the sampling intervals are shorter now (previously 5min, now 30 seconds). Those metrics are more accurate and are able to bring the sitation that is happening "right-now" instead what happened 5 minutes ago…..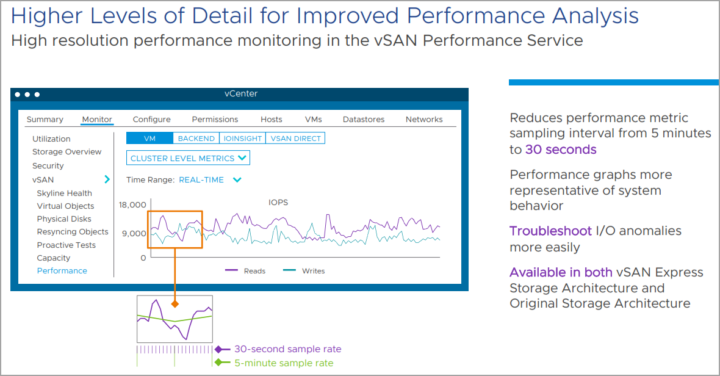 I/O Trip Analyzer
This is a VM I/O Trip analyzer helps to analyze performance. It is a time capture analyzer that can be scheduled a capture of data to be analyzed later. (Example during a backup schedule where you might experience some performance issues).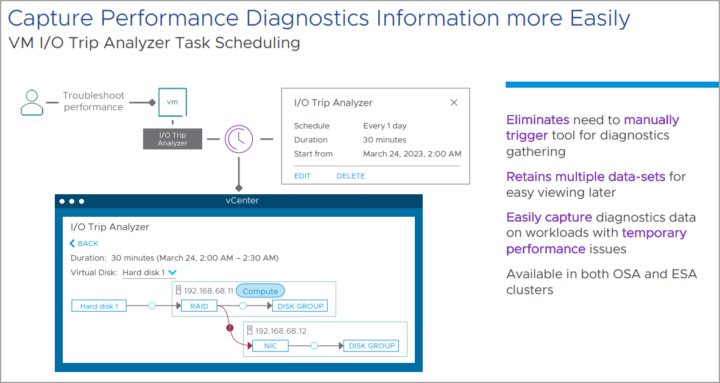 Command Line Enhancements
PowerCLI for vSAN 13.1 is part of the release. There will be a custom shutdown workflows, HCI Mesh for vSAN ESA, HCI Mesh using multiple vCenter servers (OSA) etc…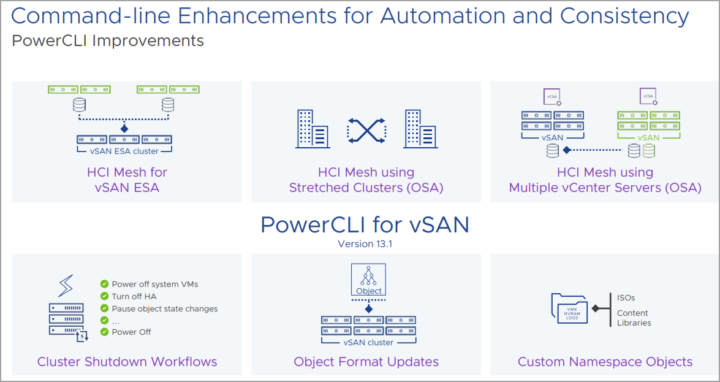 Improved support diagnostics for Faster Time to Resolution
New features for technical support teams, VMware make new changes to the storage for the trace logs of ESXi hosts that lives in the vSAN cluster. As you know, ESXi host has all its storage that are assigned to vSAN, so it was pretty challenging to put trace logs somewhere.
Now, the captures are retained up to 6 days and are stored directly within the vSAN datastore. This gives more data to the support teams to work with, with more information and better guidance.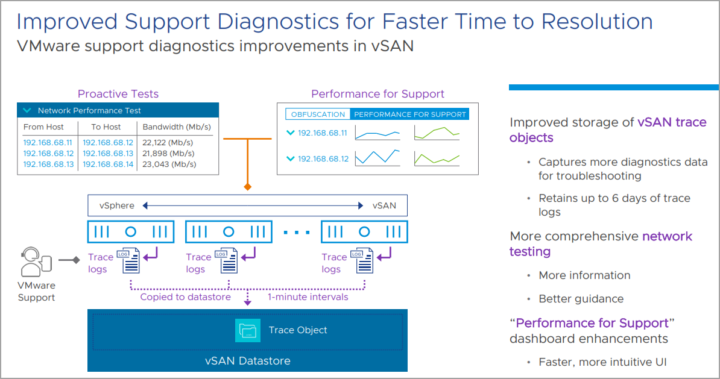 Easier Deployment of Cloud Native Stateful Applications
Cloud native applications no longer needs NSX-T to be deployed within the vSAN cluster. Now, a vSphere Distributed Switches (vDS) are now supported which is easier to deploy those 3rd parties stateful apps for vSAN.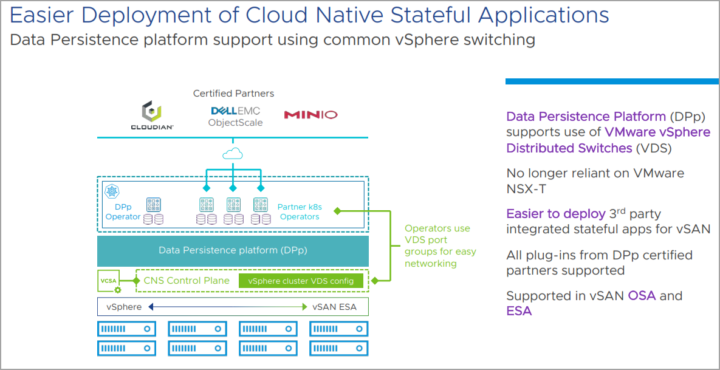 More Effective Capacity Provisioning for Cloud Native Workloads
You can deploy thick-provisioned persistent volumes using vSAN Direct Configuration. It's done via Storage Class to Storage Policy mapping.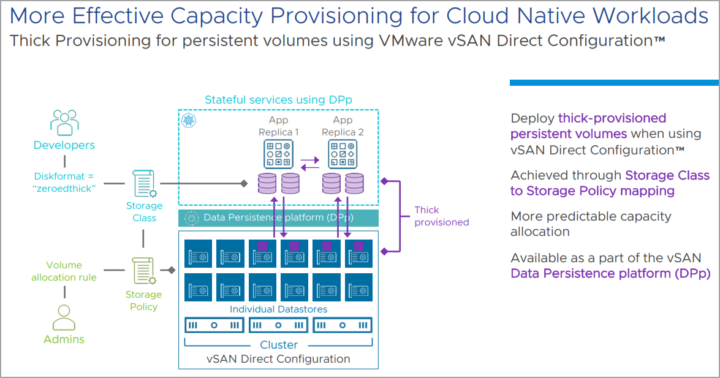 Final Words
Overall, vSAN 8.0 U1 is an impressive update to an already powerful software-defined storage solution. Its new features and improvements make it an even more attractive option for organizations looking to modernize their IT infrastructure and embrace the benefits of hyper-converged infrastructure.
Note: This information about vSphere 8 U1 was delivered during Early blogger access session which NDA finished the 14th of March 5AM Pacific.
More posts from ESX Virtualization:
Stay tuned through RSS, and social media channels (Twitter, FB, YouTube)