I did an upgrade of vCenter server in my lab, so I thought that It's a good idea to record the process.
While I had the choice to do a clean installation of VMware vSphere 5 with all the components to a new VM in my small 2 host cluster datacenter, I preferred to do an upgrade process of my vCenter (at first). I wanted to see how the installer works, how the old vCenter is detected and what's the options during the installation process. I might do a clean installation later one. The upgrade process is done with latest VMware vSphere 5 ISO. (at the moment writing those lines the product is still not GA).
In this video (at the end) you'll see that there is only one physical host connected to my datacenter, because the other one has been cleanly installed with ESXi 5.0 – see my video.  The installation (upgrade) process took some time so I edited the parts of the video which are not showing anything special, but waiting sandbox or progress bar…. to actually get the most important stuff being recorded.
What I did not mentioned is that while playing with the new vSphere 5 client, I noticed a speed improvements. The work with the vSphere client is faster now. It's noticeable. I don't know exactly how much faster, but it's noticeable, so I would say like 20-25% faster than the vSphere 4 client. The vSphere 5 brought over 200 new features and enhancements. The speed enhancement of the vSphere 5 client is just one of them. The performance enhancements and the maximum config enhancements (like for example 1TB VMs or +2Tb datastores) distances the competition once again in a quite short period of time.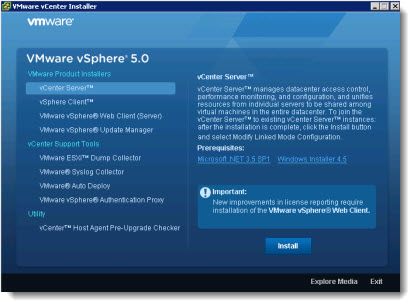 While there has been lot's of blog posts about new features, not many of them shows the detailed Installation process. Mostly because the product is not widely available yet, but also because that making videos takes time and energy…
I hope that my regular readers appreciate, and even if I don't talk during this video (in purpose), I did include some call outs to make the watching experience more enjoyable. And there is a background music too….
Feel free to leave a comment, or bring me an idea of a blog post or video.
Or…. you might want to do a guest post for ESX Virtualization? Yes, time to time I do give the possibility for bloggers which just started blogging and want to get known. If you're a one of them, you can contact me via e-mail: contact (at) vladan.fr
More on vSphere 5 from ESX Virtualization:
– ESXi 5.0 vRAM entitlement changes
– Video of installation of VMware VSA – vSphere Storage Appliance
– VMware vSphere 5 performance enhancements whitepaper
– VMware vSphere: Install, Configure, Manage [V5.0] Training Course by VMware Education
– vSphere 5 – New High Availability Agent Introduced – FDM
Enjoy the video below…
Stay Tuned for more videos by ESX Virtualization. You can subscribe to our weekly newsletter or via our RSS Feed.