Best VMware vSphere 5 performance enhancements. In this whitepaper there are discussed and presented the best performance enhancements which brings VMware vSphere. Besides the CPU enhancements, the paper discuss the interesting SSD Swap Cache, which was introduced in ESXi 5.0 and which permits to configure the redirection of those swapped-out memory pages rather on SSD local drive instead of SATA/SAS.
A quick quote from that section:
Because SSD read latencies are an order of magnitude faster than typical disk access latencies, this significantly reduces the swap-in latencies and greatly improves the application performance in high memory over commitment scenarios.
All said here – high memory over commitment scenarios.
Host power Management Enhancements – Another feature which caught my attention was the Host Power Management Enhancements.
Now, after installing vSphere 5, the default power management policy is "balanced". In vSphere 4.1 the default was "High Performance".
The balanced policy provides some power savings:
The balanced policy uses an algorithm that exploits a processor's P-states. Workloads operating under low CPU loads can expect to see some power savings (depending entirely on the workload CPU usage characteristics) with minimal performance loss (dependent on application CPU usage characteristics).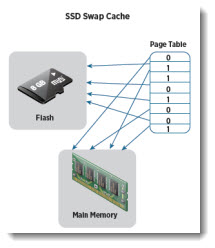 VMware recommends to do your proper experience and tests to see an eventual performance losses and if yes, to change back the policy to "high performance".
From the other new features and enhancements I got impressed with the following.
One can read that the failover rates during HA are much quicker – up to 60% more virtual machines within the same time.
The VM operations in vCenter are much faster – A virtual machine operations are all the power On, Power Off, migrations, Registering (Unregistering) of VMs, creating folders etc…..  up to 120% faster throughput.
A quick quote from the HA section:
A 32-host, 3,200–virtual machine, HA-enabled cluster can be configured 9x faster in vSphere 5.0. In the same amount of time as with previous editions, vSphere 5.0 can fail over 60% more virtual machines. The minimal recovery time, from failure to the first virtual machine restarts, has been improved by 44.4%. The average virtual machine failover time has improved by 14%.
In addition, in vSphere 5.0, the default CPU slot size—that is, spare CPU capacity reserved for each HA-protected virtual machine—is smaller in comparison to its value in vSphere 4.1, to enable a higher consolidation ratio. As a result, Distributed Power Management (DPM) might be able to put more hosts into standby mode when the
cluster utilization is low, leading to more power savings.
Intel SMT-related CPU scheduler – The new Intel SMT-related CPU scheduler enhancements are bringing some increase in performances for applications which can vary from 10-30%.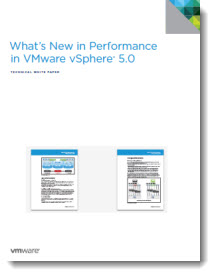 A quick quote from the CPU section:
In vSphere 5.0, the VMware® ESXi™ CPU scheduler's policy is tuned for this type of architecture to balance between maximum throughput and fairness between virtual machines. In addition to the number of performance optimizations made around SMT CPU scheduling in vSphere 4.1 (running the VMware ESXi hypervisor architecture), we have further enhanced the SMT scheduler in VMware ESXi 5.0 to ensure high efficiency and performance for mission-critical applications.
All this improvements and enhancements makes me feel that one can expect a very good (the best) product for virtualization work-flows. Not only for Big datacenters, but also for SMBs and Essentials and Essentials Plus editions.
It's just a matter of days the product will be available for the customers which can benefit from all those enhancements.
Enjoy the read… -:)
Update: Direct links to all new whitepapers about vSphere 5.0:
– What's New in VMware vSphere 5.0 Storage
– What's New in VMware vSphere 5.0 Performance
– What's New in VMware vSphere 5.0 Networking
– What's New in VMware vSphere 5.0 Availability
– What's New in VMware vCloud Director 1.5 Technical Whitepaper
– What's New in VMware vCenter Site Recovery Manager 5.0 Technical Whitepaper
– What's New in VMware Data Recovery 2.0 Technical Whitepaper
– VMware vSphere Storage Appliance Technical Whitepaper
– VMware vSphere 5.0 Licensing, Pricing and Packaging
Source: VMware Technical Ressource Center