We previously posted about upgrading VMware ESXi 6.x to 6.7 via ISO image and many readers liked the simple approach it brings. However, in enterprise scenarios, we have to deal with more than a couple of hosts so it would not be very time effective to do that for dozens or hundreds of hosts. VMware has a built-in tool called vSphere Update Manager (VUM) which is the right tool for the job. Today we'll write about How-to Upgrade ESXi 6.x to 6.7 via vSphere Update Manager (VUM).
In order to be able to use VUM, you'll need to have at least vSphere Essentials (or Essentials Term) license which entitles you to use a vCenter server. vSphere 6.7 has brought HTML 5 web client interface which now handles VUM so we'll show you the step-by-step process of upgrading VMware ESXi 6.x to 6.7 via this new HTLM5 UI.
You can upgrade ESXi from 6.0 to 6.7 or from 6.5 to 6.7 directly. However, If you are still on older vSphere installation, let's say 5.5, you have to first upgrade to 6.0 and then to 6.7. So it will be a two-phase process, which can also be, however, handled by VUM. However, this post will focus only on Upgrade ESXi 6.x to 6.7.
How-to Upgrade ESXi 6.x to 6.7 via vSphere Update Manager (VUM) – The steps
I assume that:
You have upgraded your VMware vCenter server appliance (VCSA) to the latest version. Or if you're still Windows user and have vCenter server installed on Windows, you can also use those steps.
Your environment is compatible with vSphere 6.7. (check VMware HCL that your hosts, storage or other hardware directly working with vSphere virtual environment).
Step 1: Connect via vSphere Client and click Menu > Shortcuts > Update Manager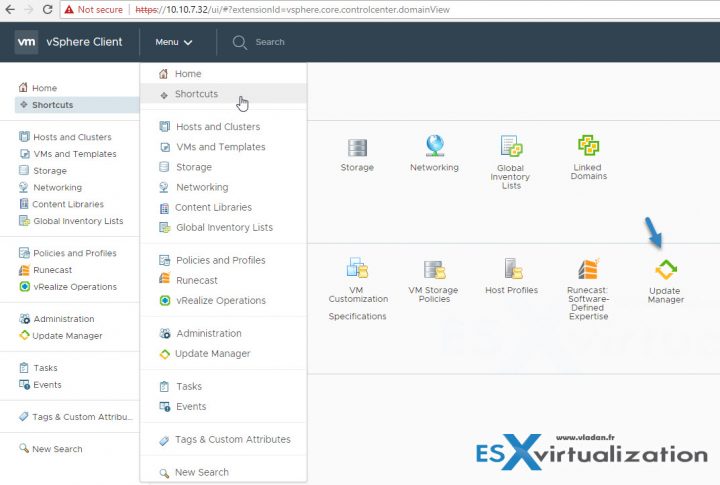 Step 2: Import the ESXi 6.7 Iso via
Step 3: Create a new baseline. You may wonder what baseline is? Well, it's just kind of a "level" to where you vSphere installation will be after you finish the process.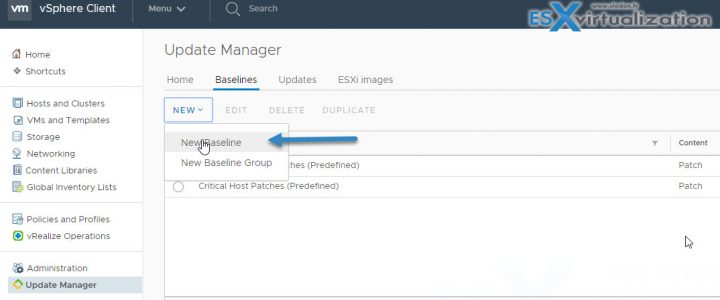 Then put some meaningful name for that Baseline. (Note: Important, you can also put a description where you have plenty of place…..). It's important to keep the environment documented and tidy.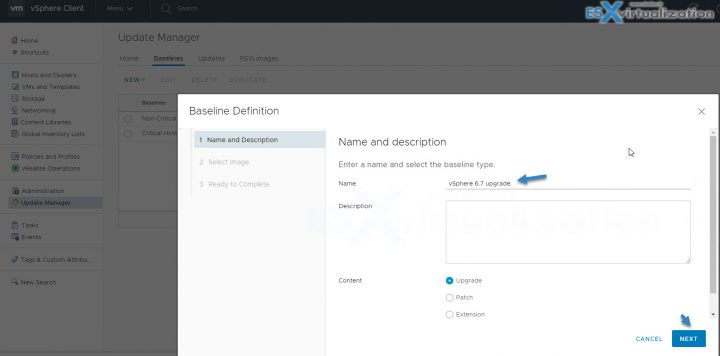 Next step is to select the ESXi release Image within this baseline. In our case, there is only one.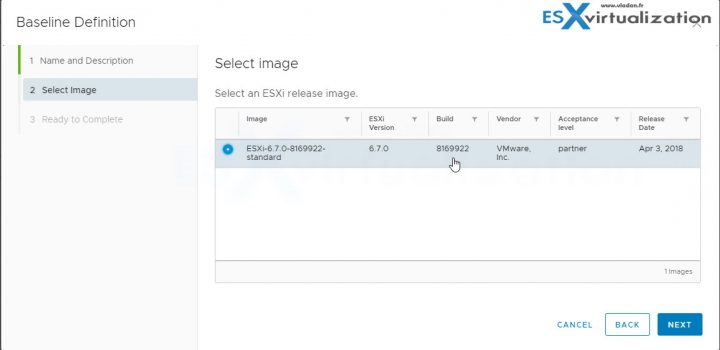 Then this final screen which ends this Baseline assistant.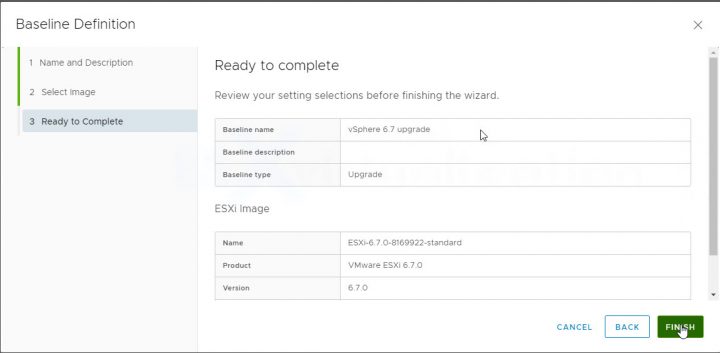 Step 4: Attach baseline to the host. Select Host/cluster > Updates > Attach > Select Baseline > OK.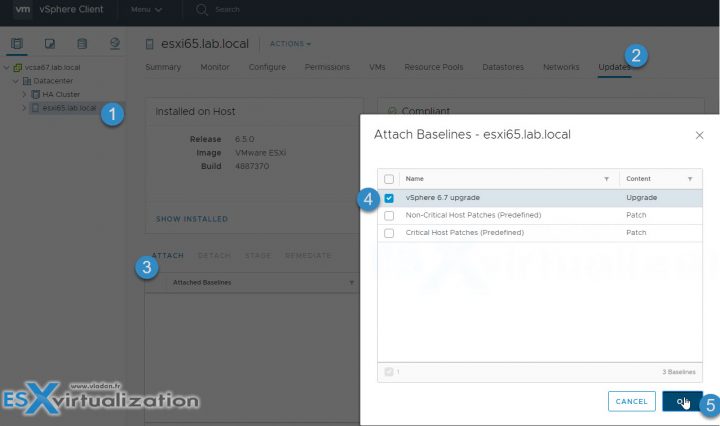 Then click the Remediate button. (Make sure that the host/cluster is selected).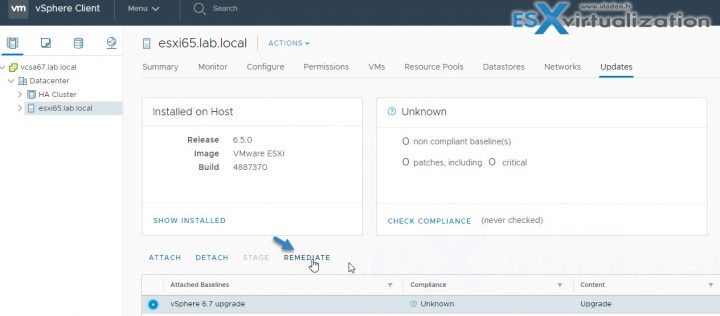 Accept the EULA pop up (not represented) and click the OK button.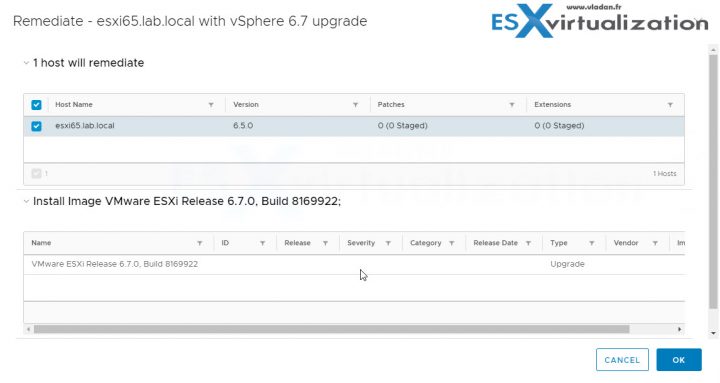 Once you hit the OK button, the upgrade process will start. This is it.
I have created a short video detailing the steps with also a full cluster remediation (heavily accelerated so you can see how those hosts go in and out of maintenance mode and how they are upgraded one after another… -:). Enjoy in Full screen and HD.
Wrap Up:
Before upgrading it's important that your environment is not only compatible with latest VMware vSphere 6.7, but also that all your backup/monitoring software is. For admins which are still on vSphere 5.5 make sure to make your decisions before September 19 which is end of support for vSphere 5.5. As being said first, you'll need to upgrade first to 6.0 and then to 6.7.
Check out our FREE Tools page here.
More posts from ESX Virtualization:
Stay tuned through RSS, and social media channels (Twitter, FB, YouTube)