Some of our readers might remember our article about VMUG advantage where we explain the good value and what's included. The article is here – VMUG is Free, but VMUG Advantage With EVAL Experience is Better for a Reasonable $200/Year. What's new is the fact that recently an additional feature called VMware Test Drive has been added to VMUG advantage and this post will detail that.
If you're not vExpert or VMware partner, you might be stuck with 60 days trials only and that's not optimal. VMware trials expire after 60 days and reinstall the trial every time is pretty painful, a lot of work, depending on what have you constructed and tested. Even for nested environments, there is pretty much a lot of manual steps involved until the lab you wanted to achieve, actually works.
What is VMware test drive?
VMware test drive is basically a SaaS service from VMware including some integrations with other ecosystem partners (O365, SalesForce, Dropbox….). It provides you with a sandbox environment, where not only core vSphere products are, but also other products which might not even be available for On-Prem install.
VMware Test drive is part of VMUG Advantage so if you're already VMUG advantage subscriber, you'll get this service for FREE.
You'll find products such as Workspace ONE UEM, Identity Manager, and AirWatch Express, but it really depends on which solution track you'll choose. You might be interested in VMware vSAN or Horizon. Even services such as Pivotal container service is available.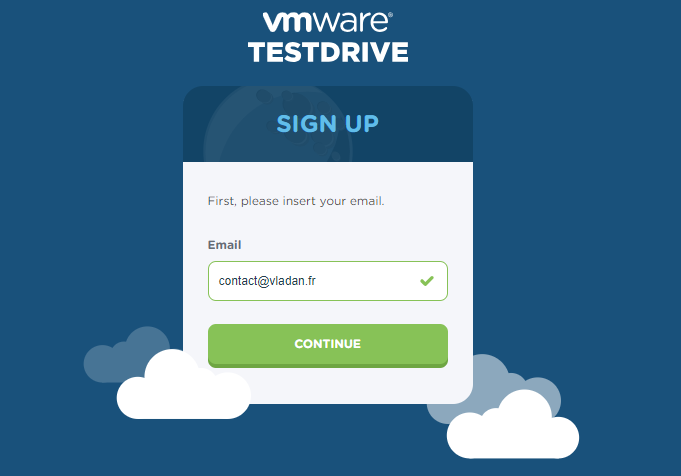 If you're already VMUG advantage member, you can sign up for TestDrive using the same email as you have for VMUG advantage.
You can subscribe directly online by going to this web site.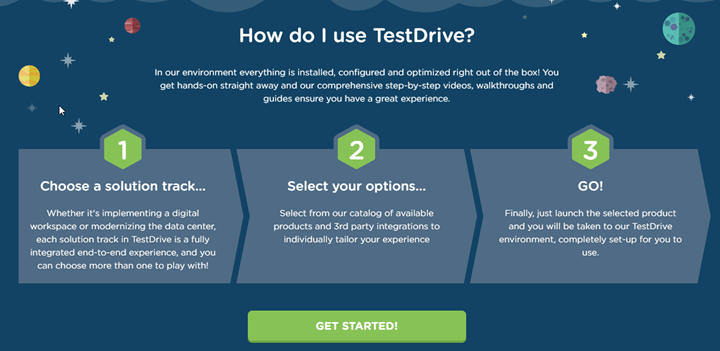 Once you subscribe to the service, you'll get your credentials by email.
Example of Testdrive dashboard from VMware.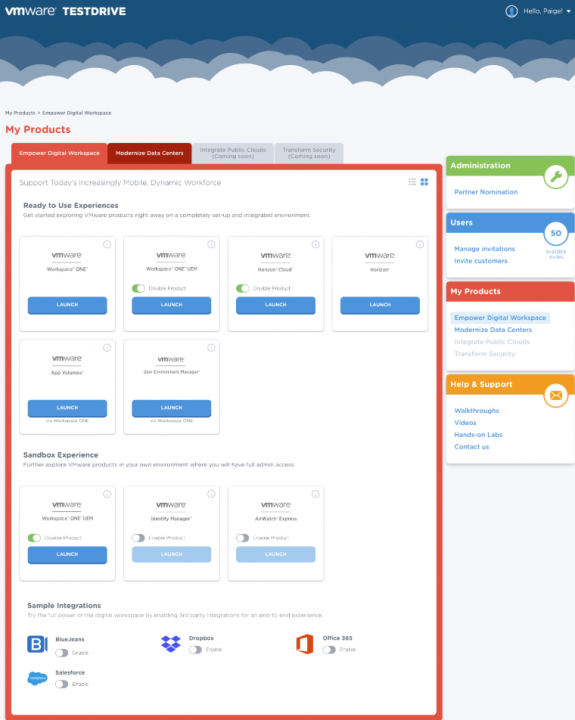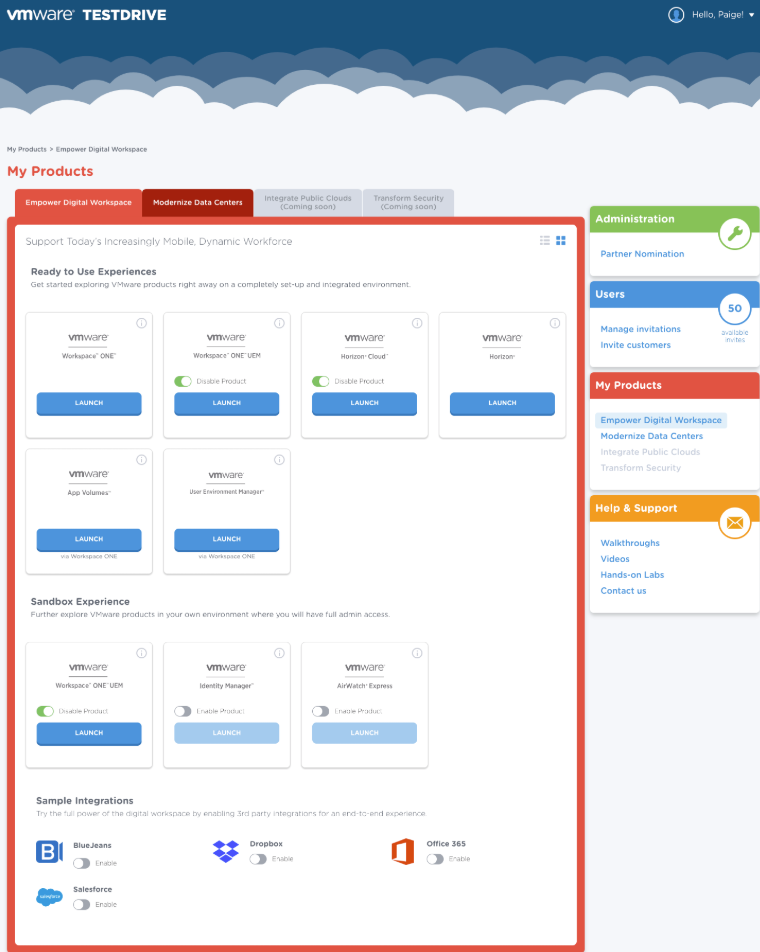 VMware Test Drive is open to:
VMware Employees
Customers and Prospects – Customers and Prospects can gain access to TestDrive by being invited by their VMware sales representative or partner.
VMware Partners – Navigate to portal.vmtestdrive.com. Click "Sign Up" and enter your Corporate Email Address. You may be prompted to tell us which user type best describes you. Select I am a VMware Partner
VMUG Advantage Members – VMUG Advantage members can sign up for TestDrive using the email address associated with their VMUG membership. To sign up, navigate to portal.vmtestdrive.com and click "Get Started". After completing the registration form you'll be emailed your credentials or a verification link (if you selected your own password). For any assistance with the process please email [email protected]
VMUG Advantage, you have VMware licenses valid for 365 days. VMUG Advantage has that EVALEXPERIENCE which gives you access to almost ALL downloads and licenses for the whole year.
Get VMUG Advantage with EVAL Experience
Which products are part of the VMUG EVAL Experience?
Here is the list!
VMware vCenter Server v6.x Standard
VMware vSphere® ESXi Enterprise Plus with Operations Management™ (6 CPU licenses)
VMware NSX Enterprise Edition (6 CPU licenses)
VMware vRealize Network Insight
VMware vSAN™
VMware vRealize Log Insight™
VMware vRealize Operations for Horizon®
VMware vRealize Operations™
VMware vRealize Automation Enterprise
VMware vCloud Suite® Standard
VMware Horizon® Advanced Edition
VMware Fusion Pro 10
VMware Workstation Pro 14
1. Purchase VMUG Advantage here
VMUG Advantage, Including EVAL Experience
2. Once you've made your $200 purchase, visit
And login to your space. It will give you access to downloads and licenses.
I've found a PDF online which details the steps as when in the "shop" section you actually have to buy the products (add them to cart), but the payment is FREE…. (here is the direct link to the PDF if you want to have a look…)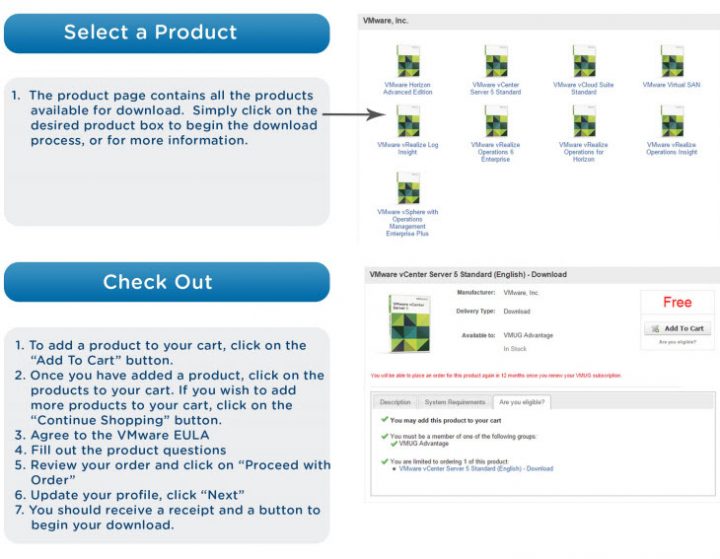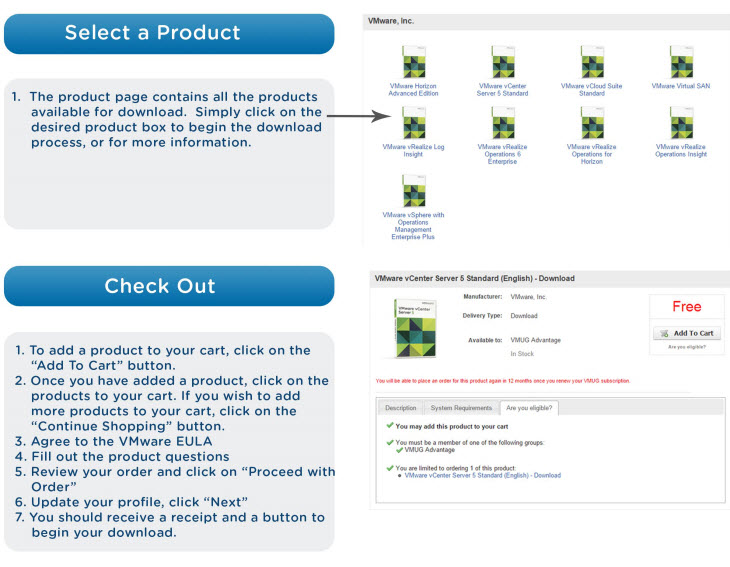 Note that there are other promos and discount within VMUG Advantage
Quote:
Whether the VMUG membership is completely free, the annual VMUG Advantage subscription costs $200, but it offers a number of discounts and perks that can save IT professionals costs on VMware training, certification, product licenses and even attendance at VMworld, VMware's annual user conference. There are also corporate discounts available that can bring down the $200 price of the membership.
The full list of benefits VMUG Advantage:
EVAL Experience
20% Discount on VMware Training Classes
20% Discount on VMware Certification Exams
35% Discount on VMware Certification Exam Prep Workshops (VCP-NV)
35% Discount on VMware Lab Connect
$100 Discount on VMworld Attendance
Pretty cool. As you can see, that's a lot for as little as $200/year. This might be interesting to tell your boss to purchase VMUG Advantage subscription for you, actually. Don't you think?
Looking forward to going to VMworld?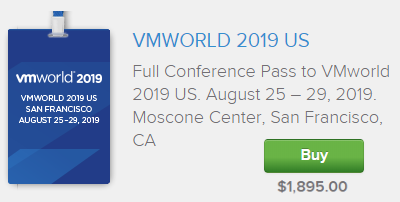 Valid for one VMworld 2019 US Full Conference Pass. VMworld 2019 US will take place August 25-29, 2019, at Moscone Center, San Francisco, CA. Official registration for VMworld 2019 US opens May 7, 2019.
Purchase of VMworld 2019 Full Conference Pass will provide a token on final invoice/confirmation notice. Token may be used to complete VMworld 2019 US conference registration when it goes live May 2019.
Final Words concerning VMware Test Drive
VMware Test Drive is a great Free value Add for VMUG Advantage subscribers. With ready-made integrations with some of the most popular ecosystem partners, VMware TestDrive allows you to explore VMware solutions alongside applications and services modeled on typical customers use cases, in a real-world environment.
More posts from ESX Virtualization:
Stay tuned through RSS, and social media channels (Twitter, FB, YouTube)