Zerto was one of the vendors I wanted to visit during my VMworld Barcelona. As you know, Zerto can protect your VMs by replicating them to the remote site with a very low RTO and RPO. It's because their software is able to "sit" in between a VM which needs to be protected and the ESXi host. The data stream is captured and replicated to the remote site using the Virtual Replication Appliance (VRA). Zerto 7.5 has VMware vSphere and Microsoft Hyper-V support so it is multi-platform and multi-cloud.
By using the Zerto Elastic Journal and long term retention you can restore a VM from secondary storage and this VM can be old, very old. Even 20-30 years old if you want, and if you have enough secondary storage. In fact, the secondary storage's main purpose is actually to archive those VM for longer periods.
Zerto copies the retention points to the secondary storage and from there you have the option to browse those points and choose a restore point. And it is where you can choose the older or oldest point to recover.
Zerto does not use hypervisor's snapshots. Zerto's Virtual Replication Appliance (VRA) is able to tap into a virtual machine's IO stream causing no overhead or performance problems compared to traditional hypervisor snapshots. It captures and copies the IOs from a particular VM to the remote site where a journal system keeps those data
Zerto joined the VMware vSphere APIs for I/O Filtering (VAIO) program that enables support for secure boot and storage-policy based management (SPBM). Zerto has completed the initial certification of its vSphere Installation Bundle (VIB) for VMware's vSphere APIs for I/O Filtering (VAIO) framework.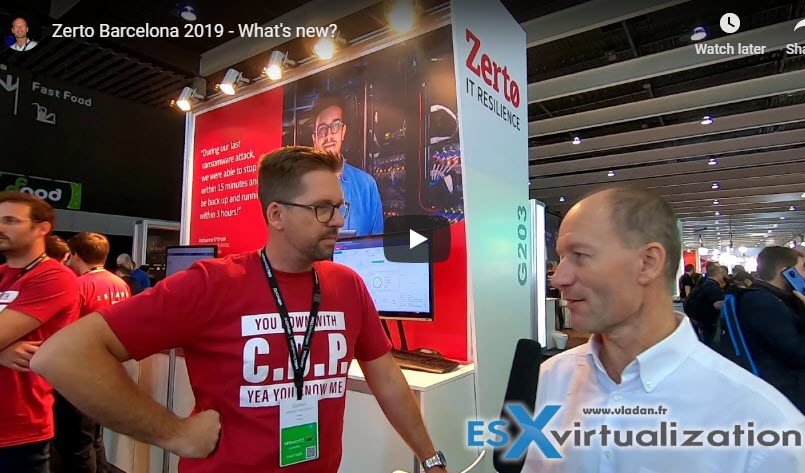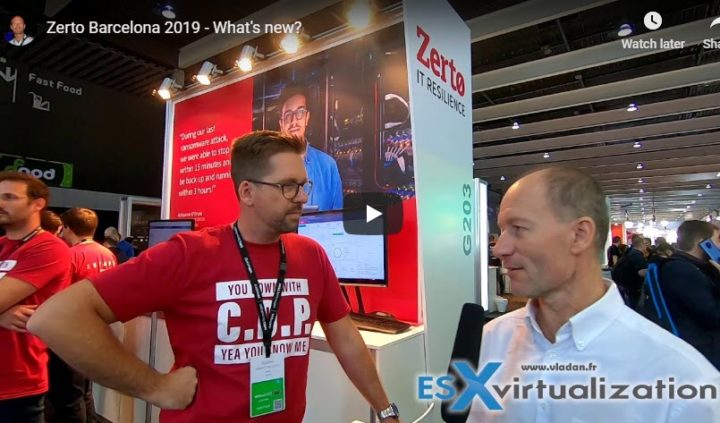 The integration will allow creating and using VMs configured with Secure Boot for VMware vSphere and creation of Zerto replication policies within VMware's Storage Policies. There will be a new release of certified VIB to VMware customers, which will come up with Zerto's next major release programmed for the second half of 2019.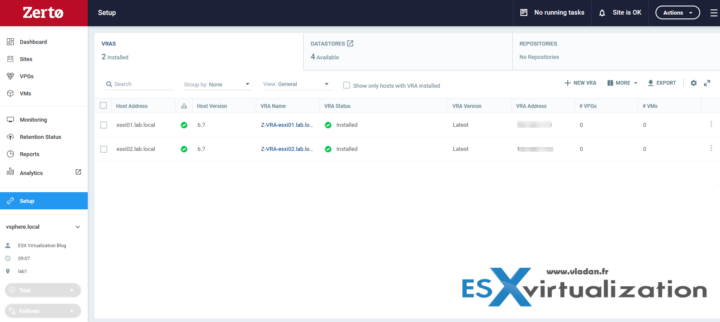 Repositories
There are many different storage types supported and backup appliances:
HPE StoreOnce
ExaGrid
Dell EMC Data Domain
Other De-duplicated Storage Appliance
Network share
SMB and NFS are supported right now, other protocols will be added.
Enhanced Retention Settings – Retention settings can now be configured for Long Term Retention per VPG. The available Retention periods are:
Daily Incremental Retention
Weekly and Monthly Full or Incremental Retention. Either Weekly or Monthly Retentions must be set to Full.
Yearly Full Retention
Check out Zerto's website here for further details.
Video from Barcelona 2019
Release Links:
Other posts about Zerto:
More from ESX Virtualization
Stay tuned through RSS, and social media channels (Twitter, FB, YouTube)