Zerto is present here in Barcelona 2022 during VMware EXPLORE demoing their latest Zerto Platform version 9.5 that not only can protect your virtual workloads (VMs) but newly includes also Kubernetes protection (containers). As more enterprises move to a DevOps model, their reliance on microservices, typically running in containers, becomes even more critical for their developers and users. With this product, Zerto is focusing also on resilience for containerized applications with continuous data protection and journaling technology. Zerto for Kubernetes extends our best-in-class protection across this growing part of your organization's services.
Zerto can also protect AWS workloads with Zerto In-Cloud which is a disaster recovery for your AWS native Instances between regions and availability zones.
Zerto's technology is based not on hypervisor's snapshots, but rather on continuous stream of data. Zerto VRA is able to tap into a VM's IO stream. This means whenever a VM running on a host writes to its virtual disks, this is also captured, cloned and sent to the recovery site.
After installing the Zerto Virtual Manager(ZVM) in a Windows VM, it will communicate with the Hypervisor manager e.g. vCenter or SCVMM. Then for each physical (ESXi or Hyper-V) server in the virtual farm a Virtual Replication Appliance (VRA) is installed via the ZVM GUI. When this is complete the production side is ready to go, do the same on the DR side and you have a complete Zerto Virtual Replication (ZVR) environment configured.
What you'll be liking is the fact that you can protect an application rather than just a virtual machine, this is exactly what Zerto provides via a Virtual Protection Groups(VPG), you group together VM's that make up an application and Zerto will protect the entire application and will also allow you to fail over the entire application. Let's say you have a front end web server "hooked" to a backend database cluster. You simply select all those VMs and create a protection group.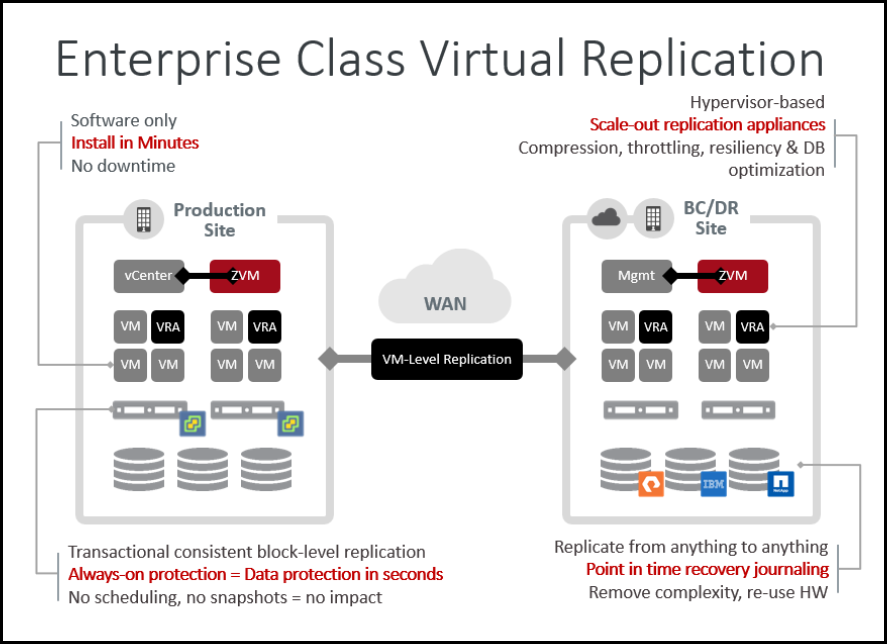 Screenshot from the booth.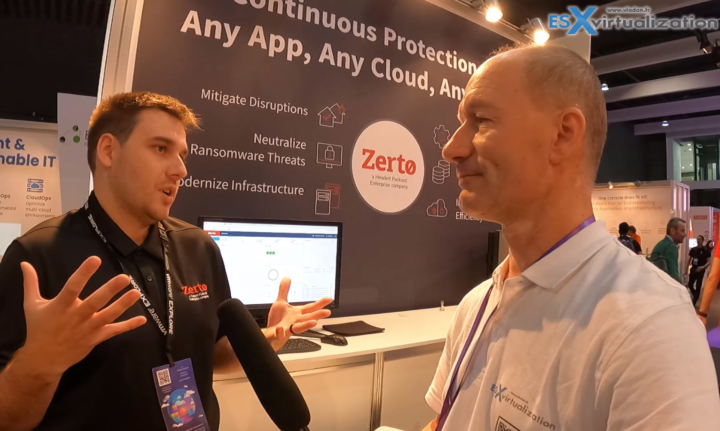 Zerto is part of Hewlett-Packard company.
Here is a video from VMware EXPLORE Barcelona 2022 with Zerto's SE highlighting the portability of the workloads and also the architectural choice protecting group of VMs containing your application. This can be for example a cluster of DB servers with their front-end web server being protected so you don't have to worry about resyncing after the restore. The apps contained within the Zerto protection group are restored to the same restore point.
Here is the video from the Zerto Booth:
More posts from ESX Virtualization:
Stay tuned through RSS, and social media channels (Twitter, FB, YouTube)