Zerto releasing a new version of their flagship product Zerto Virtual Replication 5.5 (ZVR). The latest releases add new features and enhancements to already a feature-rich product. One of those new features is about Azure where you have now an option to automatically failback from Azure. Previously when you failed over to Azure, you could not automatically reprotect your workloads.
Other enhancements are, for example, a speed increase (up to 12x) when protecting your VMs and applications to Amazon AWS or an official vSphere 6.5 support. Concerning the Amazon AWS news, there is a new proprietary import mechanism used, which creates a temporary Instance per Volume (zImporter), and rehydrating data from S3 to EBS disk. You'll find more details in the release notes.
Zerto is well-known to ESX Virtualization readers because I blog about Zerto since the very beginning. Started small, but with a unique data protection technology, Zerto does not use hypervisor's snapshots for replication. Zerto's Virtual Replication Appliance (VRA) is able to tap into a virtual machine's IO stream causing no overhead or performance problems when using traditional hypervisor snapshots.
What's New in Zerto Virtual Replication 5.5?
Protection of workload in Azure for failback is now supported – Zerto supports replication to Azure for Business Continuity/Disaster Recovery and migration purposes now with the ability to automatically failback and reverse-protect VMs to on-premises hypervisor-based datacenters.

Which features are supported?
Test and Live Failover
Move
Offsite Clone
Journal File level Restore
One to Many
Re-IP
Pre/post scripts
30 days journal and more.
NICs Validation – There is two validation checks added. The first validation checks that there are enough available Cores in the subscription at the time of the operation so that recovery will be successful.
The second validation checks that the number of NICs attached to the protected VMs is supported by the selected instance sizes in the VPG and VM settings, in the Create Edit VPG wizard.
Zerto TAGS for Azure – Unique Zerto tags for all Azure resources that are created by Zerto were added for better management and easy tracking of costs and consumption.
Amazon AWS improvements – Improved AWS recovery automation greatly increases the speed of recovering applications to AWS with up to 12x faster recovery times (RTO) in AWS.
AWS Gov Cloud (US) Region is now supported.
Screenshot from new analytics which can be accessed through myZerto.com portal from any device.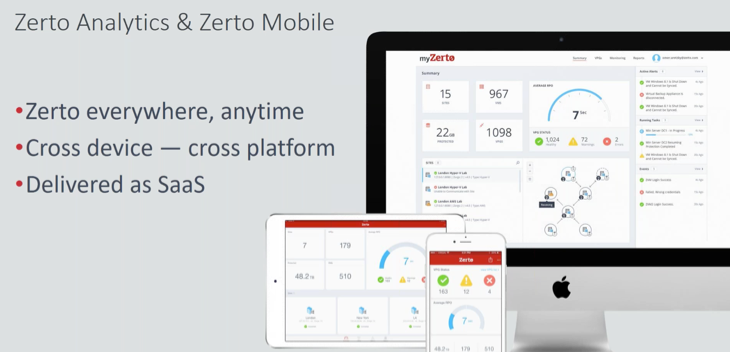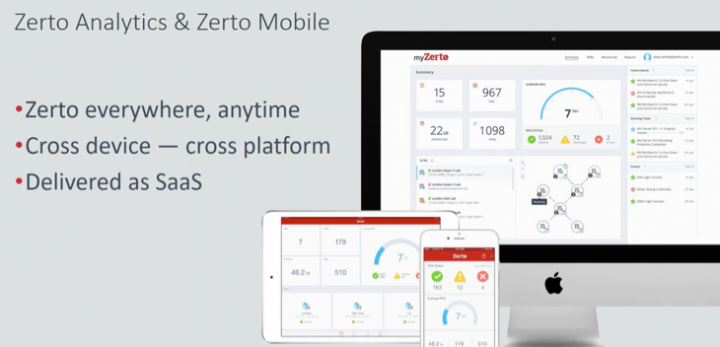 This platform gets you a real-time and historical analytics on the status and health of your environment. This can be an environment which spans multiple sites and uses multiple clouds.
Zerto and Hyper-V improvements – Zerto Hyper-V Infrastructure: The Zerto Hyper-V infrastructure was improved for better performance and error handling. Clearer messages are presented to the end user. Zerto Virtual Replication supports SCVMM 2016 (Supported on ZVR clean installations only).
VMware VSphere 6.5 support – Event VM restored from a snapshot (or – VM restored to snapshot event):
Zerto triggers a warning event every time a protected VM is restored to an older snapshot, stating that the user should force sync the VPG to resume protection. This is done in order to ensure consistency of replica data when restoring a production VM from a snapshot.
Various Zerto Virtual Protection Groups (VPG) Enhancements – Zerto VPG is the main building blocks for creating protection for a group of VMs. You may have a look at how easy it is in my post here – How-to Create Virtual Protection Group (VPG) In Zerto and start protecting your VMs
Zerto's VPGs improvements:
If a VM is removed from the hypervisor inventory, Zerto Virtual Replication stops the replication and all the VMs are recoverable.
If a VM is removed from a VPG, Zerto Virtual Replication keeps the history of the VPG, but the removed VM cannot be recovered.
If the user deletes or moves a protected VM from a vCD vApp, Zerto Virtual Replication keeps the history of the VPG, but the removed VM cannot be recovered.
If a VM belongs to a protected vCD vApp and the user removes this VM from vCenter, the VPG goes into Pause mode. While the VPG is in Pause mode, the recovery of the VPG is possible to any point in time.
If a VM is protected by more than one VPG, and if the user performs a FOL/Move and reverse protection, all other VPGs that protect that same VM will go into Pause mode.
Note that this post has been heavily inspired by the official Zerto Virtual Replication 5.5 release notes. You may want to check the original document here.
SQL Server Express LocalDB: In clean installations, when the user selects to use the embedded database, SQL Server Express LocalDB is now installed, instead of SQL Compact Edition.
Auto-Upgrade VRAs – This option is enabled by default from 5.5 onwards. With this option enabled, the VRA upgrade will run automatically, thus enabling a smooth upgrade of both the ZVM and the VRAs. Zerto recommends that you track the VRA upgrade via the user interface.
Infrastructure improvements – Checkpoints: Improvements were made to enable more efficient management and use of the checkpoints.
ZVM now identifies every time a protected VM is restored to a snapshot and registers an event accordingly.
SaaS APIs – Zerto now exposes SaaS information through APIs. This includes aggregated information for VPGs, Alerts and tasks.
Zerto's technology allows very low RPO times. It's because a continuous replication is used rather than hypervisor's snapshots technology. The Zerto VRA uses the vSphere APIs to see the data flowing from the VM each time there is a read or write operation.
So every time the VM writes to its VMDKs, the write command is captured, cloned, and sent to the recovery site. All the changes are stored within a journal. The journal has all the checkpoints and if you defined your RPO with few seconds interval, you'll find yourself with lots of checkpoints to chose from.
Other posts about Zerto Technology on ESX Virtualization:
Stay tuned through RSS, and social media channels (Twitter, FB, YouTube)