Due to Covid-19, Zerto also changes their plans and switching to Online Conference. You can register for FREE. The conference date is June 10th.
If you have previously attended ZertoCON you know that there are plenty of technical sessions, customer insights, new product updates, and announcements.
If you don't know Zerto, you should know that they have complete data protection and disaster recovery and prevention solution which allows you to backup and replicate virtual machines (VMs) from your VMware, Microsoft, Amazon, Azure or Cloud Service Provider's environments.
Zerto works by running a Zerto Virtual Manager (ZVM) which manages the replication stack and Virtual Replication Appliances (VRA), deployed by ZVM, on each vSphere/Hyper-V host.
Zerto Virtual Replication is installed in both the protected and the recovery sites. and the disaster recovery across these sites is managed by a browser-based user interface.
Zerto Virtual Replication provides an offsite back up option that enables saving the protected virtual machines offsite for up to one year in a state where they can be easily deployed.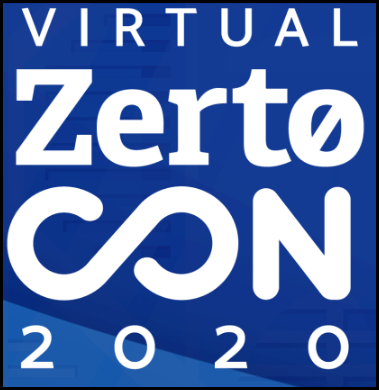 Zerto uses Hypervisor-based replication
Hypervisor-based replication supports all storage arrays, including Storage Area Network (SAN) and Network-Attached Storage (NAS), as well as virtual disk types such as Raw Device Mapping (RDM) and VMWare File System (VMFS).
Register for ZertoCON for FREE Here.
Zerto announced and released another major update on their flagship product. Zerto 8.0 was released just about a 6 months since the release of Zerto 7.5 which we have reported in details in our blog post here.
The 7.5 brought Elastic Journal allowing to recover VMs from an older date (previous releases were limited to 30 days only) from back in time, so you can recover backed up (or archived) VM from 20 years back if you need to. The elastic journal combines the short and long-term retention into a continuous stream of recovery points with search and recovery across data, files or VMs from any point in time.
Zerto can protect your VMs by replicating them to the remote site with a very low RTO and RPO. The data stream is captured and replicated to the remote site using the Zerto Virtual Replication Appliance (VRA).
Configuration and usage with VMware on Google Cloud are nearly identical to a user's on-premises VMware environment. You can replicate VMware VMs between on-prem and Google Cloud, but also between different Google Cloud regions.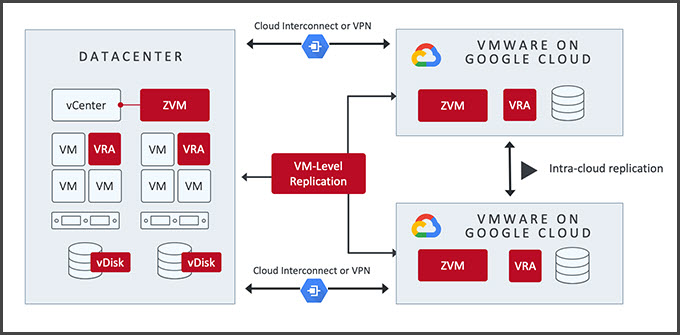 Register for ZertoCON for FREE
More about Zerto on ESX Virtualization
Links:
VMware vSphere 7.0 coverage on ESX Virtualization
You might want to check our Free Tools page where you can find VMware utilities, but also utilities for Microsoft systems or other "Swiss Knife" software there.