Zerto has just announced another major update on their flagship product. Zerto 8.0 was released just about a 6 months since the release of Zerto 7.5 which we have reported in details in our blog post here.
The 7.5 brought Elastic Journal allowing to recover VMs from older date (previous releases were limited to 30 days only) from back in time, so you can recover backed up (or archived) VM from 20 years back if you need to. The elastic journal combines the short and long-term retention into a continuous stream of recovery points with search and recovery across data, files or VMs from any point in time.
Zerto can protect your VMs by replicating them to the remote site with a very low RTO and RPO. The data stream is captured and replicated to the remote site using the Zerto Virtual Replication Appliance (VRA).
Zerto 8.0 enhancing the feature set further by integrating Google Cloud where the Zerto engine is able to protect and migrate VMware VMs to Google Cloud Platform (GCP) where VMware runs natively. VMware on Google Cloud runs on an isolated and dedicated all-flash, hyperconverged bare metal stack. (Note: Later this summer, Google will generally announce its VMware-as-a-service solution with Zerto as its key IT resilience partner.)
You'll be able to protect and migrate your native VMware workloads to your dedicated VMware environment in Google Cloud using the same policies and configurations that you utilize for your current infrastructure, just in the cloud.
Configuration and usage with VMware on Google Cloud are nearly identical to a user's on-premises VMware environment. You can replicate VMware VMs between on-prem and Google Cloud, but also between different Google Cloud regions.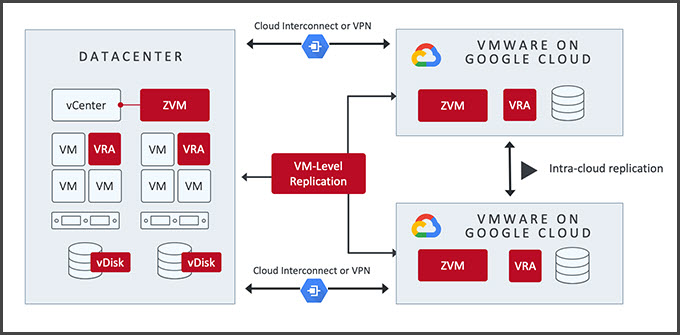 VMware vVOLs support – yes, it's been a while since users started (finally) using VMware vVOLS so Zerto suport for VMware vVOLs is the next logical step. You can now utilize vVols as an eligible datastore, for both recovery and protection, and gain the Storage-Based Policy Management (SPBM) and cost savings of vVols.
Amazon AWS long term retention – now you can use Amazon AWS as a long term retention and save on storage costs.
Zerto has also support for Microsoft Azure VMware Solution and IBM Cloud for VMware Solutions so if you have accounts on those clouds as well you're truly multi-cloud.
Let's list the features below
Zerto 8.0 New Features:
Continuous Data Protection (CDP) to Google Cloud
Cost savings and operational efficiency with VMware vVols storage integration
Insights through data protection reporting and capacity management
Lower cost Cloud backup with AWS Storage Gateway
VMware Virtual Cloud Director (vCD) self-service recovery portal for DRaaS
From the release notes:
New support for Google Cloud by bringing its leading Continuous Data Protection (CDP) technology to Google Cloud's VMware-as-a-Service offering. Zerto 8.0 will support VMware on Google Cloud, enabling users to protect and migrate native VMware workloads in Google Cloud Platform (GCP) with Zerto's leading RTOs, RPOs and workload mobility.
New cost savings, operational efficiencies and visibility with support for VMware vSphere Virtual Volumes (vVols).
Expanded VMware vCloud Director (vCD) connection with Zerto's self-service recovery portal for Managed Service Providers (MSP).
Deeper integration with Microsoft Azure for increased simplicity and scalability of large deployments, which includes support for Microsoft Hyper-V Gen 2 VMs, users leveraging UEFI for VMs running in their on-premises environments can now use Microsoft Azure as a target for disaster recovery, without a need to convert the VMs to legacy formats.
AWS Storage Gateway to be used as a target site for inexpensive and efficient cloud archive and data protection.
New data protection capabilities, extending the value of Virtual Protection Groups (VPGs) to data protection, delivering application consistency from seconds to years.
A single pane of glass for data protection reporting with status performance and capacity reporting of protected workloads.
Zerto's failback functionality as part of the cost-effective incremental snapshots of Azure managed disks is now available across ALL regions.
New unified alert management with prioritized views of critical alerts and customization for users to receive the alerts exactly when needed for critical operations.
New impact analysis capability to mitigate risk of an organization's protected and unprotected environment for on-premises or cloud.
New resource planning view of Unprotected VM's for better insight into an organizations' unprotected VMs.
Additional features to automate and streamline the processes for failover and configuration in the public cloud with automated OS configuration, automatic failback configuration and more.
As a location for the long term retention you can use different storage repositories:
HPE StoreOnce
ExaGrid
Dell EMC Data Domain
Other De-duplicated Storage Appliance
Network share
More about Zerto on ESX Virtualization
Links:
VMware vSphere 7.0 coverage on ESX Virtualization
You might want to check our Free Tools page where you can find VMware utilities, but also utilities for Microsoft systems or other "Swiss Knife" software there.