As you know, VeeamON 2023 in Miami was a very big event with over 156 sessions and 23,000 participants, it was truly a one-of-a-kind community event that brought together industry experts, partners, and customers from all over the world. Did you know that you can watch those sessions (not all) on demand?
You can watch sessions that you missed or want to watch them again, the ones you liked. They are now available on-demand at veeamon.com. You know that it takes some time to process all those recordings and publish them Online. Even with companies like VMware, this process takes usually a couple of weeks too so there is no reason to think that with VeeamON sessions it is different.
Some technical sessions (use the filter…) are just must-watch. Sessions like Sizing Veeam Repositories Best Practices or Proxy Sizing Best Practices plus many more. Those sessions are simply Golden. There are many more, and the ones with compliance reporting capabilities or Veeam ONE: Provide Multi-tenant Monitoring as a Service to Your Customers are really looking very interesting indeed.
Here are some more sessions….
The Top 10 Security Best Practices from Veeam – Learn from Veeam's lead global trainers as they walk you through the top 10 security best practices, accompanied by live demos to enhance your learning experience and drive operational resiliency.
Microsoft 365 Customer Panel – Hear Directly From Your Peers – Join this panel interview-style session where Veeam Backup for Microsoft 365 customers, moderated by our Senior Director of Product Marketing, share their backup experiences, strategies, and best practices. Gain insights into their unique Microsoft 365 environments and why they chose Veeam as their backup solution.
The Hitchhiker's Guide to Cloud Communities – Embark on a thrilling journey into the cloud universe with our expert guides. Learn about the basics of cloud computing, participating in communities, and obtaining critical cloud certifications. Explore the advantages of backing up data in the cloud and discover ways to leverage the cloud to achieve your goals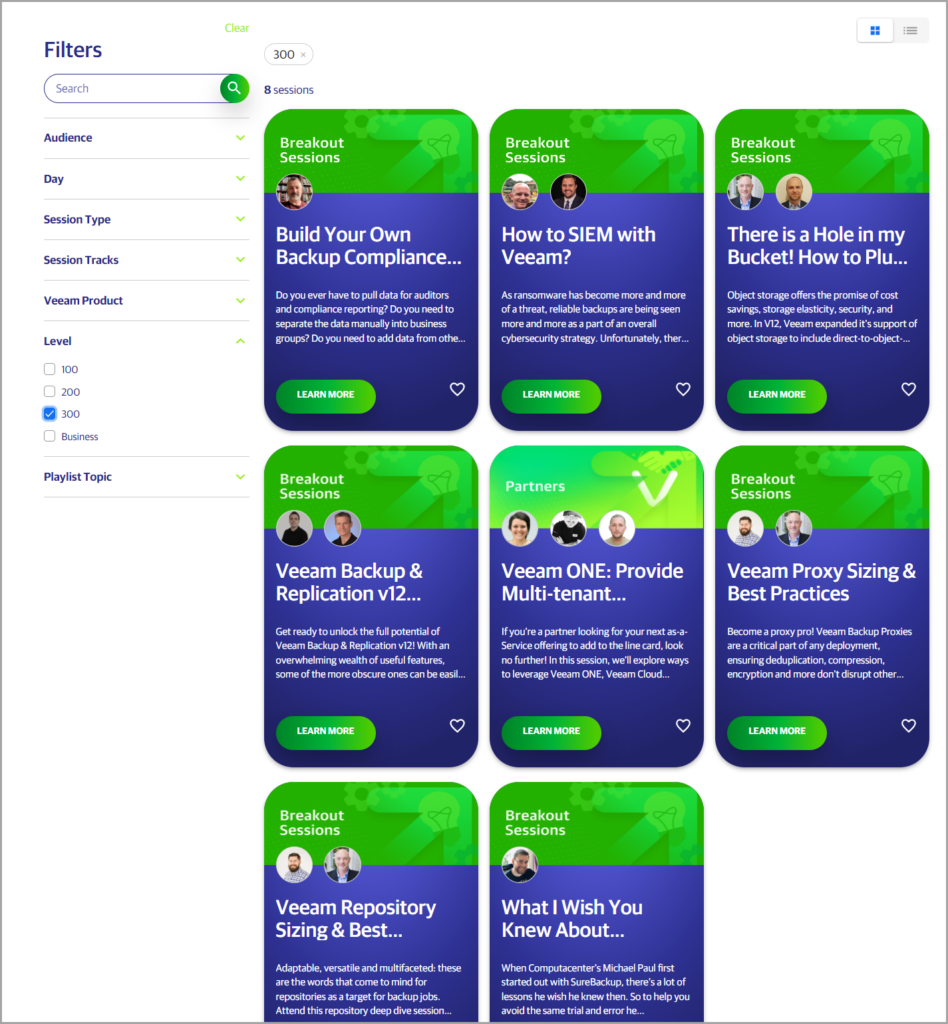 VeeamON Miami 2023 was one of the best data protection community events offering numerous benefits for both online and on-site participants. The event facilitated networking opportunities, expert-led sessions, cutting-edge product showcases, and virtual access for global participation. It's definitely worth watching some good technical sessions after the event has ended.
Check Veeamon.com
More posts from ESX Virtualization:
Stay tuned through RSS, and social media channels (Twitter, FB, YouTube)